Healthy Paws Pet Insurance released a new report. SEATTLE, WA — Healthy Paws Pet Insurance has released a list of the most common accidents and illnesses for cats and dogs. The company's new...
(PRESS RELEASE) BALTIMORE, MD – Caitec announced that its HERO Dog Toy brand has achieved national distribution in the U.S. and Canada. The HERO line, launched at SuperZoo 2015, has grown and...
Packaged Facts has released a new report. ROCKVILLE, MD — The market for companion bird products has been a challenging one in recent years, but there's reason for optimism, according to market...
(PRESS RELEASE) WASHINGTON, DC – The Pet Industry Joint Advisory Council has named former U.S. Department of Agriculture Senior Adviser Savonne Caughey to the position of director of government...
Animals would not need to be slaughtered. A new company in Colorado is trying to develop cell-cultured meat for use in pet food. Bond Pets wants to grow the meat from small numbers of animal...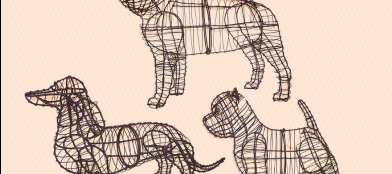 Dogs on Display These topiary frames from THE PAWS MAHAL serve a variety of purposes. Use bare to display collars and...
(PRESS RELEASE) MANCHESTER, CT – Melissa Van Vactor has been promoted to the position of vice president of sales of Bravo Pet Foods. With this new role, she is responsible for supporting a network...
The list includes a Pomeranian with 7M+ followers. A new list reveals the "Most-Followed Pets on Instagram in 2017." At the top is @jiffpom, a Pomeranian with 7.1 million followers. On his...
Aquascaping is the kind of hobby that teaches patience while requiring triage-style attention. The water, the plants...
It received 68 reports of illnesses. The U.S. Food and Drug Administration has issued a warning on "bone treats" for dogs. The agency says it's received about 68 reports of pet illnesses related...