Celebrating big birds, renewable resources and toys that keep brains busy. A green, yellow and pink conure hangs...
Bug Off! Fleas and ticks pose a health hazard not only to animals, but also to the humans who care for them....
For Finicky Felines Cats and kittens with a refined palate will appreciate Toby's Turkey Carnivore Grain-Free...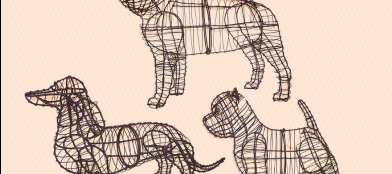 Dogs on Display These topiary frames from THE PAWS MAHAL serve a variety of purposes. Use bare to display collars...
Aquascaping is the kind of hobby that teaches patience while requiring triage-style attention. The water, the plants...
Fresh, Not Funky Dog beds take a lot of use and abuse and can take on a funky stench. Messy Mutts has developed a...
Pumps power filtration, circulation and aeration to keep life-sustaining aquatic environments healthy. Pumps circulate...
Try a logo design package from Sniff Design Studio. Logos for Less Graphic design company Sniff Design Studio has begun selling pre-made pet business logos online. The pre-made designs will...
Pet parents seem to agree: You can never have too many toys for your dogs. Recent reporting by pet market researcher Packaged Facts backs that up, finding that toy spending makes up 28 percent of...
A wipe and a spritz might keep a wire-haired terrier fresh, but a long-haired dachshund needs a little more attention...