Your website has many jobs. Among the most important: sharing your story and letting people know what sets your business apart. Whether it's your staff, your background, your services, your product selection or a combination of them all, a strong "About Us" page can intrigue prospective customers and keep current clients engaged.
Monica Cevallos of Sniff Design Studio, which specializes in logo and web design for pet businesses, says she has had clients tell her they've chosen her services based on her own website's whimsical "About Us" page (sniffdesign.com/about). Sniff Design features bios of Cevallos, her one employee and their two canine staff members, complete with fun facts about each and links to the scial media pages of each — even the pups!
What any great "About Us" page should do, however is engage and inform in an entertaining way. Imagine yourself on a flight seated next to a stranger who asks what you do. You wouldn't begin by listing your degree and awards, would you? (We hope not!) Rather, you would tell the story of who you are and why your business is unique.
Remember, there are tons of pet businesses out there. You should take every opportunity to tell people how yours stands out.
Don't forget to inclulde great visuals . (Think faces, not pictures of the outside of your building.) And include lots of pictures of pets. (You're in the pet business, after all).
The final element is a dose of emotion, whether that be passion, humor or poignancy, Do that and you'll have yourself the makings of a great "About Us" page.
---
Pure Pet

Carbondale, IL
Pure Pet's "About Us" page is part of the store's homepage, as its design is responsive, meaning it adapts its content to any size screen or window viewing it — very helpful for customers browsing on their phones and tablets. Click on a link at the top or manually scroll down to find the store's origin story, a testimonial as to the benefits of a healthy diet for dogs. Based on difficulties owner Amanda McReynolds had researching and finding holistic foods for her vizsla, Ruby, who had food allergies, Pure Pet was born to service the southern Illinois area. Anyone with a dog with a specialty diet will be hooked.
---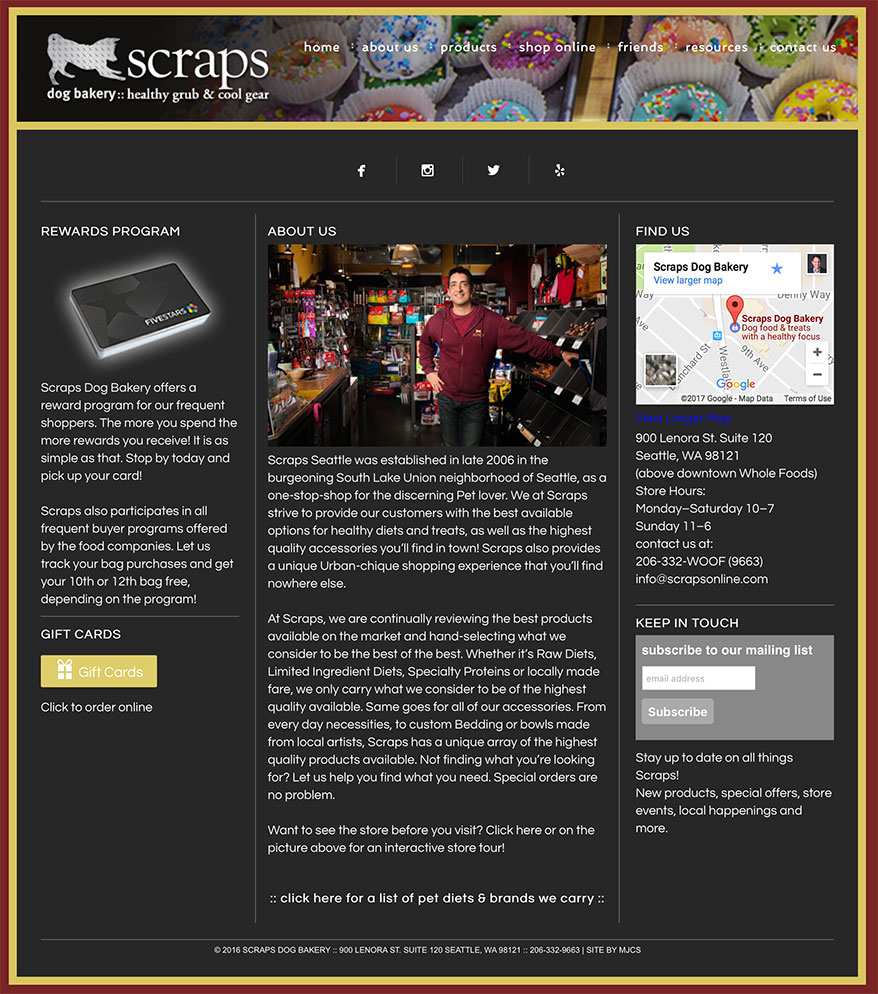 Scraps Dog Bakery

Seattle, WA
Scraps Dog Bakery. Known for its "healthy grub and cool gear," welcomes customers with comprehensive information and links on its "About Us" page. Neatly arranged are a description of the store's rewards program, a link to buy gift cards, its location on Google Maps as well as address and hours, an email bulletin subscription box, a link to a virtual tours and a brief but detailed description of what is unique about the store. Whew! A lot to pack in. Did we mention links to social media?
---
Jungle Bob's Reptile World

Selden and Oakdale, NY
Jungle Bob's bills itself on its "About Us" page as "a destination you have to visit to believe!!" New York's biggest reptile-only pet shops, with over 3,500 square feet of displays and inventory that includes its own brand — all unique selling propositions in themselves — also host reptile birthday parties. What reptile lover could pass that up?
---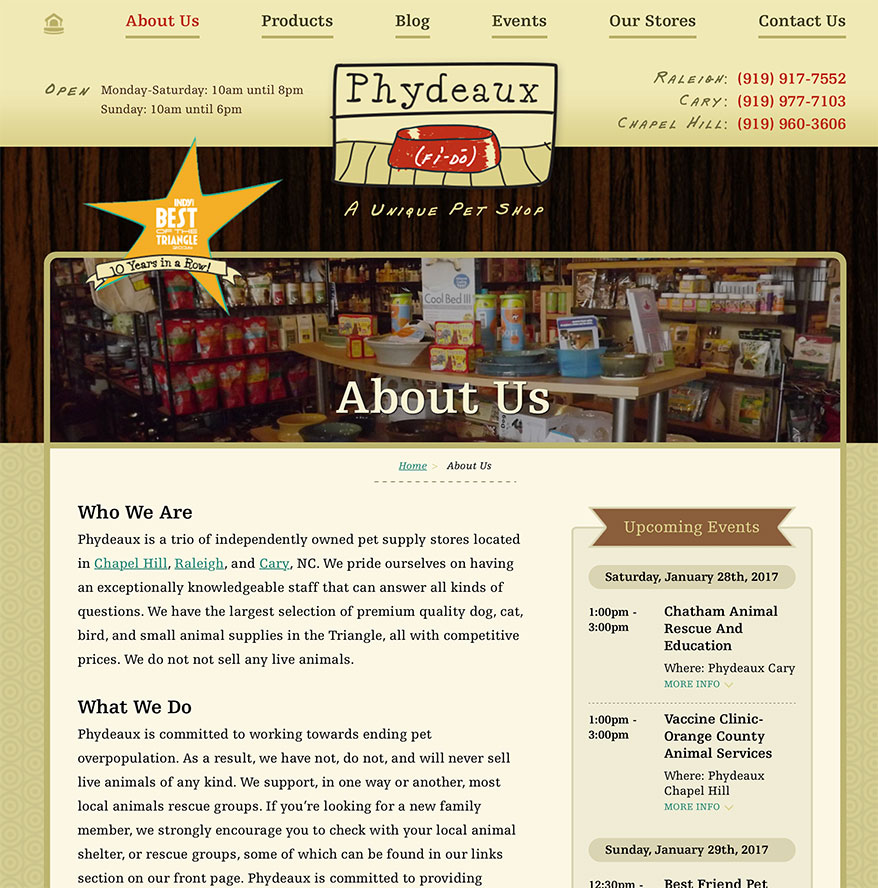 Phydeaux

Three locations in North Carolina
What Phydeaux does particularly well on its "About Us" page is provide a calendar of upcoming events at its three North Carolina locations — from rescue seminars to vaccine clinics. Farther down the page, it introduces us to owner Frank Papa, attaching both a face and a pet-loving personality to the store. Don't forget how important people are to pet businesses. If it were all about product and price, the big-box guys would win.
---
Marley and Me Dogs

Daly City, CA
Another responsive design, this page presents Marley and Me's unique boarding philosophy of providing dogs "an adventure," rather than mere daycare. Owner Richard Diaz takes time to introduce us to his pack: from "little wolf" Luna, the "chief technology officer," to "big wolf" Marley, co-founder and CEO. Anyone seeing these dog portraits can't help but take the time to go through each one and read the titles.
---
The Pet Snobs Boutique

Philadelphia, PA
Cats Sirius Black and Dottie take top billing on this "About Us" page. Listed as "The Bosses," they come above "The Housekeeping Staff" — owners Dara Slott and Jaci Kelly. If you couldn't tell from the store's name, this page confirms that this is a business with a sense of humor. It will have you smiling before you set foot in the door.