First Texas, then Florida, then Puerto Rico: The pet industry rises to the call of disaster survivors.
I woke before the sun rose on Tuesday, Aug. 29, the quiet stirring me from sleep. Hurricane Harvey — with pounding rain, emergency alerts and nonstop TV coverage — had been the soundtrack to our lives for days here in Houston. My brain noticed its absence.
STORY BY
PAMELA MITCHELL
Within the hour, a neighbor and I were navigating back streets to get downtown, where the George R. Brown Convention Center was housing the first waves of evacuees. We talked of feeling overwhelmed, with gratitude for not having flooded and with a need to help those who had. Scott and I spent the day in the pet-friendly hall, handing out supplies and visiting with displaced people and their pets.
At some point during the day, I saw for the first time #HoustonStrong and #TexasStrong. These hashtags perfectly fit my beloved home, even more so during such a challenging time. Contributing to our strength have been many in the pet industry. You have helped from near and far, and we thank you for the outpouring of love and support.
Those impacted by Harvey — and more recently, Irma and Maria — will be rebuilding their lives for months and even years to come. If you haven't already, you can still help, no matter where your business is based.
HOME-STATE HEROES
Diana Farrar, owner of Fifi & Fido's Pet Boutique in San Antonio, had a Harvey relief operation running within days of the storm's departure. She points to three key reasons for its success.
Farrar partnered with Bob Webster, owner of Shades of Green nursery and host of the "KTSA Garden Show," which airs in 100 surrounding counties.
"I knew with Bob talking about it on the weekends, that we would get a ton of donations," Farrar says. She chose God's Dogs, a reputable animal-welfare organization that knows the area, the Coastal Bend about 200 miles to the east, and its needs well. "You have to make sure you're working with the right people who will do the right thing at the right time."
Shades of Green served as the donation drop-off and pick-up location, which kept supplies — thousands of pounds — going out in the most efficient manner possible.
NATIONWIDE EFFORTS
Some of the many acts of kindness by pet businesses after the hurricanes:
American Pet Products Association coordinated more than 1,200 manufacturers to solicit donations and supplies, and to assist in hurricane relief.
Canidae Pet Food partnered with SaveARescue, delivering 25,000 units of dog and cat food to Texas shelters.
Champion Petfoods, with distributor Bark To Basics, donated thousands of pounds of Orijen and Acana pet food to Harvey-impacted animals.
Chicken Soup For The Soul Pet Food and American Humane delivered 100,000 pounds of dog and cat food to Texas and Louisiana.
Dog Daycares Supporting Houston's Pets Youcaring campaign had raised $21,000 as of press time for Lone Star Animal Welfare League.
Katie's Pet Products gave 10 percent of all sales from Sept. 10-17 to Best Friends Animal Society efforts in Florida.
Kaytee donated pet and wild bird food to shelters in impacted areas.
Lucy Pet Foundation provided veterinary care and flew 70 adoptable cats and dogs from Texas animal shelters to California, with none other than Katy-born Renee Zellweger helping with the efforts.
Manna Pro sent $150,000 in pet products to animal-welfare organizations in Houston; matched employee donations to the American Association of Equine Practitioners, American Red Cross and Houston SPCA; and donated more than 20,000 Nutri-Vet items.
Mars Petcare sponsored National Disaster Search Dog Foundation teams and coordinated with GreaterGood.org Rescue Bank.
One Fur All donated 20 percent of online sales Sept. 20-30 to Best Friends Animal Society and SPCA of Texas.
Pet Food Experts partnered with Bentley's Pet Stuff, Bad Dog Frida and other stores to ship pet food to Texas shelters.
Pet Industry Wholesalers — including Auburn Leathercrafters, Cat Dancer, A Tail We Could Wag, Luxe Pets, Scout & Zoe's, Earth Heart, The Good Dog Company, Aroma Paws, Olly Dog, Animal Rescue Fund Muncie and Paws Stop Indianapolis — donated products to Hurricane Irma Shelters for Pets via Patrick Caprez, owner of Natural Cravings Pet Treats, and Cindy Dunston Quirk, owner of Scout and Zoe's.
Pet Leadership Council partnered with GreaterGood.org to manage distribution of items from PLC members to areas impacted by hurricanes.
Petmate sent supplies to Dallas-Fort Worth shelters and rescues, as well as to the MuttNation and Jackson Galaxy foundations working in the Houston area. The company also sent boxes of dog and cat toys to me, which went to El Gato Coffeehouse Cat Cafe, Friends for Life and K-9 Angels Rescue in Houston.
Pet Sitters International raised $20,010 for SPCA of Texas/Hurricane Harvey relief.
Pets Best added a call to action on its website, sending visitors to Austin Pets Alive! to make donations.
Phillips Pet Food & Supplies provided storage and delivery of donated items in and from its Arlington, TX, facility; it also donated crates for transport.
Puppy Parties NYC raised $2,000 for Austin Pets Alive!, with help from donated raffle items from Poochieboots and other brands.
Pura Naturals Pet partnered with Karma Rescue to fly 34 adoptable dogs from Texas shelters to California.
Purina donated 1,900 pounds of pet food and 6,000 pounds of cat litter to the Humane Society of Greater Miami; pet food, litter and probiotic supplements to Rescue Bank; and $50,000 to GreaterGood.org for Harvey and Irma relief.
Simba's Barkery in Dallas, TX, sent 50 percent of its profits Aug. 27-Sept. 10 to Houston rescues.
Sitstaygo in Montclair, NJ, is donating a portion of sales through the holidays to Houston SPCA.
Solvit sent 1,500 pet bowls and 400 pet food storage bags to Houston SPCA.
Spectrum Brands donated flashlights, insect repellent, and pet grooming and care products to relief organizations.
Swanky Paws Pet Spa in Lawrenceville, GA, offered a Spa for a Cause Hurricane Package, with profits going to rescues in Texas and Florida.
Tropiclean Pet Products sent products to the San Antonio Humane Society, National Disaster Dogs and the FEMA Task Force.
Tuffy's Pet Foods raised more than $15,000 (as of press time) for Corridor Rescue's relief efforts in Houston.
Vitakraft Sunseed donated 2,000 pounds of bird and small animal food and hay bedding.
Wag Central in Stratford, CT, raised $900 for U.S. Humane Society's Harvey relief.
WellPet sent volunteers and 30 pallets of food and treats to the Houston area; donated $10,000 through its Foundation to American Red Cross and Austin Pets Alive!; matched $5,000 in employee donations; and reimbursed and donated food to employees who fostered or adopted a Harvey pet.
Your Hipster Pet in Houston washed nearly 100 Harvey-displaced dogs at George R. Brown Convention Center's emergency shelter.
Worldwise made a monetary donation to Hurricane Harvey Humane Society relief, and employees donated $1,600. The company also sent Sherpa carriers and boxes of dog and cat toys that went to El Gato Coffeehouse Cat Cafe, Friends for Life and K-9 Angels Rescue in Houston.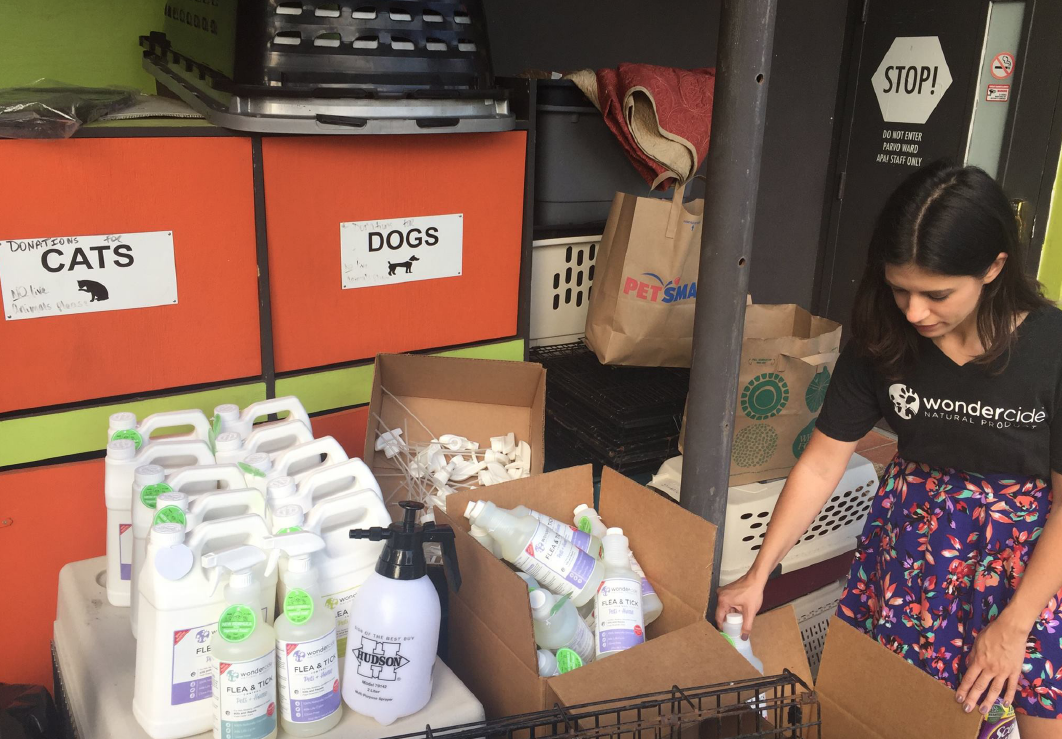 Wondercide Natural Products employees helped Austin Pets Alive! set up an offsite facility that took in Harvey-impacted dogs, fostered dogs in their offices and homes, and raised funds.
DOES YOUR BUSINESS HAVE A FLOOD PLAN?
Biff Picone and Nadine Joli-Coeur own Natural Pawz pet stores. With 17 locations in the Houston area, you can bet they know how to prepare for hurricanes. No stores flooded from Harvey, thanks to strategic selection of sites, but its headquarters/distribution center did take on water. The couple shares how they prepared.
"Once we realized the storm was headed in our direction, we mobilized," Picone says. "We wanted to make sure we wouldn't run out of food and supplies beforehand. We increased inventory at all locations."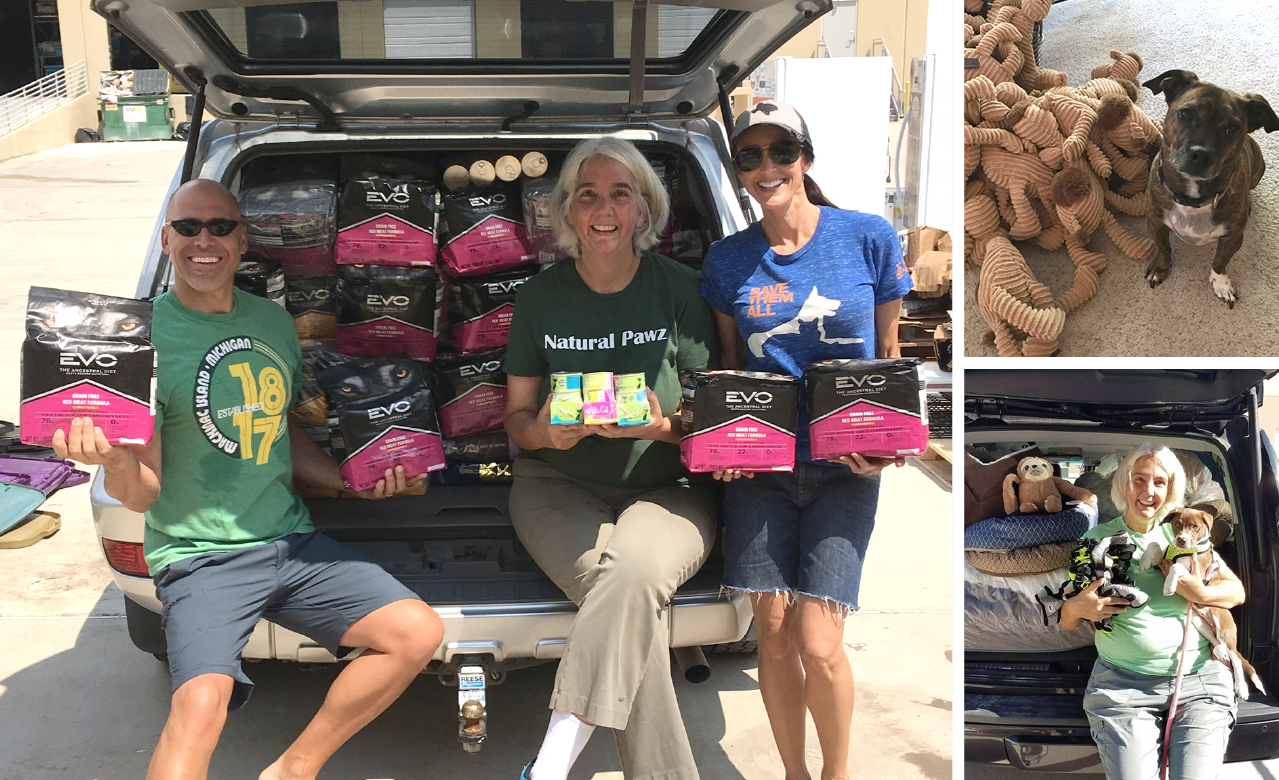 As Harvey's outer rainbands arrived, employees began moving up any products within 1 foot of the floor. The couple decided by 7 a.m. each day which stores would open, based on whether staff and customers could access them safely. All locations were closed Sunday through Wednesday after the storm.
"We tried our best to stay open," JoliCoeur says. "We are the grocery store for pets."
A phone tree, email blasts and social media kept everyone informed. Store computers were turned off from HQ and backed up on a server 5 feet off the floor, keeping it well above floodwater.
"It's amazing what 6 inches of water can do, including moving pallets of food," Joli-Coeur says of the situation they found upon reopening that Wednesday.
Employees got to work removing damaged inventory, which was set out to dry for possible donation. In total, Natural Pawz gave 80,000 pounds of food — in packaging that got wet but kept food dry — as well as other products to relief efforts. Manufacturers and vendors worked with the company to offset losses. By Friday, deliveries to stores had resumed. Helping out in the interim also let store employees make up lost income from the storm.
As to what will be done differently to prepare for future storms, Picone says, "Everything, everywhere, will be 2 feet up from the floor."
HOW PET SITTERS CAN PREPARE
Because pet sitters typically do business at their customers' homes, disaster planning differs. Beth Stultz, vice president of marketing and operations for Pet Sitters International, offers these tips:
1 Have a plan and make clients aware of it: Include steps to ensure the safety of pets currently in your care, as well as what assistance is available to clients who are in town but need your help.
2 Ask about backup: If pet owners have a designated caregiver for evacuation purposes, other than you, have complete, up-to-date contact information.
3 Ensure pets are prepped: Ask clients to have pre-packed pet supplies for an evacuation, including food, leashes and crate, plus medical records.
4 Protect yourself: Ensure you have adequate insurance should you need to bring client pets into your home. Also research pet-friendly shelters, hotels and other lodging options.
5 Keep a signed contract handy: Show this to first responders if you need access to a home to pick up or care for a client's pets.