Drive customers, sales and fun through your doors.
STORY BY
PAMELA MITCHELL
The day-to-day operations of a pet business prove challenging. Why then, would you want to add planning and executing special events to your to-do list?
For a variety of reasons, actually.
"We know that if customers come in and have a good time with us and their dogs, they will come back again and again," says Renee Douthit of Dee-O-Gee in Bozeman, MT.
"People spend more when they're having fun," adds Terri Ellen of Nature's Pet Market & Sunny Paws Grooming in Salem, OR.
"I want my customers to know I appreciate them," says Toni Shelaske of Healthy Pet Products in Pittsburgh, PA.
Add to the above their use as a marketing tool that attracts shoppers and provides a way to capture new email addresses, and the question should be: How can you afford not to hold special events?
We asked pet business owners and managers who excel in this area to share details about their most successful events. Look for inspiration in these examples. You just might want to replicate one.
GRAND OPENING WITH AN INSTA TWIST
Bubbly Paws, Twin Cities, MN
To promote the January opening of their fourth location, husband-and-wife team Keith and Patrycia Miller enlisted the help of local Instagram influencers with dogs.
"We sent all the influencers a special gift box with a custom Bubbly Paws frosted bone and an invitation to our grand opening celebration," Keith says.
The influencers also received free self-service baths for their pups and a discount on retail items, plus they got to enjoy wine, doggie beer and treats — passed via trays, of course — with other invited guests.
"We did this during our normal business hours and set up some of our friends and regular customers with free baths so it would look busy when the influencers were there," he adds. "The worst thing that could happen would be that the store was 100 percent empty."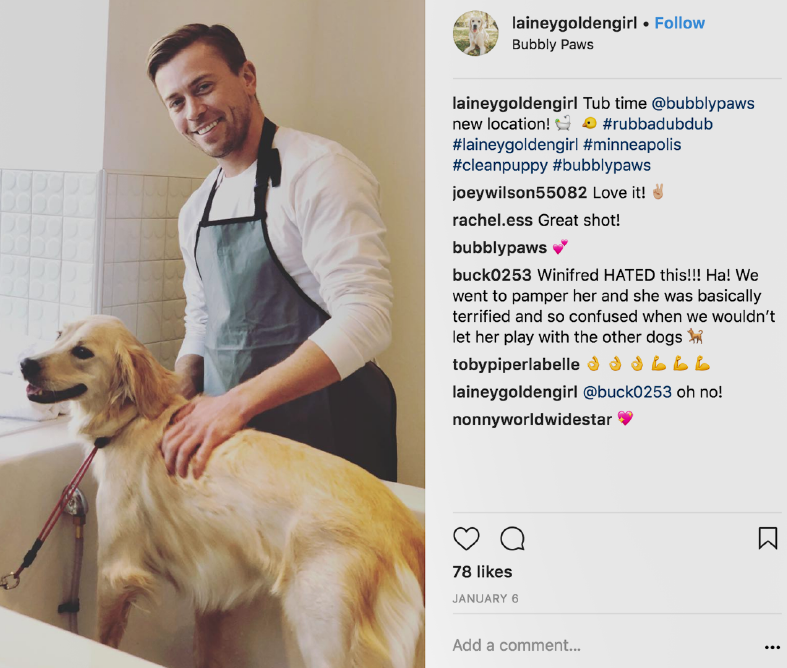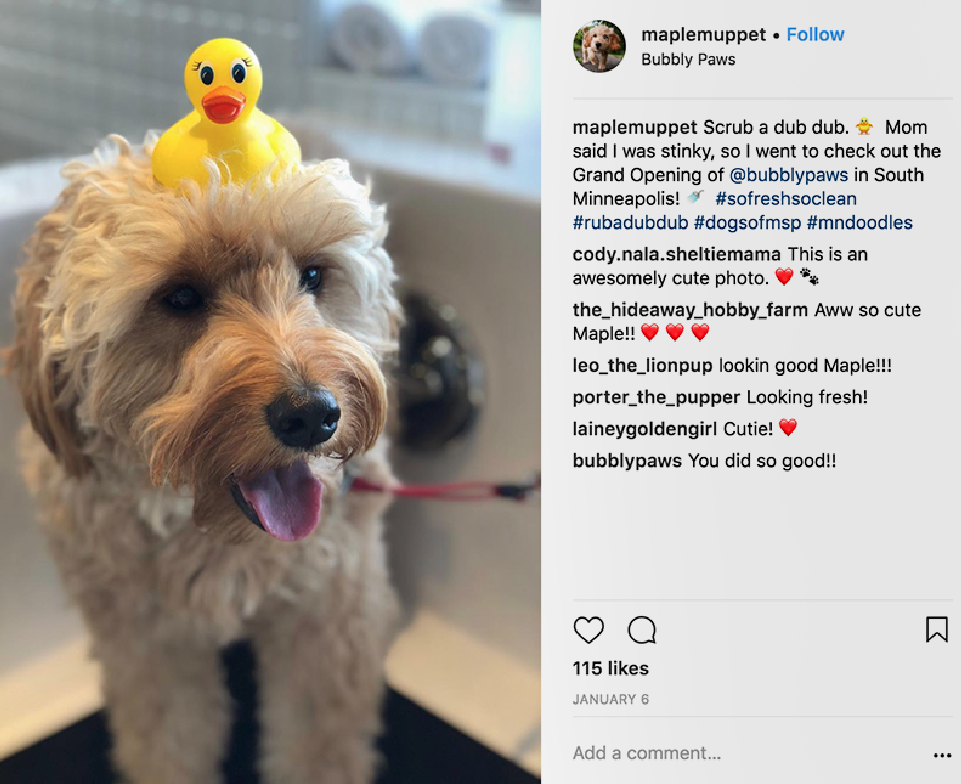 The Instagram element made the event a success.
"Our goal was to spread the word about our new location, and it worked! I kept getting excited every time I got a notice that we were tagged or mentioned in a post," Keith says, adding that the Bubbly Paws account also got a boost from the attention.
DIY TIP: Be selective about which influencers you invite, Keith advises. "Just because a person has 100,000 followers on Instagram does not mean that they are the best person to invite. We thoroughly researched everyone we invited, including trying to see where most of their fans were from. It does us no good to invite someone who has a bunch of fans who don't live in the area. Some of the best posts we received came from people who had under 500 fans."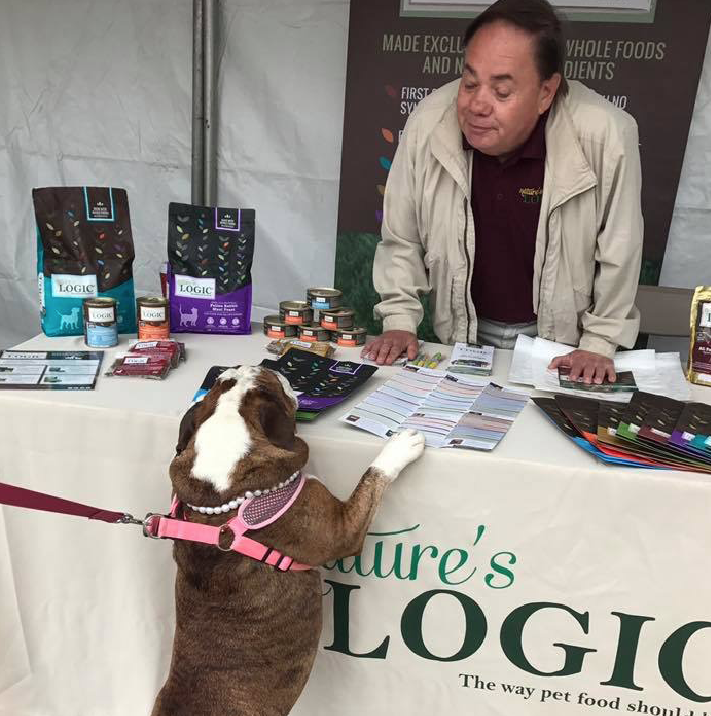 HEALTHY PET DAY
HEALTHY PET PRODUCTS, PITTSBURGH, PA
On a Saturday each May, owner Toni Shelaske turns the parking lots for her two stores into pet fairs. Local rescues and vendors set up under tents, and veterinarians and other animal experts speak on a variety of topics. A K-9 team even stops by to demonstrate their skills.
"It's a fun-filled, informative and freebie kind of day. That's the tagline we use to describe it," she says.
Shelaske also puts together a raffle of 70 gift baskets, with rescues in attendance splitting proceeds.
The first Healthy Pet Day happened 10 years ago and doubled as the store's grand opening. It has grown considerably, becoming the highest volume day each year at each of her stores.
Thanking customers remains the event's true purpose, though.
"I get to see a lot of my longtime customers who have become like family to myself and my staff," she says. "It's a really fun day that we all look forward to."
DIY TIP: Shelaske advises, "Ask for support from vendors and your pet food manufacturers, to help cover costs of booths and the event in general."
BABY BIRD MEET & GREET
The Feed Bag Pet Supply, Mequon, WI
Once a month, The Feed Bag partners with Parrot Adventures to create new bird enthusiasts. The breeders bring to the store a variety of babies, from parakeets to macaws, so customers can interact with them.
"It's a good way for people to learn whether this type of pet may be right for them, before they make a financial and emotional investment," manager Connie Roller says. "It's also a way for us to let customers know we have a full line of caged bird supplies."
The free three-hour event draws steady traffic, thanks to marketing via email and posts by both businesses on Facebook.
"We do it on a weekend so families can attend," she says, "and we make sure we have adequate staff for the increased amount of customers."
In addition to higher-than-usual sales that day, The Feed Bag gets 10 percent for every bird sold.
DIY TIP: When partnering with a business, include its contact info on promotions. Before learning that, Roller says, "We had more than a few people asking us what types of birds would be there and what the prices were."
DISCO DOG DAY
NATURE'S PET MARKET & SUNNY PAWS GROOMING, SALEM, OR
Owner Terri Ellen was eager to celebrate when Nature's Pet Market & Sunny Paws Grooming won two Best of Mid-Valley awards in 2016. A death in the family called her out of state, though.
Instead of waiting until she returned, Ellen asked her team to plan and execute an event. The result: Disco Dog Day.
"I gave my staff permission to be creative, do something wild and crazy," she says. "They took it from there."
Employees hung disco lights, set out lava lamps and served neon-colored cupcakes. They donned '70s fashions and turned the lights down and the music up.
"Customers came in and danced and sang and had a great time," Ellen learned from reports coming in via text.
The team planned the event, which included lining up vendors Earthborn and NutriSource to provide samples and specials, in just a week. They hung signs inside and outside, and posted on Facebook.
Disco Dog Day was a success: "My goal was to allow my staff to have fun, and to take ownership of the store and pride in it while I was gone. I was hoping to keep sales up," she says. "They far surpassed what I expected and had a record-breaking day."
DIY TIP: Leave the front door open during events like these. "People walking by were very curious about all the commotion going on inside," Ellen heard. "It attracted a lot of customers."
SMOOCH YOUR POOCH
DEE-O-GEE, BOZEMAN, MT
Dee-O-Gee customers start celebrating Valentine's Day the weekend before, thanks to the store's annual Smooch Your Pooch event. It features a photo set complete with props, plus chocolate-dipped strawberries for humans and holiday cookies for pups.
"We take the photos and then post them on our Facebook page that evening," sales and marketing manager Renee Douthit says. "Customers love tagging themselves and making the image their profile photo."
That community engagement, boosted by social media, proves key to the success of Smooth Your Pooch and of Dee-O-Gee.
"Our customers love that we do events," she explains, adding that they often say "it is one of their favorite things about shopping with us."
DIY TIP: Start planning photo events four to six weeks prior, Douthit advises. In addition to hiring a photographer, "That gives you enough time to create graphics, advertise in the newspaper and plan your social media strategy."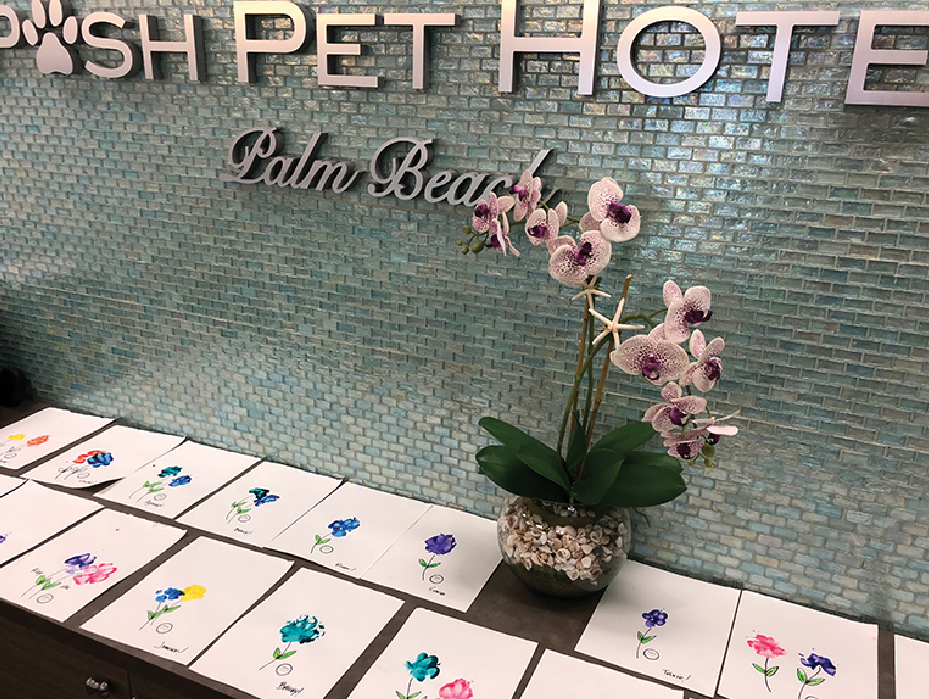 PUP-CASSO PAW PAINTING
POSH PET HOTEL, WEST PALM BEACH, FL
Just like the handprints teachers send home with human students, the paw paintings from Posh Pet Hotel will hang on refrigerators and in frames for years to come. Lincoln and Stacey Baker hold Pup-casso twice a year at their boutique, daycare-boarding and grooming business.
"We have this free event to create something that will last a lifetime for owners, so they can remember their fur babies," Lincoln says. "We love to offer fun and value to our customers."
Staff set up in the puppy room, dropping a cloth to protect floors. They then move dogs through an assembly line of sorts, dipping their paw in pet-friendly paint, pressing it on paper, and washing paint off in a basin filled with soapy water. After, pups get to play with their friends in one of the indoor or outdoor areas.
Lincoln uses a marker to add stems and leaves to the paintings, turning paw prints into pretty flowers. The pet's name and a Posh Pet Hotel sticker are finishing touches.
"So many people love it," he says of the popular event, which gets marketed online and in store. Word of mouth and social media posts about Pup-casso also attract new customers.
DIY TIP: Don't stress the mess, whether at your business or on the paper. Pet parents will love the painting even if there are smudges. "We try to get it perfect," Lincoln says, "but they are dogs."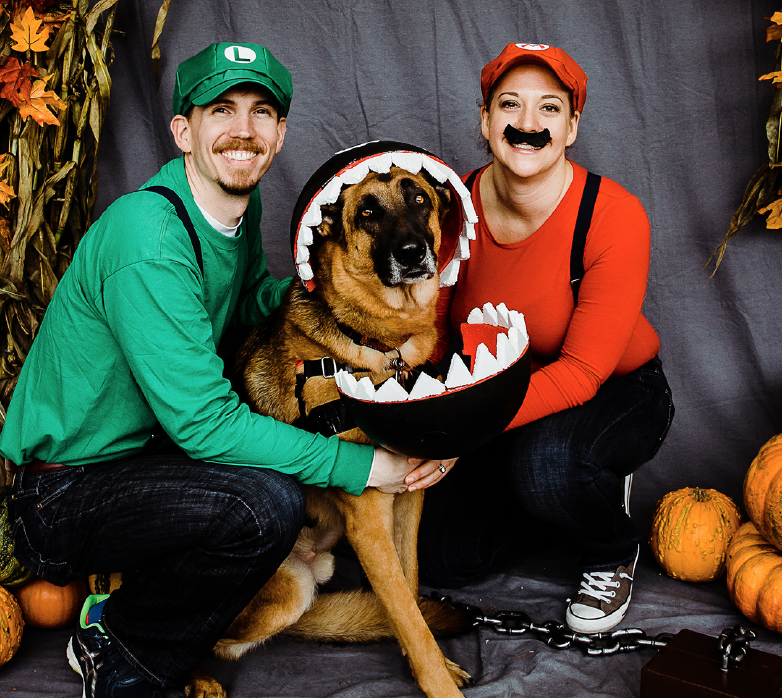 TRICKS FOR TREATS
PADDYWACK, MILL CREEK, WA
Registration for this annual event fills up weeks in advance. Why? Because the people and pets who attend could not possibly have more fun.
Paddywack pet store created and hosts Tricks for Treats, which happens the Sunday before Halloween throughout Mill Creek Town Center. For a $10 donation per pet, participants get a start time, reusable bag, and map of 25 treat stops and activity stations.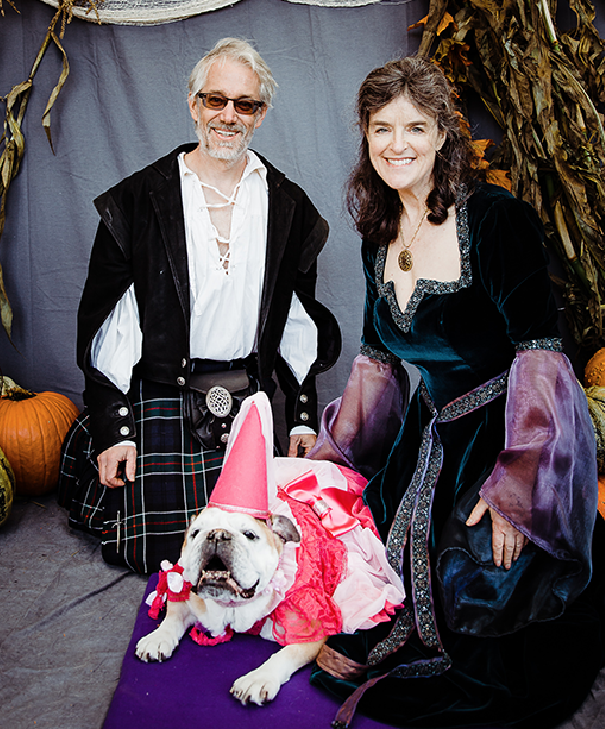 Husband-and-wife owners Adam Felker and Shane Somerville enlist product manufacturers to provide the "treats," which she says "range from samples to full-size products — they definitely get way more than $10 worth of stuff!"
They ask event beneficiaries, which receive 100 percent of registration fees, to help man stations. The Halloween-themed photo set proves popular. Employee Caitlan Frend, also a professional photographer, shoots participants and uploads to the store's Facebook page for a costume contest with prizes.
Tricks for Treats exists first as a fun fundraiser — more than $2,000 each year — and Somerville says that also benefits their business.
"We believe that one of the reasons we are successful, and even growing in an industry and area crowded with competition, is our active interest in supporting nonprofits in our community."
She adds, "We also know that people love when stores do events, and we have people come from quite a long ways away just to come trick or treating with us, so it helps get our name out there even more!"
DIY TIP: Limit the number of participants and stagger start times to avoid overcrowding at stops and stations. Tricks for Treats offers 200 spots within a 2 ½-hour time frame.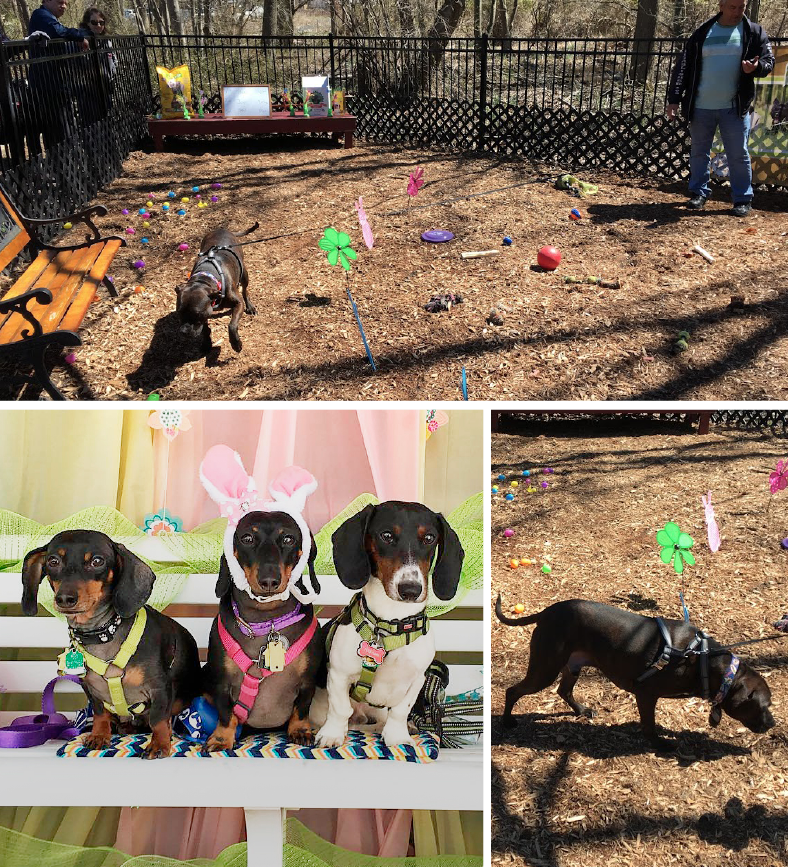 EASTER BISCUIT HUNT
THE HUNGRY PUPPY, FARMINGDALE, NJ
Nearly 200 dogs take part in this annual Easter Biscuit Hunt. Here's how it works: Each team gets 30 seconds in Easter Biscuit Field, aka The Hungry Puppy dog park. The human must stand in a designated spot and hold a retractable leash with their pup on the other end. Using only leash tugs and vocal commands, they must guide their hunter to an Easter Biscuit. Squeaky toys and other treats serve as distractions. Teams with the three fastest times win store gift cards, with all participants getting a prize.
Marketing director Joanie Hauleiter says the event achieves multiple goals.
"It celebrates the relationship people have with their pets, provides a unique experience not found anywhere else, and gives people a reason to recognize our brand and the different services and products we offer, providing a compelling reason to do business with us!"
It also attracts new customers and gives staff an opportunity to sign them up for the store's email newsletter.
Hauleiter begins marketing the event three weeks prior, sending out press releases, putting flyers in shopper's bags, running an ad on in-store monitors and posting on various social media channels.
DIY TIP: Give each team a number when they arrive so everyone knows their place in line. No cuts!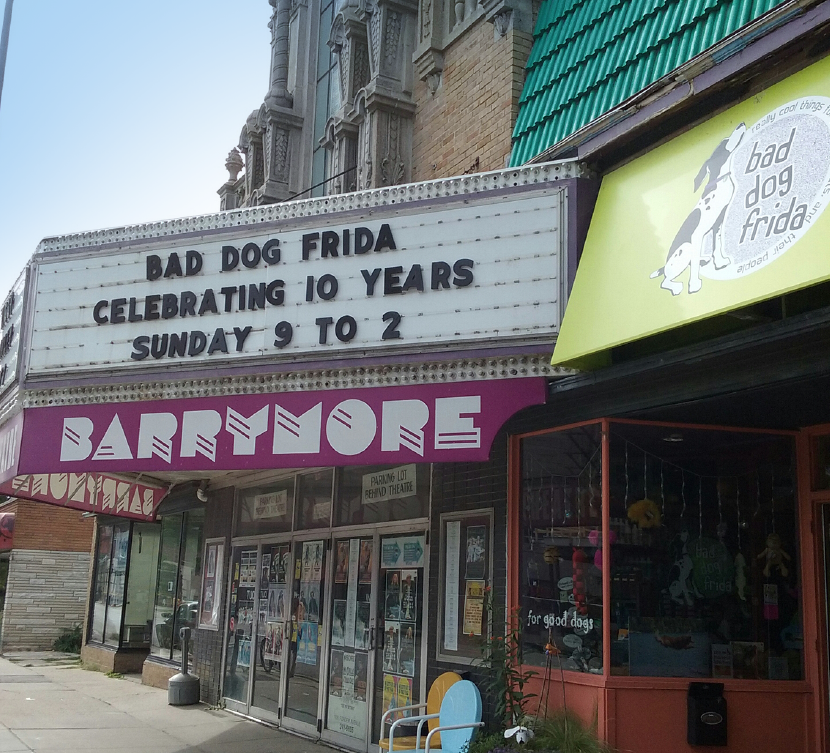 ANNIVERSARY CELEBRATION
BAD DOG FRIDA, MADISON, WI
Each July, Bad Dog Frida celebrates its anniversary. Product manufacturers, rescue groups and local trainers and daycare providers set up tables outside. Inside, food and supplements are 15 percent off. Pups get doggie ice cream.
Perhaps the biggest draw, though, are the goodie bags — filled to the brim with samples from the likes of Stella & Chewy's, Fromm, Herbsmith and Polka Dog Bakery — free to the first 50 attendees.
"Last year, we had more than 50 people lined up outside waiting for us to open! The goodie bags have a reputation all their own," co-owner Carmen Alcalde says.
DIY TIP: Bad Dog Frida spans just 600 square feet. Stores with similar space constraints will want to have partners outside for sure. "People can go out and chat with vendors if the store is too packed. It's proven to be really helpful for customers, dogs and us," Alcalde says.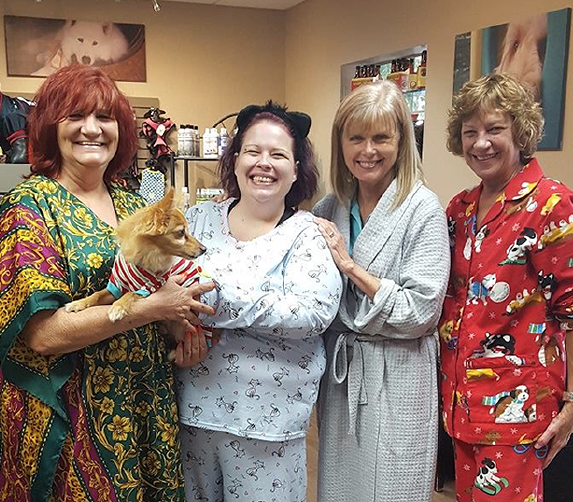 SLUMBER PARTIES
ABC PET RESORT, HOUSTON, TX
These parties are all about the pups. They get to snuggle with a pajama-clad team member while watching a movie and eating popcorn. These one-on-one sessions last 20 minutes and are available several times throughout the year.
"The benefits are numerous," co-owner Suzanne Locker says. "Extra income, fun for the staff, and they give parents the confidence that their pet is staying at a fun place with fun folks.
Slumber parties also help to market ABC Pet Resort's extensive list of add-on activities. Cute photos of people and pups in PJs go a long way on social media.
Locker adds, "It's an inexpensive marketing tool — that works!"
DIY TIP: Have check-in staff also wear PJs when slumber parties are available. Pet parents will ask about the attire before employees can even offer the option.
YOUR EVENT-PLANNING
CHECKLIST
How far in advance you check off the items on this list varies by the type and size of event, but be sure to set deadlines for each and tackle them all for best results.

Decide on an event
Pick one previously held or from this story, or brainstorm a fresh idea with your staff. You can even assign them the task altogether.
"Empower your employees to be creative and have fun, then trust them to do it," Nature's Pet Mart owner Terri Ellen says. "I've learned that I don't always have to have my hands in everything. If I've hired the right people to be on my team, I can trust them to take charge."
---

Pick the date.
If tied to a holiday, look to the weekend prior. Always ensure that no other pet events are planned for the day, as you don't want to compete for attendees or partners.
"Rescues and small businesses have limited funds, staff and time to spend on events," Karen Conell, owner of The Bark Market in Delavan, WI, points out, "so plan way ahead and offer a super-quality event that will draw the best people year after year."
Also consider spreading larger events out over two days. Eric Mack, owner of Purrrfect Bark in Columbus, NC, plans to do that with his store's anniversary celebration this year.
"We did have several people who came into the store and left because the line was so long," he says of the 2017 event. "Most of them came back, but I'm sure some didn't."
---

Line up partners.
You don't have to go it alone. Ask manufacturers to be on hand with information and free samples. Talk to neighboring business to see if they want to join in on the fun, or provide items for goodie bags or raffle baskets for future reciprocity. If you plan to raise funds, enlist the beneficiary organizations to co-promote and provide volunteers.
"If you're writing them a check," Paddywack co-owner Shane Somerville says, "they are usually more than happy to assist."
---

Promote, promote, promote.
Send event listings and press releases to local publications by their deadlines, and inquire about advertising if you have the budget. Make posters to hang in-store, and to share with your newsletter subscribers and on social media. Create an event listing on your Facebook page and consider paying to boost it.
---

Schedule staff.
Do you need all hands on deck? Yes, and perhaps then some (remember the volunteers). Assign everyone roles, but also have designated floaters to jump in where needed.
"Make sure you have additional help for parking," Joanie Hauleiter, marketing director for The Hungry Puppy, says. A team member helping attendees find spots will ease frustrations.
---

Have fun! Don't sweat the sales!
Focus on making the event fun for your customers, not on making sales.
"I think people appreciate going to something and not being pushed for a sale to be made," Paul Lewis, owner of Birds Unlimited in Webster, NY, says, adding about his recent Bird of Prey event, "It was a pleasant time, and some stayed hours talking about birds with other people."
---

Debrief ASAP.
Renee Douthit, sales and marketing manager for Dee-O-Gee, advises, "Taking notes right afterward about what worked and what needs improvement is crucial. If you wait for a week, you are likely to forget some of the small details that you want to remember for the next time."
---
This article originally appeared in the May 2018 edition of PETS+.