The Hungry Puppy
A gathering place for people and their pets.
STORY BY
PAMELA MITCHELL
The Hungry Puppy is so much more than a store. It also serves as a community center for people and their pets, a place where they can play and learn and even get veterinary care.
Quick Facts
THE HUNGRY PUPPY FARMINGDALE, NJ
OWNERS: FRANK AND TERESA FRATTINI
WEBSITE: THEHUNGRYPUPPY.COM
OPENED: Founded in 1987, opened featured location in 1993
AREA: 3,000 square feet retail, 15,000 warehouse
EMPLOYEES: 18 full-time, 5 part-time
FACEBOOK: facebook.com/
TheHungryPuppyNJ

Frank and Teresa Frattini started the Farmingdale, NJ, business in 1987.
"We knew that if we sold products at a reasonable price and provided one-on-one customer service that people would come back. We're still doing it 30 years later," Frank says.
The Frattinis started out small with a 1,200-square-foot store. It wasn't until a 1993 move to their current location — with 3,000 square feet of retail and 15,000 square feet of warehouse space — that The Hungry Puppy would evolve into the gathering place it is today.
CREATING A COMMUNITY
"We want to turn the chore of buying pet food into an event," Frank says.
In addition to an interior filled with 18,000 products for dogs, cats, small animals, birds, horses and livestock, The Hungry Puppy has a 2,500-square-foot dog park and playground. Customers can rent it for pet birthday parties, and Teresa teaches a variety of obedience classes there.
The park remains accessible all other times during business hours and serves as a location for store events, including the annual Easter Biscuit Hunt and Bow Wow Luau as well as many other themed gatherings, some of which are co-presented with major pet product brands.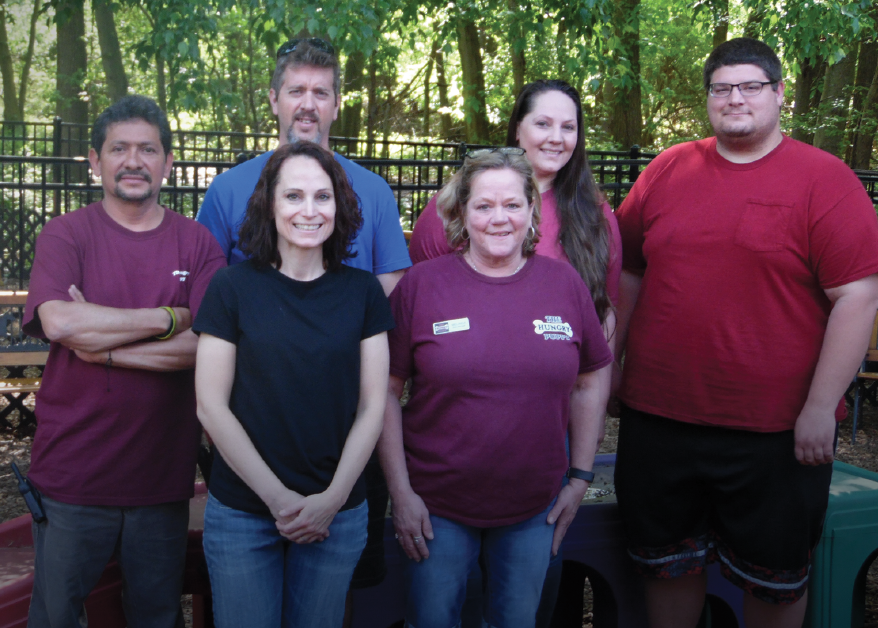 On average, staff members have worked at The Hungry Puppy for 10 years.
"It's helped us create a sense of community, to celebrate the relationship our customers have with their dogs," Frank says. "The park is free and open to the public, and people migrate inside after having been there for a while."
INVESTING IN EMPLOYEES
Another way the Frattinis increase the amount of time — and in turn, money — customers spend at the store is to hire employees with a friendly personality and an eagerness to learn.
"We rely on our sales associates to have the right frame of mind, to say 'Hey, come on in and be a part of our community,'" Frank explains. "We also work with our employees on a continual basis. They get formal training from vendors and manufacturers, but we also talk to them about which products we personally recommend and which we carry just because people want them."
The couple also wants their staff to feel as valued as their customers. Benefits available to various levels of employees include vacation pay, a 401k that the company contributes to, subsidies for health insurance, and bonus and incentive programs. As a result, the average length of employment at The Hungry Puppy is 10 years.
STAYING HUNGRY
Among the plans for 2017-18 are expansions of the store's e-commerce offerings and of its delivery area, which currently covers a 30-mile radius. Frank also wants to increase awareness of the service, which is free with a $50 minimum.
"We've offered delivery from day one," Frank says, adding that the relationships he has with vendors, manufacturers and distributors actually allows him to regularly beat the prices of other online retailers. "We need to drive that home in our delivery areas."
PHOTO GALLERY
(11 IMAGES)