Retro Experience

Bow Wow Beauty Shoppe's customers come for the service and stay for the ambiance.
STORY BY
PAMELA MITCHELL
Bow Wow Beauty Shoppe
SAN DIEGO, CA
OWNER: Leel Michelle
LOCATION: San Diego, CA
URL: bowwowbeautyshoppe.com
OPENED FEATURED LOCATION: 2018
AREA: 1,600 square feet
EMPLOYEES: 1 full-time,3 part-time
FACEBOOK: /bowwowbeautyshoppe
INSTAGRAM: /bowwowbeautyshoppe
SCORE:
---
INTERIOR:
82%
---
EXTERIOR:
79%
---
STORY:
74%
---
MARKETING:
76%
---
ONLINE: 72%
---
INDIVIDUALITY:
87%
---
TOTAL:
80.4%
Leel Michelle believes in creating an experience for her customers.
"A business shouldn't just be a place to buy things," she says. "All of the stores I treasure also have an amazing ambiance."
That philosophy — developed over years working in the fashion retail and amusement park industries — informs Michelle's Bow Wow Beauty Shoppe in San Diego, CA. As does her love of all things retro. They combine to win the 2018 PETS+ America's Coolest Store title.
FABULOUS '50s
Michelle was born in 1975, but as a child she obsessed over an earlier decade. The theme of her 13th birthday party? The 1950s. Favorite gift that day? A Chubby Checker record.
"The music, colors and glamour were so beautiful, happy and interesting to me."
Michelle carried that passion into adulthood. She used it — along with art and fashion studies in Italy and New York — to design her pet store, both in its original location in 2006 and where it exists today as of January.
Neutral walls and floors allow mint and pink paint to pop, whether on furniture repurposed as fixtures or on '50s fridges that keep gourmet cakes fresh. She likes merchandising to surprise. Vintage suitcases elevate dog beds. Tiered cupcake stands hold tennis balls. Hair dryer chairs anchor displays that include another interest: pinup models.
"I'm most interested in pinup artwork from artists who put beautiful girls in a silly situation, and preferably with an animal! It makes it more fun and keeps one from taking life too seriously."
All Bow Wow Beauty Shoppe employees don Retro Stylist Wear, the award-winning grooming apparel line Michelle launched in 2015.
"It goes with the store's theme and keeps us looking professional and uniformed."
Add to all this '50s music and a friendly staff, and the ambiance she works so hard to create attracts a customer base heavy with regulars.
"Doing something special cements loyalty and makes it hard to go somewhere else."
HIGH-PROFILE GROOMERS
Thanks to Retro Stylist Wear's success and 11 years as an in-demand groomer, Michelle has a stellar reputation with peers and clients alike. Her name attracts business and contributes to the overall experience. That proved a challenge when a growth opportunity presented itself before the recent move, one that wouldn't leave much time for salon management.
Fortunately, her award-winning head groomer wanted to buy the department.
"Gabriel Feitosa is a rising star in the grooming industry, invited to judge competitions all over the world," Michelle says. "It worked out really well for both of us."
Now called Gabriel Feitosa Grooming Salon at Bow Wow Beauty Shoppe, it continues her tradition of high-profile groomers providing pet and show cuts in a salon setting.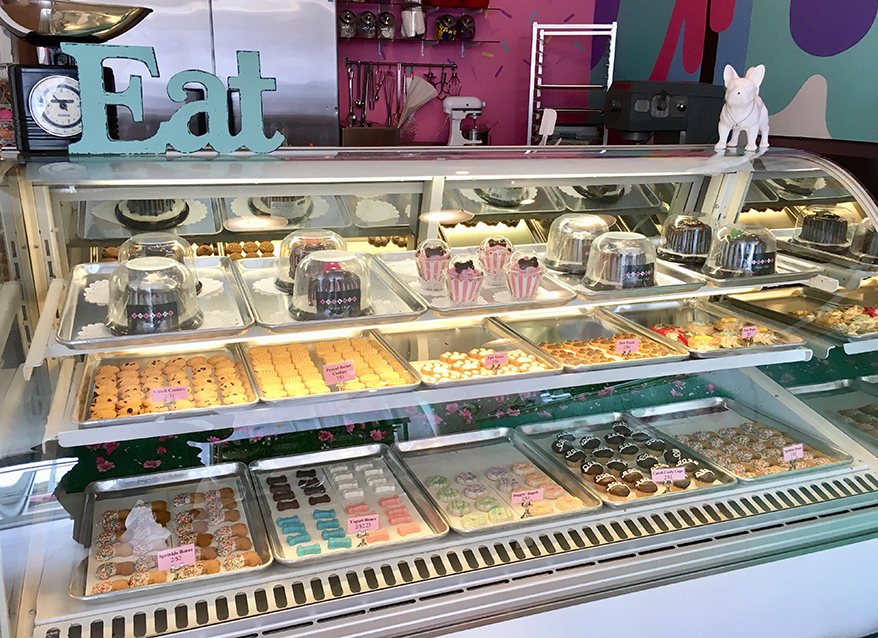 JUDGES' COMMENTS:
Ruth Mellergaard: All of a piece — name, graphics and interior.
Phil Chang: Very creative! So unique. Love your business and how you bring experiential to the industry!
Jamie Migdal: I like the charming retro design vibe, which is very different from the usual website templates that most pet businesses have.
GOURMET BAKERY
The previously mentioned opportunity involves the gourmet cakes that make this store a top destination for dog birthday supplies. Michelle has always created her own recipes — with veterinary guidance — and icing designs, but she outsourced baking. When her longtime baker decided to retire last year, she needed a new plan. After all, bakery items account for 60 percent of retail sales.
"I couldn't find anyone that had the look. Or they did, but didn't want wholesale volume. I said, 'I guess we're going to have to do this ourselves.'"
And they have. A new baker filled in while Michelle built a bakery at Bow Wow Beauty Shoppe. It opened in May with an explosion of color and taste. Pink and mint carry through to the counter, and are joined by blues and reds and yellows behind in a mural that resembles the icing drips on her cakes.
Additional offerings are in the works for both retail and wholesale, as are on-site doggie birthday parties and Very Important Pup service at '50s chrome tables and chairs.
"I don't want it to be your average dog bakery," she says. "I want it to be a fun and memorable experience for people and their pets."
It certainly will be with Michelle involved.
---
PHOTO GALLERY
(8 IMAGES)