Every year, pet businesses across the country hit noteworthy milestones that inspire a party atmosphere.
Furry Tails Pet Shop in Decatur, GA, celebrated its first birthday in March 2016 with an assortment of product giveaways, prize drawings and refreshments.
In honor of its 30th anniversary this past May, Miami's Simbad's Birds & Pets created a community event featuring ice cream, giveaways and vendor reps.
And in June, the Blue Fin Pet Shop, a staple in downtown Falconer, NY, marked its 35th anniversary with 50/50 raffles benefiting the local humane society and giveaways that ranged from fish tanks to dog toys.
For pet stores across the country, business anniversaries will almost certainly spark hearty reflection and warm recollections, but there's the possibility for something else as well: attention, traffic and sales that boost today's bottom line and future prospects.
"To this day, the fifth anniversary celebration we had at our flagship store remains one of the top five revenue days in company history," reports Heidi Neal, owner of the four-store Loyal Biscuit Dog Co. in Maine.
Pets+ connects with six independent pet stores to discuss their successful anniversary celebrations.
---
5TH BIRTHDAY
Club Canine's "Hot Diggity Dog"

Portsmouth, NH
The goods: a human and dog-friendly barbeque featuring regional hot dogs; a rubber ducky-filled pool; frozen dog treats; ice cream bar; raffle for dog-themed basket valued at $100 with proceeds supporting the New Hampshire SPCA
Owner Stacey Kimberley Rogers' party tip: "The most successful events offer something to do, something to buy, something to eat and a thank you for coming — sincere thank-yous, both written and digital, set you apart from the big-box stores."
---
15TH ANNIVERSARY
Animal Connection Natural Pet Store

Charlottesville, VA
The goods: Friday night Halloween parade; costume contest for dogs and kids; free dog treats; professional photographer; pet portrait artist; rescue groups; treats for dogs; refreshments; 15 percent off sale
Owner Pattie Boden's party tip: "Involve the pet community, not just your own store, [and] honor the customers who 'brought you to the dance.'"
---
10TH ANNIVERSARY
The Feed Bag Pet Supply

Mequon, WI
The goods: A prize wheel featuring bags of food, toys, treats and more; product samples; rescue groups with available pets for adoptions; demos from a wildlife rehabilitator; "ask the vet" booth; brat fry and bake sale led by a local rescue group
Manager Connie Roller's party tip: "Our staff wore fluorescent yellow tees branded with our store name and logo so they could be easily identified."
---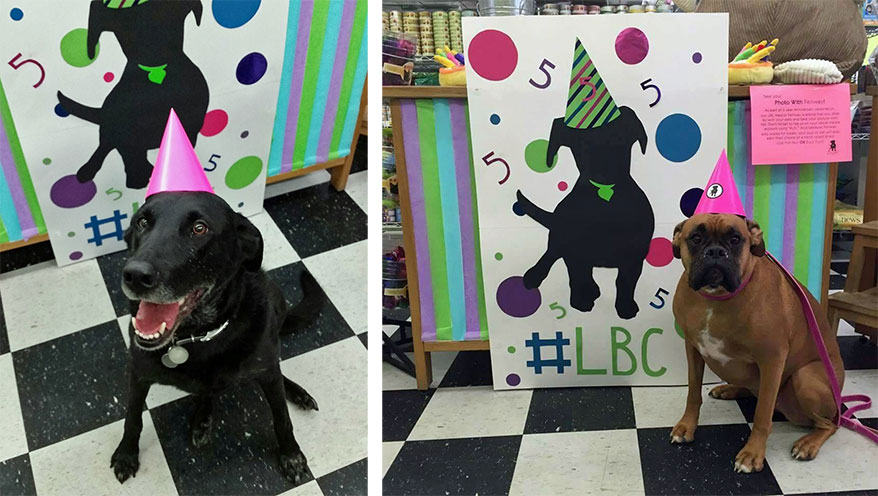 5TH ANNIVERSARY
Loyal Biscuit Co.

four stores in Maine
The goods: a reusable Loyal Biscuit Co. tote bag filled with samples and goodies; cupcakes for dogs and humans; photos with a life-sized cutout of Fenway, the Loyal Biscuit Co.'s beloved store mascot; $5 dog washes
Owner Heidi Neal's party tip: "Anything you can do to incorporate your customers' pets is a win. Customers will love doing something with their pet and then sharing the word that they got to do something cool with their pet."
---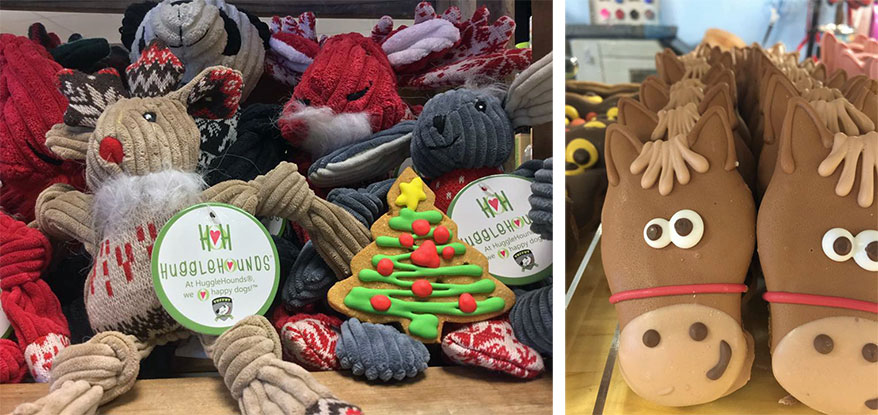 5TH BIRTHDAY
Purrrfect Bark

Columbus, NC
The goods: Swag bags for the first customers who spent $25; major specials on top products; new items; a caricature artist
Owner Eric Mack's party tip: "Do it big. Your customers will come as long as you notify them. We do Facebook events, email blasts, Instagram posts and also print off something that can be handed out in advance." Worried about turnout? Attract new customers with a $250-$500 giveaway.
---
ANNUAL BIRTHDAY CELEBRATION
Bentley's Pet Stuff

Milwaukee, WI
The goods: cat and dog rescue groups; gift bags featuring booklets, toys, coupons and samples to the first 25 customers; special product sales; ice cream social; pumpkin lattes for dogs; demos from store staff and vendor reps
Manager Nadine Johnson-Barthel's party tip: "Telling your story is important, especially about how you started, how you've grown and how you're connected to the community, such as how many animals you've helped through donations or rescues."
---
This article originally appeared in the September-October 2017 edition of PETS+.