Groomer's social-media feed works the 'aww' factor
A Chicago grooming business's Facebook feed is heavy on ultra-cute photos of customers' pets. Owner Tara Evangelist of Temple of the Dog & Meow Lounge uses social media to show off her staff's work and engage smartphone-toting customers in the city's happening Logan Square neighborhood.
THE IDEA: Saturate a pet business's social media presence with cuteness. "I think Facebook and Instagram are critical now for businesses, marketing-wise," says Evangelist. "It's such a great platform to get out what you're doing." Evangelist has maintained an active Facebook feed for the shop since she opened it in 2012, and photos of freshly groomed pets make up a lot of the store's posts. Customers get excited about the posts. "They're creating Facebook pages not only for themselves, but for their pets as well. So that's pretty cool."
THE EXECUTION: Evangelist and her staff of groomers all use their phones to post photos of their clients' pets, along with comments like "Can you even handle this cuteness?!" and "This little fluff-nugget, Buckley, had his very first groom with us today!" They post at least every other day, and more often on weekends. Evangelist recently hired an "amazingly awesome" client care coordinator, Rachel Giles, whose tasks include keeping the feed up to date. "She's young and hip, and she's taking pictures," Evangelist says. The shop also uses Facebook to promote pet rescue and adoption efforts, and to share community information — about runaway pets, for example. Evangelist even uses the feed to warn customers about road construction in the neighborhood. "I was like, I'm going to get so many phone calls (from customers) about their dogs stepping in tar," she says. "I might as well put this out there."
THE REWARDS: Customers love the feed, and they like and share the posts. "People ask us now, 'Will you post a photo of my dog on your Facebook page?'" Evangelist says. Maintaining a Facebook presence lets Evangelist maintain relations with clients even when they're not in the store. "You get to know them so much through Facebook. They'll comment about other people's pets, and say things like, 'My dog absolutely loves it there.'" The feed is also a way for the shop to publicize its appearances at pet-related functions, like business launches and neighborhood outreach events.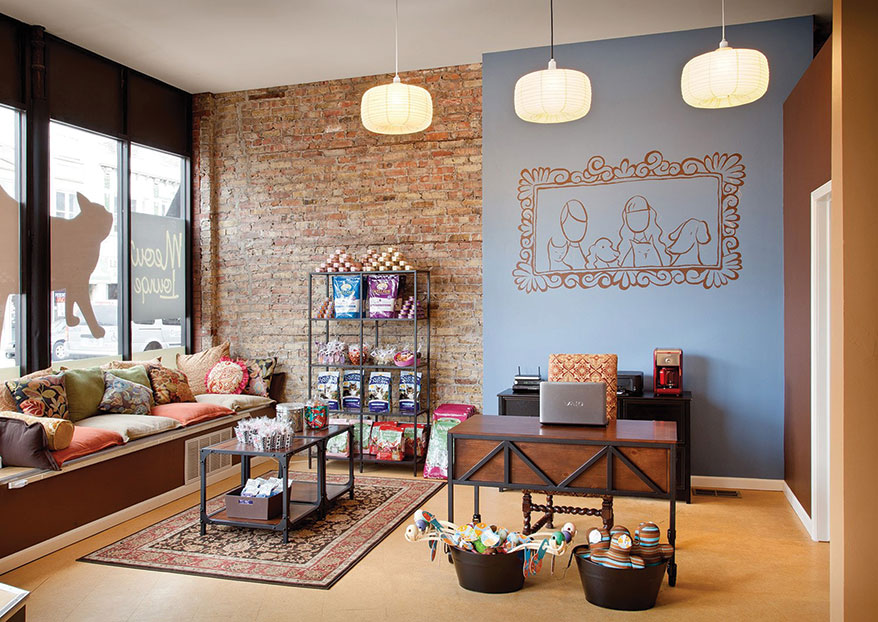 Temple of the Dog is one of Chicago's most popular groomers.
Do It Yourself:
Win More Fans on Social Media
Maintain feeds on major social media outlets. Facebook is the king, with more than a billion users worldwide.
Remember that cute pet pictures drive the Internet. People can't resist clicking on them!
Keep it fresh. Try to update your feed at least once a day.
Use your phone. Modern smartphones have great cameras. You don't need anything else to start shooting.
Engage your customers. Respond quickly to comments, and let them know you're reading.
This article originally appeared in the Jan-Feb 2017 edition of PETS+.