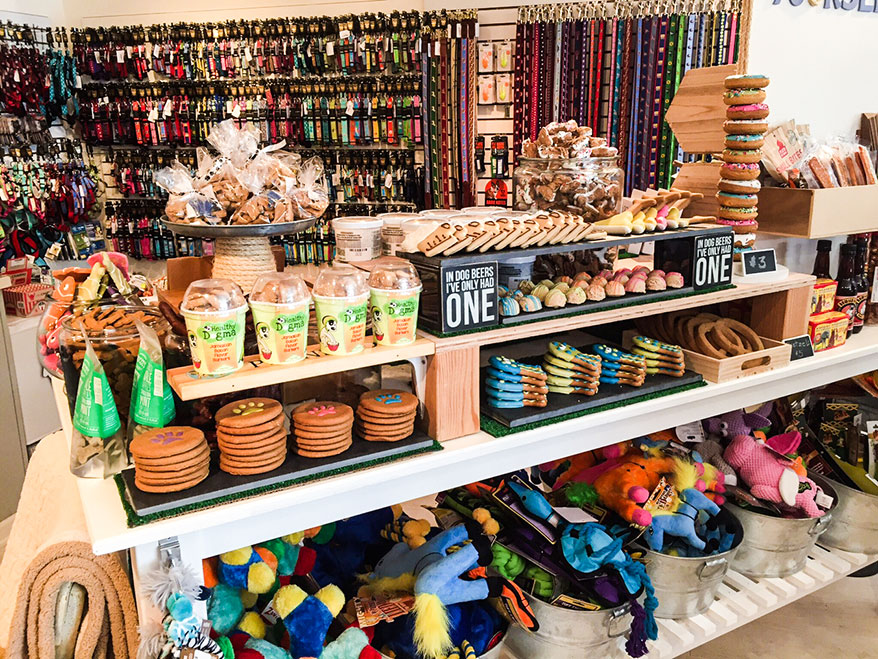 At Yuppy Puppy, the treat table was designed with a gourmet market in mind.
Envision your favorite store and ask yourself, what do you like about it? Is it the brightness of the lighting? Is it the organization of racks? Is it the artistic window display? Or the high ceilings? The nice scent in the air? The music or the layout and the nice airy feel? It's probably all those things and more. Welcome to the world of visual merchandising: the art of organizing your store to maximize sales and attract buyers who will leave your store with a memorable shopping experience. It's what sets your store apart from everyone else's.
Years ago, I was hired by Nordstrom as a visual stylist during the holiday season, where I worked with some extraordinarily talented professionals and learned a tremendous amount about store layout, product variety and placement, and creative display. I applied these new merchandising strategies to my 700-square-foot dog boutique, Yuppy Puppy. Every year, I paint, build new displays and repurpose materials to keep the store fresh and inviting. Most recently, I partnered with a store designer to give Yuppy Puppy a mini makeover.
A large part of merchandising is connecting with your creative side. Always be on the lookout for inspiration and ideas. Some of my favorite sources of inspiration are Anthropologie, Bergdorf Goodman, Fifth Avenue in Manhattan and, of course, Pinterest.
Here are five tips to get you started:
1 Straight lines: When stacking product on shelves, make sure the rows are straight and the first item on the shelf is pulled all the way forward to the edge.
2 Use props and mannequins to create a theme. One of my favorite parts of my shop is my treat table. I designed it with a gourmet market in mind. I used jars, slabs of wood, crates, slate, bins, etc., to create layers and depth — filling each nook and cranny with an assortment of gourmet treats, packaged treats, food seasonings, granola bars and more!
3 Fill your shelves: A full store sells! I have seen many small indy stores with a sparse product selection due to budget restrictions or as a way to conserve money. An empty store is not inviting; it looks old, dull and forgotten. No one wants to buy the last lonely bag of treats sitting on a shelf.
4 Create "departments," even in a small store. Place dog food and treats together, group all lifestyle products (e.g., hats, T-shirts, tote bags, etc.) It is OK to cross-merchandise as long as it makes sense — like styles together or like colors together create a theme. But it's always best to err on the side of caution. Too much cross merchandising can make a store look disorderly and feel overwhelming.
5 If your boutique has a selection of lifestyle apparel, pay attention to the style of hanger you use. Classic acrylic hangers scratch and yellow over time and also look clunky. Streamlined metal hangers are unobtrusive and allow the product to speak for itself.
Merchandising even a small store can take a very long time, so start small and pick one tip to focus on at a time. You'll know when it's time to take your merchandising to the next level. And just remember to have fun making your store the place to go.
Jamie Idzi has been a visual stylist for Nordstrom and owns Yuppy Puppy, a dog boutique in Bethany Beach, DE. Contact her at This email address is being protected from spambots. You need JavaScript enabled to view it..
---
This article originally appeared in the November-December 2017 edition of PETS+.