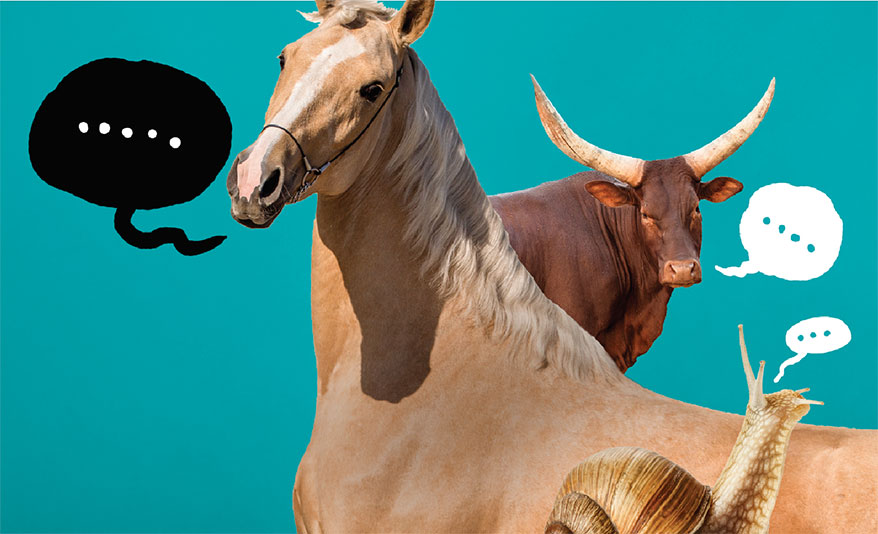 This month in the quiz, we're reconsidering widely used similes. All your life you've heard people using phrases like "free as a bird," "quiet as a mouse" or "hairy as a gorilla." But are these similes accurate? Is the bird really the free-est animal? Are gorillas really the hairiest? We did some Internet research to find better, more colorful candidates for various popular phrases. Read, remember, and use!
1. "EATS LIKE A HORSE"
Horses. They're picky, discriminate eaters compared to the following high-energy consumers. Pick the biggest eater by body-weight percentage.
A. American pygmy shrew
B. Pandas
C. Blue whales
2. "SLOW AS A SNAIL"
Turtles and snails? Those guys are speed demons compared to one of the animals below. Or are they?
A. Manatee
B. Three-toed sloth
C. Starfish
3. "WISE AS AN OWL"
Owls certainly look wise, with their magisterial plumage and dignified carriage. But one of these three is a smarter animal.
A. Bottlenose dolphin
B. African gray parrot
C. Chimpanzee
4. "BLIND AS A BAT"
Bats have very poor visual acuity. But are they absolutely blind? No. However, one of these animals is.
A. European cave salamander
B. Colossal squid
C. Ogre-faced spider
5. "STRONG AS AN OX"
Oxen certainly are powerful animals, able to carry more than 1,500 pounds. But the epitome of strength? That would have to be one of the following animals, at least in terms of strength proportionate to size.
A. Leafcutter ant
B. African bush elephant
C. Dung beetle
Answers ... 1. A. American pygmy shrew. It eats three times its body weight per day. In fact, it can't even sleep for more than a few minutes at a time, or else it would starve. | 2. B. Three-toed sloths won't move farther than 100 feet in a day. They move so slowly that algae reportedly grows on their fur. | 3. C. Sharing 98 percent of genetic DNA with humans, a chimpanzee can use a computer to solve a numerical equation. No anecdotes exist of any owls firing up Windows to do math problems. | 4. A. The Gollum-like European cave salamander, or olm, can also live up to 100 years. | 5. C. Dung beetle. Males can lift objects more than 1,000 times their own body weight.