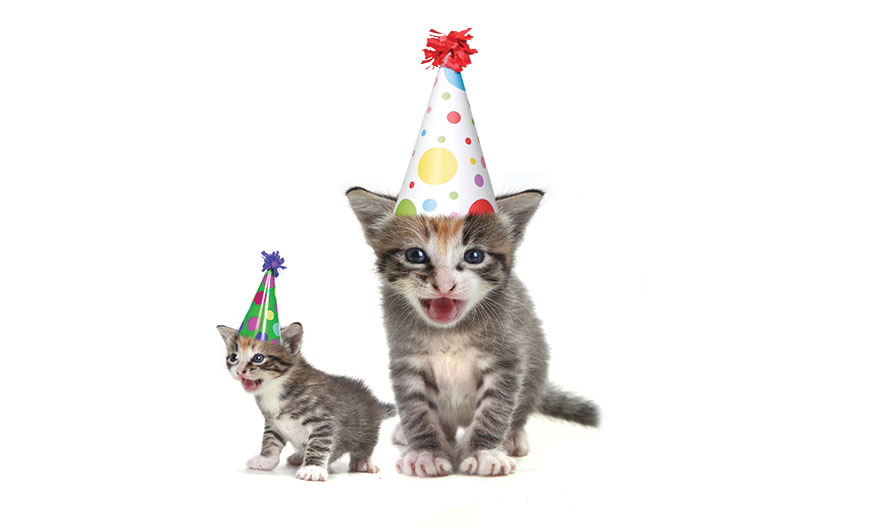 JANUARY
1 OK, now that the humans have celebrated their version, it's time for the real celebration — HAPPY MEW YEAR DAY FOR CATS. Arriving on the year's first Monday, this could be a fun event to hold in your store. Go all out — do a countdown, throw confetti, blast streamers, plus champagne and finger foods for the humans, and a selection of paw-sized delicacies for the felines.
5 Fun quiz for NATIONAL BIRD DAY today: see which of your customers can name the state bird of every state. If they can, bow in respect, and then greet that person as the "Birdman/Birdwoman of (Your City)" every time they enter your store from now until the end of time.
14 It's DRESS UP YOUR PET DAY and the first opportunity of the year to reach a truly lucrative customer set — pet lovers who believe their animals are humans. Hold a dress-up contest/party today at your store. (And hire a photographer to take portraits!)
17 Today marks DITCH YOUR RESOLUTION DAY when gyms note a significant decrease in attendance and candy bar sales spike. But if you can hold on for one more week, your desired behavior can become a much-easier-to-keep habit. Twenty days: That's the magic number whether you're talking about a workout program for yourself or a customer-outreach program for your staff. Stay with it!
24 Compliments are a great behavior modifier and make both recipient and giver feel better. During the week of NATIONAL COMPLIMENT DAY write down every staff member's name on a list. Your goal is to cross off all the names by directly complimenting each person at least once for something they did on the job. (Did it work? Do the same thing next week.)
27 All of us at Pets+ are big believers in making work fun. INTERNATIONAL FUN AT WORK DAY is a chance to dump your stale daily routine. Scooter race? Planking contest? Two-on-two Nerf basketball? Or an all-out, inter-office prank war? Go for it!
FEBRUARY
14 On PET THEFT AWARENESS DAY, it's time to promote your pet tracking and identification options. Make sure your customers know all the options available to them — including GPS collars and micro-chipping options.
14
Remind your customers to remember their four-legged loved ones on VALENTINE'S DAY. Offer a selection of pet gifts on your website this week — like a dog tag with gems, a pink plush toy, a frilly dress, or even just their favorite healthy treat. You can also offer a guide suggesting ways to dress dogs and cats for romantic events.
22 On WALKING THE DOG DAY, invite members of your community for a walk with your canines in a local park. Who knows, this could be the start of an important new tradition for your business. Two Bostons, a popular pet boutique in a Chicago suburb, has become well known in its area for weekly walks along the Dupage River in Naperville (as well as frequent parades and other events).
More Notable Jan-Feb Events
JAN 28 marks the Chinese New Year. This year, the calendar flips to roosters. Coming in 2018, everybody's favorite lunar year: Dogs!
FEB 2 is Groundhog Day. And everybody's favorite marmot is about to let us know how much winter is left.
FEB 17-20 is The Great Backyard Bird Count. Submit findings at birdcount.org.
FEB 20 is Love Your Pet Day I know what you're thinking ... "Isn't EVERY day Love Your Pet Day?"
FEB 23 is International Dog Biscuit Appreciation Day. Honor these crunchy, bone-shaped favorites of the dog culinary spectrum.
FEB 28 is World Spay Day. Spread the message of the importance of neutering all household pets.
---
This article originally appeared in the Jan-Feb 2017 edition of PETS+.