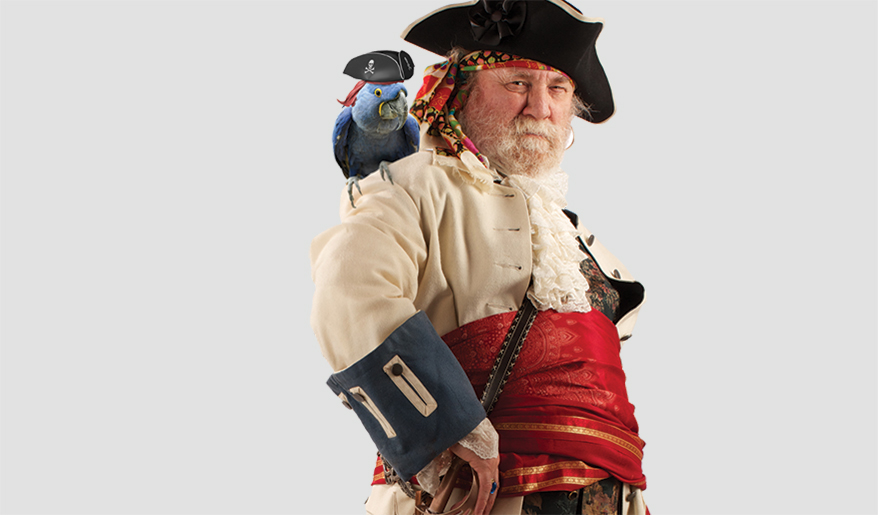 September
19
Arrrggh, already? It be the year's dumbest holiday: TALK LIKE A PIRATE DAY. Ready to end this nonsense? When a customer enters your business with a contorted face, hand held like a hook, grunting out nonsensical streams of supposed pirate-y language, gasp sharply, stand up ramrod straight, and respond — while looking extremely offended — "Scurvy? That's no laughing matter, sir (or madam)." Let it hang for a few seconds before telling them you're kidding. Small steps, friends, small steps.
25 It's NATIONAL ONE-HIT WONDER DAY, the day for musical acts whose careers began with blazing-hot hype and roaring crowds, only to retreat into shadowy anonymity about a week-and-a-half later. (Yes, Carl Douglas of Kung Fu Fighting fame, we're talking about you.) To mark the day, have a "one-hit wonder" sale on discontinued product lines. Cater it with one-bite snacks and spin a soundtrack with some of the tunes listed above.
October
1 Understanding the power of a positive attitude is simple enough: When we believe there is a chance we will succeed, we persist at something. When we don't, we give up pretty quickly. During POSITIVE ATTITUDE AWARENESS MONTH, remember Albert Einstein's thoughts on this matter: "There are only two ways to live your life. One is as though nothing is a miracle. The other is as though everything is."
16 It's FERAL CAT DAY. It's a perfect day to share your thoughts with your customers on the most humane strategy for managing stray cats in your community.
29 It's CAT DAY. Make sure this day is like Christmas, the Fourth of July and Super Bowl Sunday wrapped into one for feline owners in your community. Promote gifts for the big day all week, and hold a big event for local cat crazies.
30 Checklists are often looked down upon as a paint-by-numbers approach to management. But consider the types of people who use them: Pilots, surgeons, software engineers — people in critical positions. Ahead of NATIONAL CHECKLIST DAY, start working on a list for your business. Here's a checklist for creating a checklist: 1.) Establish a best practice. (Get input and feedback from those doing the work for the best-known method.) 2.) Make it visible by posting it where everyone will repeatedly see it. 3.) Then, communicate, prepare and train staff, and test it out and monitor its effectiveness.
31 A week or so before HALLOWEEN, announce a social-media contest where your customers can upload pictures of themselves and their pets in matching Halloween costumes. Can't-miss material for your social media feed.
---
MORE SEPTEMBER-OCTOBER EVENTS
Sept. 4-8 Still doing payroll yourself? During National Payroll Week, look into outsourcing this drudgery.
Sept. 9 is Hug Your Hound Day. Spread the word ... and spread the hugs.
Sept. 16 100 Days Until Christmas. Get your holiday season ducks in a row.
Sept. 23 is Checkers Day. It's the 65th anniversary of Richard Nixon's famed speech about his cuddly cocker spaniel.
Sept. 24 On Punctuation Day, a reminder that those little rules matter. Or put another way, know your s#!% or know you're s#!%.
Oct. 11 is Pet Obesity Awareness Day. Put on your diet adviser's hat today.
Oct 21 is Reptile Awareness Day.
---
This article originally appeared in the September-October 2017 edition of PETS+.