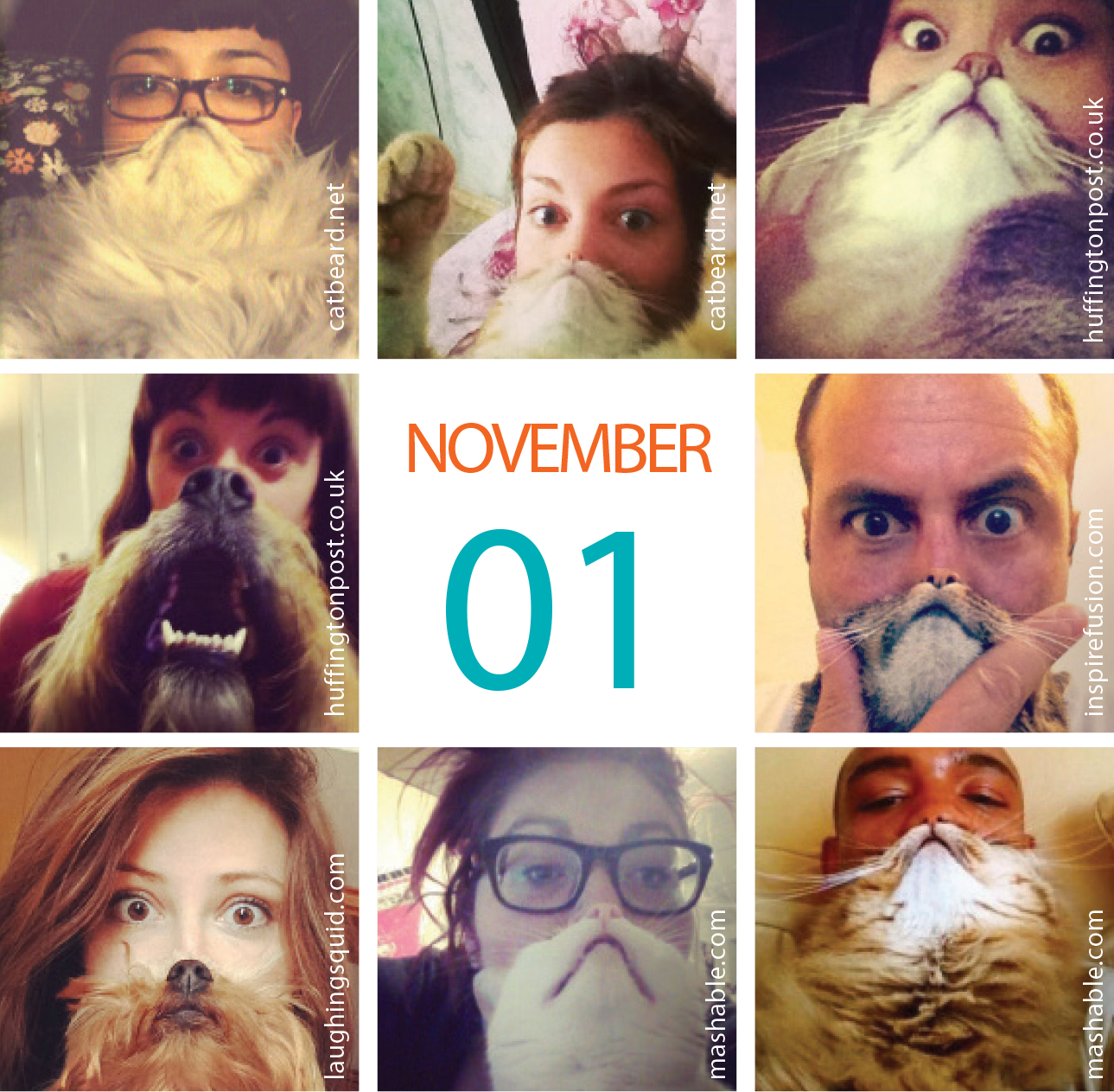 NOVEMBER raises awareness — and cash — for men's health issues. The idea is simple and fun: In November, male participants cultivate mustaches and seek sponsors for their hirsute efforts. Try your own take on this by jumping on the catbearding and dogbearding internet meme bandwagons. (Check out catbeard.net.) Oh, and get more on Movember at us.movember.com.
5
So it's the END OF DAYLIGHT SAVING TIME and you woke up with an extra hour? Use the extra time productively — to be still, breathe deeply, and spend an hour trying to see the bigger picture.
16
On the GREAT AMERICAN SMOKEOUT, show customers you're concerned about the unhealthy habit. Post a fact sheet on second-hand smoke's effects on pets. Look here for inspiration: ppmag.us/11171.)
24
BLACK FRIDAY marks the start of the holiday shopping season. Don't sit on the sidelines while competitors in other categories shovel up the dollars. Your product — whether it's premium food, pet gear, training, grooming or boarding — is highly desirable as a holiday gift. All you have to do is wriggle your way into the rotation of categories clients consider for gifts. Are you even trying to wriggle your way in? Here's one quick way to check: Go to your website. Do you see the word "gift" anywhere on your homepage? If not, you're not trying hard enough.
25
It's SMALL BUSINESS SATURDAY. For increasing numbers of pet business owners, this is one of the biggest days of the year. (For promotional ideas for the day, check out ppmag.us/smallbizsat.)
DECEMBER
1
Tis the season for calling in sick, especially if you're not sick at all. Let your staff know that you know about DECEMBERITIS — that this month is king when it comes to phony absences as employees juggle work, family obligations and the odd hangover. Have staff sign off on schedules well in advance.
25
It's CHRISTMAS. Turn off your phone and email. Turn off your brain and simply open your heart to all the wonderful, warm-hearted people and pets who share your life. They've missed you!
31
Farewell, 2017! There's some serious partying to do on NEW YEAR'S EVE, but try to find some time to reflect on the year. A neat website to try out is futureme.org, which allows you to send a note to yourself on a date you choose. Start drafting: "Dear Self, I hope time has treated you well ..."
---
MORE SEPTEMBER-OCTOBER EVENTS
Nov. 15 Is Clean Out Your Refrigerator Day. Should happen more than once a year, we think.
Nov. 17 is Unfriend Day. Prune your Facebook list and try to avoid being pruned.
Dec. 1 marks the start of Operation Santa Paws. To support shelters nationwide that see a surge of lost and abandoned animals during the holiday season, go to ppmag.us/11172.
Dec. 5 is Bathtub Party Day. Allow customers with compatible dogs to throw them together for some soapy fun.
Dec. 9 is International Day of Veterinary Medicine. Thank a local vet who has supported your business today.
Dec. 15 is Cat Herders Day. "Like herding cats" is just a perfect simile, isn't it?
---
This article originally appeared in the November-December 2017 edition of PETS+.