She's a Shiba Inu/Jindo mix.
(Press Release) BROOKLYN, NY – BH Pet Gear has announced Kira, a Shiba Inu/Jindo mixed breed pup rescued from Free Korean Dogs organization, as its new brand ambassador.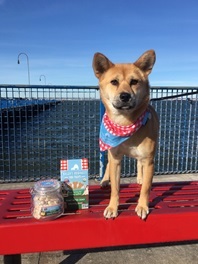 Specializing in the design development and manufacturing of quality pet products and accessories, BH Pet Gear serves as a partner to retailers nationwide in private label manufacturing.
Kira is a sweet, loving pooch and is fully embracing her new life and exiting role as brand ambassador. When she's not barking out orders at the BH Pet Gear headquarters in Brooklyn, you can find Kira struttin' her stuff through the city streets, playing with her toys, or catching up on her beauty sleep. Kira is a real natural in front of the camera. She's been a picture "paw-fect" model for BH Pet Gear and her adorable face along with her heart-warming story will be sure to capture the attention of pet lovers everywhere.
Founded in 2015, Free Korean Dogs is an international rescue and adoption program that saves hundreds of dogs each year from the Korean dog meat trade. Kira is one of the many lucky pups rescued and has been given a second chance to live the life she deserves.
Working on both private label and licensed programs BH Pet Gear's products can be found across the United States at most of the country's top retailers. To learn more, visit: http://bhpetgear.com/.