We took top place for Best B2B Digital Newsletter.
(Press Release) MONTCLAIR, NJ – SmartWork Media, publisher of Pets+, INSTORE and INVISION, took home two top awards from Folio: Magazine's Eddie & Ozzie Awards for excellence at the organization's annual awards ceremony in New York.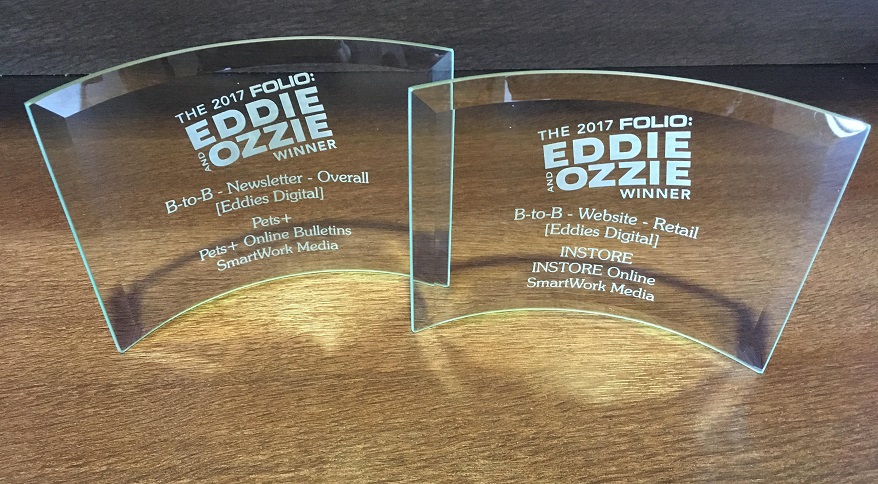 Pets+ took top place for the Best Business-to-Business Digital Newsletter for Pets+ Online Bulletins. INSTOREMAG.com, the website of INSTORE magazine, was given top honors for Best Business-to-Business Website in the retail category.
"We are thrilled to be recognized by a group of our peers in this way," says Matthijs Braakman, SmartWork Media CEO. "The growth of our magazines and digital products underscores their value and shows our clients that they are investing their dollars in the 'best in class.' It doesn't get much better than that."
In addition to top honors, SmartWork Media properties received seven honorable mentions.
INVISIONMAG.com was awarded one honorable mention for Best B-to-B Website in the healthcare/medical/nursing category and another for Best B-to-B Column/Blog in the healthcare/medical/nursing category. INSTORE magazine won honorable mentions for full issue in the retail category, best online newsletter and best single article/series of articles. Pets+ won honorable mentions for B-to-B full issue overall as well as for new magazine design.
INSTOREMAG.com has experienced exponential growth, with a 49 percent increase in users over the past year. Pets+, SmartWork Media's newest publication for the pet products and services industry, has also increased its number of online bulletin subscribers substantially since launching in January. The magazine will go from six issue a year to 10 in 2018. SmartWork Media's products have now earned 111 awards since 2004, making it one of the trade publishing industry's most decorated companies.