(Press Release) ARLINGTON, TX -- Nearly 90 percent of the 77.8 million dogs owned by American families suffer from anxiety at some point in their lives. Nearly a third of that number suffer regular anxiety issues.
Now Petmate, provider of solutions to enhance the lives of pets and their families, introduces a new way to help relieve that anxiety.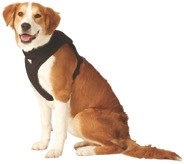 The new CALMZ Anxiety Relief System for dogs combines high-tech innovation with acupressure in a new non-invasive, drug-free treatment that soothes common anxiety that often arises as a result of thunderstorms, fireworks, encounters with strangers, travel, separation and loud noises.
The system comes complete with an adjustable Comfort Fit Vest that cradles a device over specific acupressure points on your dog's spine.
When the device is activated, the clinically proven NeuroSync Technology takes over. Your dog will hear and feel a therapeutic medley of classical music, tones and vibration to ease anxiety.
"Calmz is a major step forward in the treatment of anxiety," said Dr. Jeff Werber, celebrity veterinarian and host of Pet Care TV. "It's a remarkable innovation that's produced proven results that will have significant impact on the lives of pets and their families."
The CALMZ Anxiety Relief System employs vestibular (audible) and peripheral sensory (tactile) stimulations to achieve test-proven anxiety relief in dogs.
Vestibular stimulation is the result of a low-frequency C-note tone that is blended with a modified version of the classical piece, Beethoven's Für Elise.
Peripheral sensory stimulation comes from the massaging sensation generated from the device when placed on acupressure calming points along the spine.
The combination of stimulation redirects the dog and diminishes anxiety.
No prescriptions, no drugs, no edibles, no refills, no veterinarian visits required.
"Our mission at Petmate is to provide pet families with all the tools they need to help build their special bonds with their pets," said Chris Wilson, Petmate's executive vice president of marketing and product development. "After years of research and development, we are especially excited to deliver a product that is so vitally intrinsic to the health and happiness of America's beloved dog families."
The CALMZ Anxiety Relief system retails for approximately $129 and comes in XS-XL to fit dogs of all sizes. Requires 3 AAA batteries (not included). For more information visit www.calmz.com.