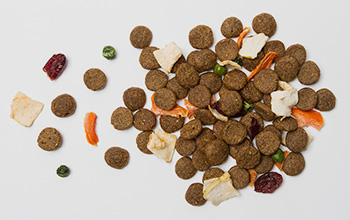 (PRESS RELEASE) OGDEN, UT – American Nutrition, a custom manufacturer that produces pet food and treats for branded companies and retailers, has announced the launch of its line of Super Premium control brand pet food formulas – Nature's Source. The formulas, available for cats and dogs, are comprised of kibble made with lamb, duck, and chicken, and combined with visible pieces of carrots, cranberries, peas and apples.
"We're thrilled to debut our first-ever super premium control brand pet food product to the retail industry," said Steve Mills, SVP of customer brands, American Nutrition. "As the focus of human nutrition moves towards natural, healthy ingredients and whole foods, cat and dog owners want to give that same caliber of nutrition to their furry friends – and American Nutrition's Nature's Source will enable our dogs and cats to be fed great diets without compromise. We're confident that Nature's Source will be received positively by retailers, pet owners and pets alike, and we have plans to develop additional Nature's Source products in the future to further fulfill this industry trend towards whole foods for all members of a family."
Contact American Nutrition directly to discover how to get Nature's Source on your shelves, here; and check out all of American Nutrition's customizable capabilities here.