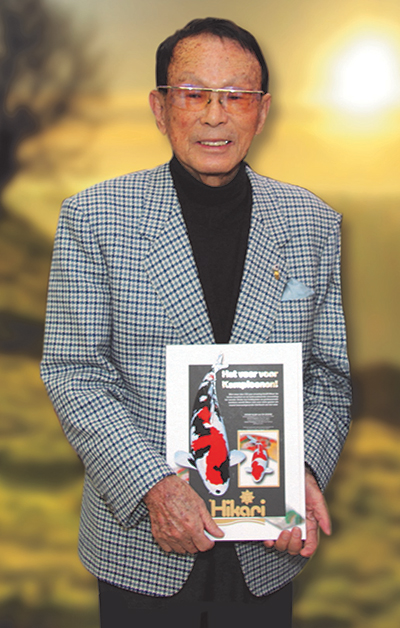 Kamihata Fish Group announced that its chairman emeritus, Shigezo Kamihata, passed away on Dec. 25 at age 91.
"Driven by his passion for fostering human connection with nature, Kamihata led the Kamihata Fish Group of companies to dynamic growth and success, providing aquatic pet lovers around the world with access to premium-quality, innovative products," according to a press release.
The Kamihata Fish Group encompasses Kamihata Fish Industries Ltd. (including Yamasaki Koi Farm and the numerous breeding operations), Kyorin Co. Ltd., Kyorin Food Industries Ltd., including the Hikari brand, and the Hikari Aquatic Laboratory.
Kamihata's legacy spans several decades, starting when he founded Kamihata Fish Industries Ltd. in 1961 and began growing nishikigoi, the vibrantly colored carp found in koi ponds. In 1964, a nishikigoi bred by Kamihata Fish Industries Ltd. earned a championship prize at the All Japan Nishikigoi Contest, ushering in a new standard in the industry.
As Kamihata Fish Industries Ltd. grew in subsequent years, it was divided into subsidiary companies: Kyorin Co. Ltd. was established as the fish food wholesale division in 1968, and Kyorin Food Industries Ltd. became the fish food production division of Kyorin Co. Ltd. in 1979.
Kamihata "was a trailblazer in his commitment to using unspoiled natural environments as inspiration for his companies' products," according to the release.
Through an effort known as the Kamihata Exploration Party, Kamihata and several of his employees, along with prominent researchers, would venture into the wilderness of South America, Africa and Southeast Asia to perform hands-on field research. By exploring undeveloped regions where tropical fish thrive, Kamihata and his team gleaned invaluable information about little-known species of fish and their ecosystems. The Kamihata Exploration Party's findings have been published in industry magazines such as Tropical Fish Hobbyist, Aqua Life and Fish Magazine. In addition, Kamihata detailed his team's adventures in his book, Kamihata in Search of Tropical Fish.
"As Kamihata Fish Group continues to enhance the lifestyles of aquatic pet owners around the world, the countless employees inspired by Mr. Kamihata will honor his legacy and ensure that his enthusiasm for the natural world — and specifically, tropical fish — will remain a core element of the company's culture," the release stated.