Learn, Explain Dog Nutrition The Pet Food Institute has launched a series of interactive infographics showing the ways the key nutrients found in a complete and balanced dog food recipe help pets....
Tailor your order to the tastes of your town. People buy dog treats that ping their own ideas of a treat: rich, greasy...
Internal, external and alternative options. Dog and cat owners are hella happy about their pets — in a study by...
A new specialty dog food crops up every week, be it a luxury kibble or a raw and dehydrated vegetarian meal. When you...
While eating organic has made big strides for humans over the past few decades, the reality is those gains haven't...
New options help solve pet parent problems. One of the great things about the pet industry is the many opportunities...
Celebrating big birds, renewable resources and toys that keep brains busy. A green, yellow and pink conure hangs...
Bug Off! Fleas and ticks pose a health hazard not only to animals, but also to the humans who care for them....
For Finicky Felines Cats and kittens with a refined palate will appreciate Toby's Turkey Carnivore Grain-Free...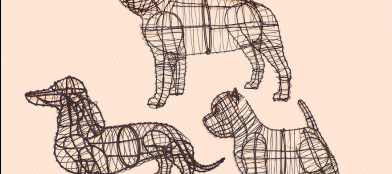 Dogs on Display These topiary frames from THE PAWS MAHAL serve a variety of purposes. Use bare to display collars...