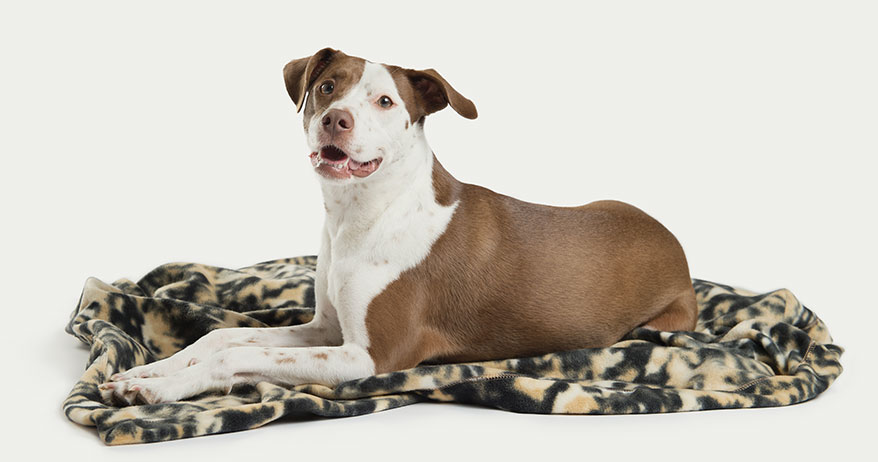 Throw Blanket Helps African Wild Dogs
Dogwear company Gold Paw Series has introduced a new product that's guaranteed to be a hit for all animal lovers you serve — an African Wild Dog Throw for which all proceeds are donated to the World Wildlife Fund. Selling for $39, the plush recycled polyester fleece comes in a pattern that looks just like the endangered African canine breed (also known as Painted Dogs) that the WWF is working to protect. Learn more at goldpawseries.com.
---
New Lead Makes Walking Fun Again
The new All-in-One Lead from Halti is carefully designed to manage any type of dog adventure. The multi-function lead features a super-strong elastic shock absorber to protect both dog and owner from sudden jolts. The lead can also serve as a tie-out tether or attach to the waist for hands-free control while running. Learn more at companyofanimals.us
---
Most Popular Names No Surprise
For the second consecutive year, "Bella" and "Max" were the most popular pet names in America for dogs and cats, according to Nationwide, the nation's first and largest provider of pet health insurance. And it isn't the first time, either. In fact, this marks the fifth consecutive year that Bella has led the way as the most popular pet name in America for both canines and felines.
---
Doctors Warn Of Diabetes Risk
Merck Animal Health has launched Face the Facts, a global awareness campaign to help educate owners about pet diabetes, which has increased sharply over the last decade. Learn more at usa.sugarandspike.com.
---
New Chews Are Curly and Crazy
Bravo Pet Foods has a tasty new treat for canines everywhere — Crazy Curly Beef Bully Sticks. The grain-free, gluten- free chews have no added preservatives, flavors or colors and are made in the U.S. Snacks are available in a 5"-7" size at a suggested retail price of $3.69 each. Learn more about Bravo at
bravorawdiet.com.
---
Mars Supports Shelters
On #GivingTuesday (Nov. 29), Mars Petcare and its brands and foundations teamed up to donate nearly $785,000 in financial and in-kind donations to shelters and rescues that help homeless pets. Connect with Mars Petcare on Facebook at facebook.com/ABetterWorldforPets
---
Grumpy Cat Blog Launches
Internet icon Grumpy Cat, who has 8.7 million Facebook fans, now has his very own blog at pawculture.com. The blog features grumpy sentiments like "If one more person asks me to smile, I'm going to lose it." Key sponsors of the blog are Purina and PetSmart.
---
New Graphic Head for BH Pet Gear
The Brooklyn-based creator of Calming Coat, Kaleb's Organics and other high-performance pet brands, BH Pet Gear, has hired Dakota Jenner as its new lead graphic designer. To learn more about BH Pet Gear, visit bhpetgear.com.
---
This article originally appeared in the Jan-Feb 2017 edition of PETS+.