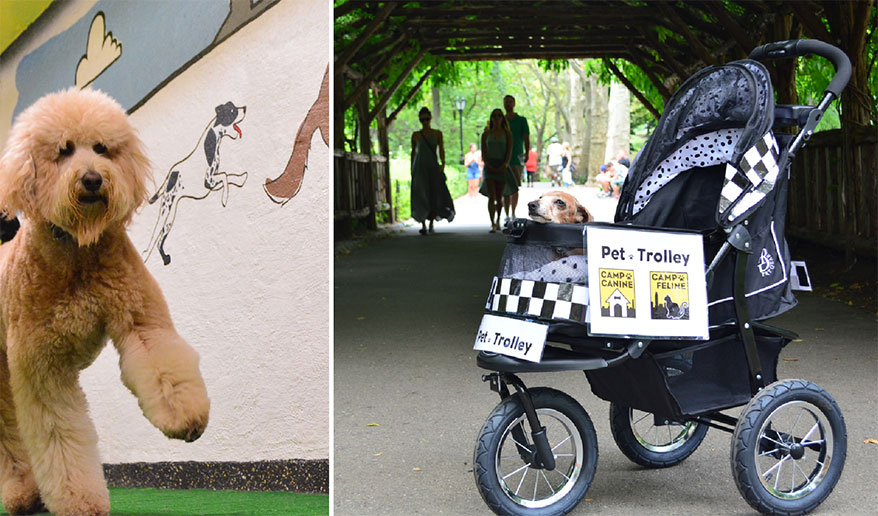 Activities at Camp Canine: left, a guest participate an add-on activity; right, guests can also enjoy a walk or roll through Central Park.
You may know pets, but pricing, staffing and marketing? Time to call an expert.
If you own a pet-centric business, you likely have extensive knowledge of animals and their care. But do you know all you should about pricing, staffing and marketing? If not, a consultant can help.
The right consultant, that is. Finding the expert who will take your business to the next level requires research and, in many cases, multiple interviews. "It's very much like dating," explains Shannon Heggem, a pet industry consultant who specializes in the luxury market. "You're looking for the perfect partner, someone who will bring out the best in you and your business. Someone who will inspire change."
Laura Laaman, whose Outstanding Pet Care firm helps boarding facilities and veterinary practices boost their business, likens the role a consultant plays to that of a surgeon. "You want one who has done this procedure many, many times and is at the top of their field," she says. "You want to end up with a healthier business, not a damaged one."
Keep the following advice from Heggem and Laaman, as well as other leading experts in the pet industry, in mind when hiring a consultant for your business.
VENDORS
Nancy Hassel/American Pet Professionals
(631) 446-1105
americanpetprofessionals.com

Shannon Heggem/Luxury Unleashed
(406) 265-9663
petluxuryexpert.com

Laura Laaman/Outstanding Pet Care
(888) 735-5667
outstandingpetcare.com

Candace D'Agnolo/Pet Boss Nation
petbossnation.com

Andy Smit/Pet Business Solutions
(855) 240-0431
petbusinesssolutions.com

Morris Pet Care Consulting
(973) 455-0010
morrispetcareconsulting.com

Kristin Morrison/Six Figure Pet Business Academy
This email address is being protected from spambots. You need JavaScript enabled to view it.
sixfigurepetbusinessacademy.com


Points to Consider
When Hiring a Business Consultant
The Interview Process
The best consultants are selective when taking on clients, and they do not charge for initial conversations. "Make sure the person will speak with you off the meter to make sure the relationship will work for both of you," Heggem advises. Kristin Morrison, who helps pet service providers through her Six-Figure Pet Business Academy, says to start the interview process by email. "I recommend that pet business owners spell out their challenges in an introductory email. [Then] ask 'Can you help me with this?'" The answer will speak volumes about the potential of a consulting relationship.
Depth of Experience
Consider only consultants who have experience in the pet industry. "It takes a special kind of person to juggle all that is involved in running a pet business," Morrison points out. "And it takes a special kind of coach (someone who really knows the world of pet business) to nurture a pet business owner to success and to help them solve the — often odd and only sometimes general — challenges that can arise."
Client Testimonials
Talk to a consultant's former and current clients before making a hire. "You should be given a long list of testimonials, which includes contact information," Laaman says. "We encourage prospects to ask anything they want. Questions include results, overall value and level of service (response time, quality of advice and assistance with implementation). If dealing with anything financial (increasing revenue), referrals should also include financial references from brokers who have successfully sold businesses the consultant has dealt with."
Pricing
Fees and their structures vary by consultant, and there should also be flexibility by client. "There are so many different elements that go into pricing," explains Andy Smit with consulting/marketing firm Pet Business Solutions. "If a client needs us on a project basis, such as planning out retail space if they're just getting started, we can do that. We also have hourly rates and support retainers." Avoid consultants who only offer one type of pricing, as your needs will change over time.
Written Guarantee
Laaman recommends asking: "Are you willing to guarantee your success in writing? Are you financially strong enough to back this guarantee?" She adds, "These assurances aren't common but show you're dealing with a firm that is proven and confident."
Your Gut
Each of the experts echoed this final bit of advice: Go with your gut. Morrison says, "Trust yourself. It needs to be a good fit because you will be sharing a lot with them and you want to feel safe doing that."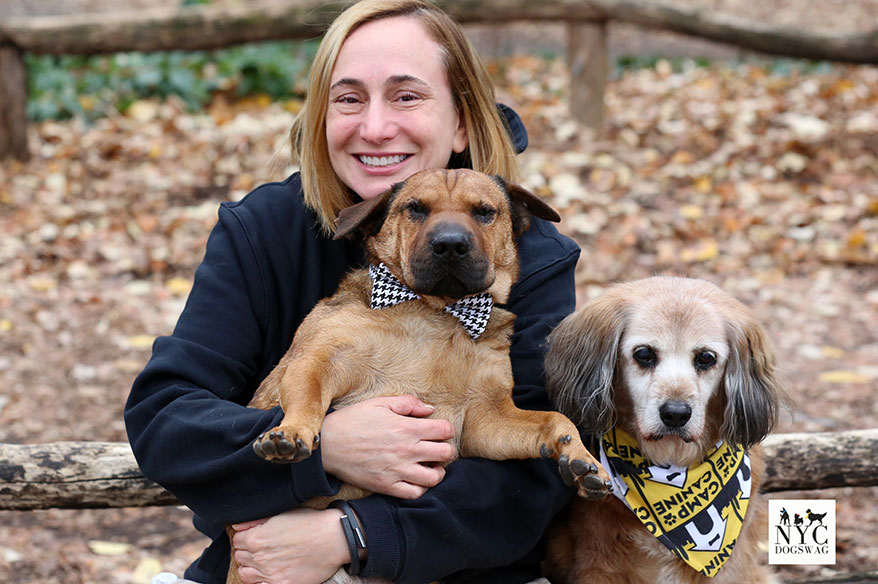 What Pet Store Pros Say
Tania Isenstein

Camp Canine, New York, NY
nycampcanine.com
When Tania Isenstein bought Camp Canine in Manhattan five years ago, it was a distressed business. The former Wall Street lawyer began learning all she could about doggie daycare and boarding and soon implemented changes to improve customer service.
Isenstein also hired pet business consultant Laura Laaman. "I knew she could help me. I knew I could learn at a faster rate with her than I could on my own."
Among the recommendations Laaman made right away was to create a reservation specialist position. "She said how we take those calls is of paramount importance. They should be handled by a salesperson, in essence, who has specific talking points."
Isenstein says she hasn't agreed with all of Laaman's suggestions. "I challenge, she listens, and then we come up with options."
One idea from such a brainstorming session is the Central Bark Package. Because its kennels aren't as spacious as those in the suburbs, Isenstein now offers an add-on activity featuring a walk through the park, complete with a hot dog at the end.
Pets that stay at Camp Canine enjoy the changes Isenstein has made with help from Laaman, and both are thrilled with the uptick in business: Gross profits have increased by more than 100 percent.
---
This article originally appeared in the May-June 2017 edition of PETS+.