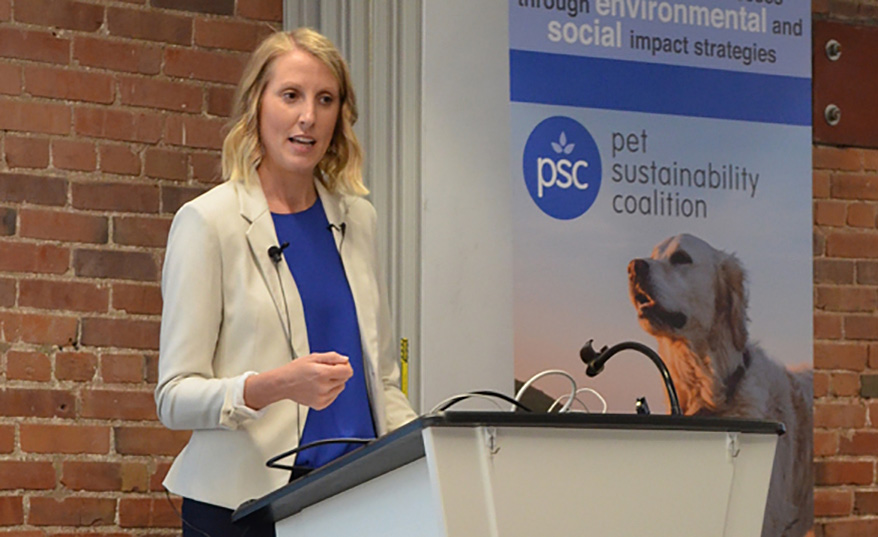 Making a Business Case for Sustainability
In May, the Pet Sustainability Coalition launched its inaugural Impact Unleashed event with 65 of the industry's leaders in attendance to move the pet industry toward a more sustainable future. With 16 speakers from inside and outside the industry, Impact Unleashed revealed the business case for sustainability through bottom-line savings, top-line growth, attraction of top talent, increased employee productivity, improved brand value and decreased supply chain risk.
Impact Unleashed marked an important moment in time for the pet industry: For the first time, competing companies acknowledged that sustainability is a noncompetitive issue and that it is imperative the industry pull together to ensure businesses can scale their impact. Pet industry leaders took center stage to tell stories about such topics as how employee morale impacts the bottom line and how sourcing sustainable proteins can alleviate environmental crisis and drive regional economic prosperity.
Centered on educating and inspiring pet industry professionals towards the concept of sustainability, the keynote lineup included innovative brands like Badger Company and Eco-Products, as well as the World Wildlife Fund, B Corp, and Savory Institute.
Impact Unleashed revealed some hot-point issues fueling destructive tension among brands and damaging the reputation of the pet industry at large; protein sourcing issues like human-grade and byproducts were discussed alongside human justice and forced labor issues.
The complete line up of speakers at Impact Unleashed included representatives from B Lab, World Wildlife Fund, The Savory Institute, Sustainability Apparel Coalition, Eco Products, W.S. Badger Company, Himalayan Dog Chew, BareItAll Petfoods, Cardinal Pet Care, PetSmart, WorldWise, I and love and you, Healthy Pet, Ento Bento, PAW5 and West Paw Design.
Watch videos of the event's speakers here: impactunleashed.petsustainability.org
Data Trove
Through a new partnership, Animal Supply Company and SPINS will offer independent pet retailers easy-to-read, actionable data to help them understand consumer buying patterns and important growth opportunities. Customers can ask their local Animal Supply Company rep for more information or email This email address is being protected from spambots. You need JavaScript enabled to view it..
Understand Social Media
World Pet Association has released "Social Media Best Practices for Pet Stores." Compiled by social media expert and owner of Crystal Media Crystal Vilkaitis, the study provides easy-to-understand best practices and guidelines to help pet retailers evaluate and better use the social media tools at their disposal. Download it here: superzoo.org/free-white-paper
700+ Toys Donated
Fluff & Tuff launched its third annual social media based donation campaign, #igiveafluff, in April. Customers and retailers shared their pet photos on social media using #igiveafluff. Fluff & Tuff donated a toy for each post — 745 in all — to nonprofit, animal-based organizations across the United States.The company released a photo compilation video as a thank you to participants: ppmag.us/7171