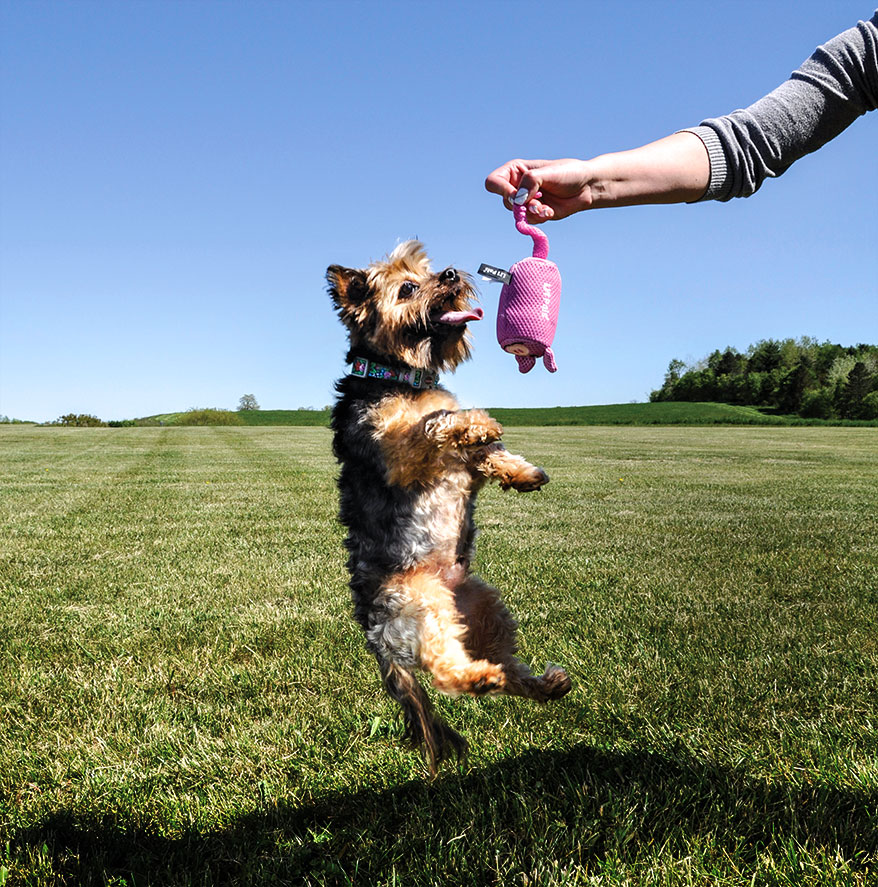 Petite Playthings
Coastal Pet Products' Li'l Pals Mesh Toys are perfectly sized for petite pets. Toys come in three different animal shapes: pig, mouse and rabbit.
coastalpet.com, (800) 321-0248
$7.65
---
A Bright Tribute
When a friend or family member has to say goodbye to a beloved pet, there are times when saying "sorry for your loss" just doesn't feel like enough. One Fur All's Furever Loved Memorial Candle can help the mourning to pay tribute. This hand-poured soy-wax candle is a blend of floral and citrus scents, and has 60 to 70 hours of burn time. It's released just in time for National Pet Memorial Day on Sept. 10 this year.
onefurallpets.com, (954) 361-5255
$21.95
---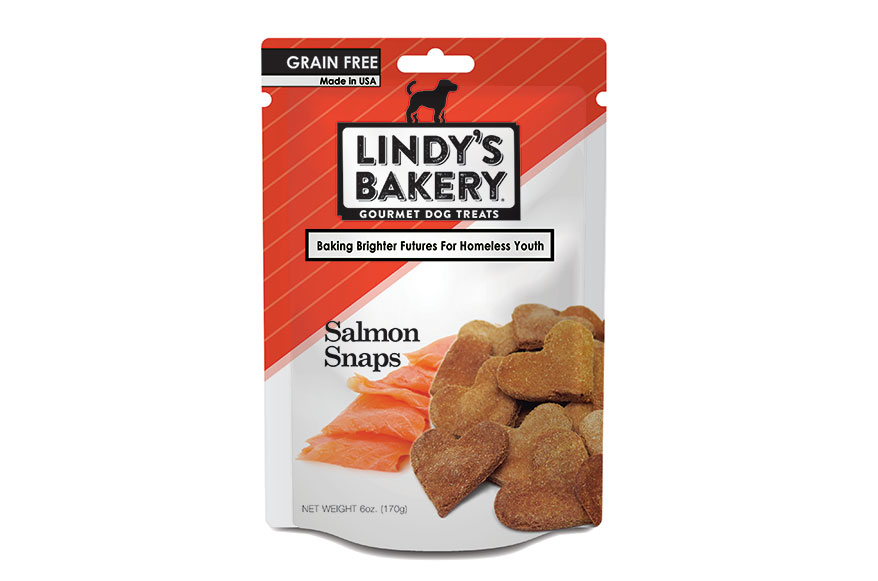 Charitable Treats
Daybreak, the makers of Lindy's Bakery brand dog treats is launching two new grain-free, made-in-the USA dog treats. The new dog treats include Grain-Free Salmon Snaps and Chicken Crisp. Lindy's Bakery is a gourmet pet treat bakery that teaches homeless teens and young adults valuable work skills. All proceeds from the sale of Lindy's Bakery pet treats go directly to Daybreak. These funds provide emergency shelter, housing, and support for over 500 homeless teens and young adults each year!
lindyandcompany.org
$6.99
---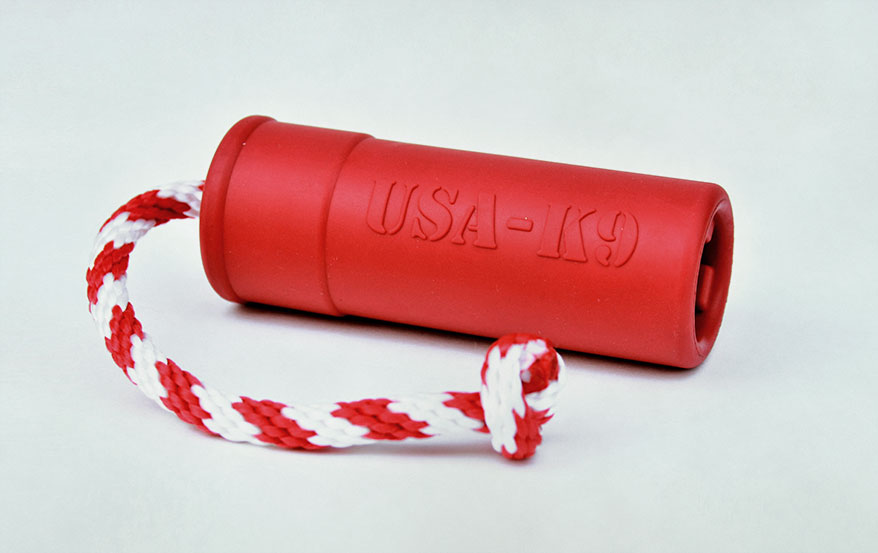 Red, White and Chew
Newly launched USA-K9 is looking to bring a more masculine dog toy to man's best friend. The patriotic-themed line of chew toys are inspired by creator Adam Baker's experience serving in the military. Shaped like grenades, shotgun shells and other designs, your customers will think they are the "bomb." American made, for super chewers. USA-K9 gives back to programs that pair service dogs with veterans.
usa-k9.com, (720) 272-9664
$10.99-$19.99
---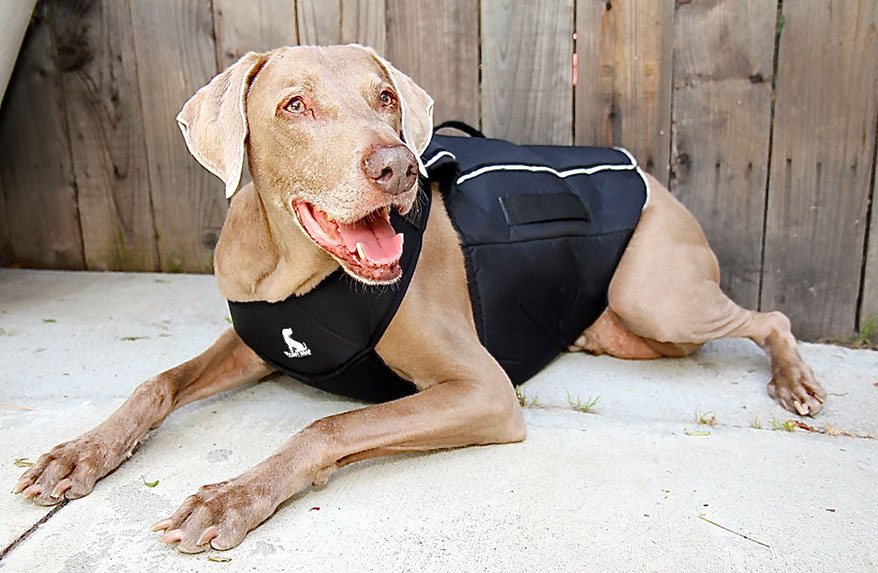 Heal!
As an extension of the veterinarian-recommended Comfy Cone, All Four Paws designed the Comfy Wrap to further address recovery, protection and the rehabilitation needs of animals. The Comfy Wrap, which comes in seven sizes, surrounds the pet's torso and up through the chest preventing animals from licking, chewing or scratching. A handle helps dog owners in assisting with the animal's mobility issues, and inside pockets can hold cooling or warming packs.
allfourpaws.com
$38.99-$80.99
---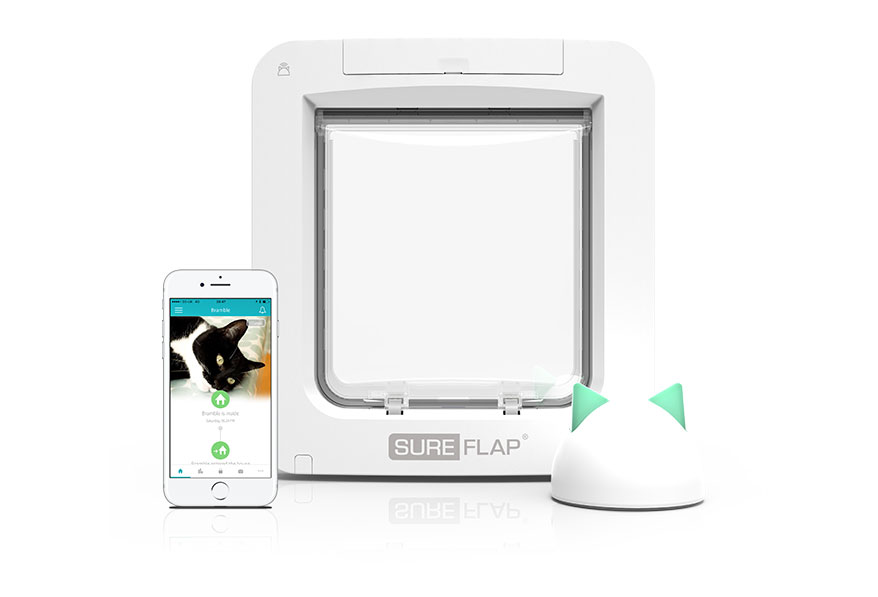 High-Tech Pet Door
With a pet door owners can control with an app, Sure Flap is taking remote access to a whole new level. The Microchip Pet Door Connect reads the microchip or RFID-collar tag off the resident pet(s), and denies entrance to unwanted visitors. Pet parents can login to the Sure Petcare app to track habits and behavior and also to place a "curfew" by locking the door at night.
sureflap.com, (855) 461-4740
$200 plus $65 for the Hub
---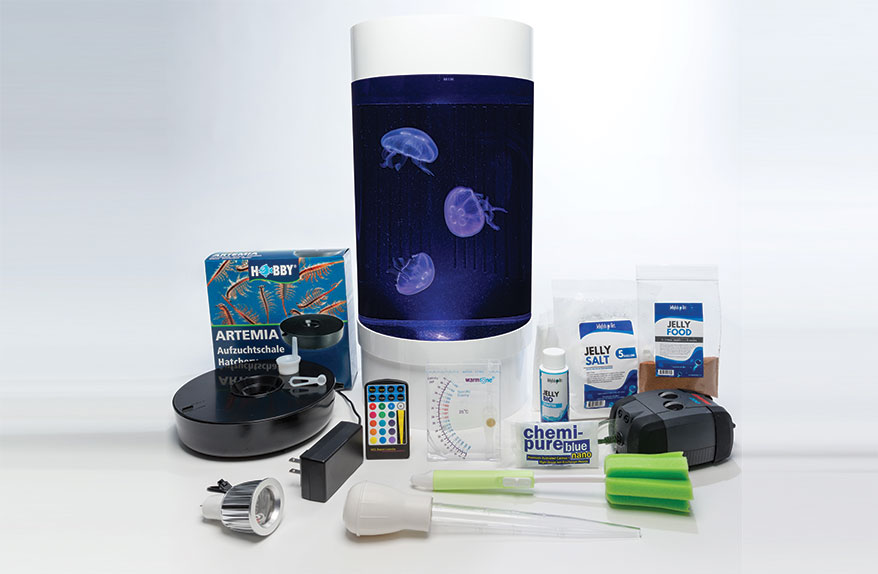 The Art of Jelly
Your competitors will be "jelly" when they see your sweet set up of jellyfish with Jellyfish Art's 5-gallon Jelly Cylinder 5. This kit comes with everything your customers will need to get started in one of fish-keeping's growing trends in ornamental tanks. Holds up to six jellyfish, and the company ships them, too. Not familiar with jellies? The team at Jellyfish Art prides itself on having great support and a passion for these unique sea creatures.
jellyfishart.com, (844) 535-5900
$449
---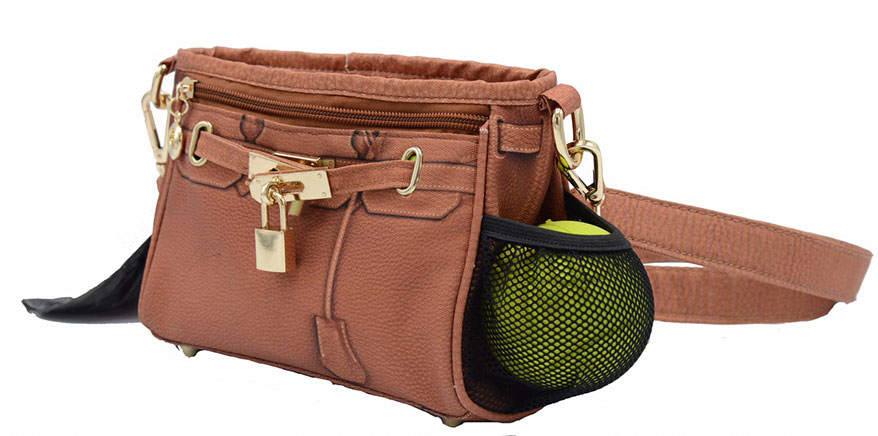 Stepping Out in Style
Bring a little style into the daily outing with an attractive clutch designed for a trip to the dog park. The Bentley Training Pouch from A Pet with Paws features a mesh ball-storage pouch, a zippered compartment for poop bags, inside compartment for treats and a separate zippered area to store personal items. Clip on the backside attaches to a belt loop or waistband, or can be worn as a fanny pack or a crossbody bag.
apetwithpaws.com, (917) 664-6079
$49.99
---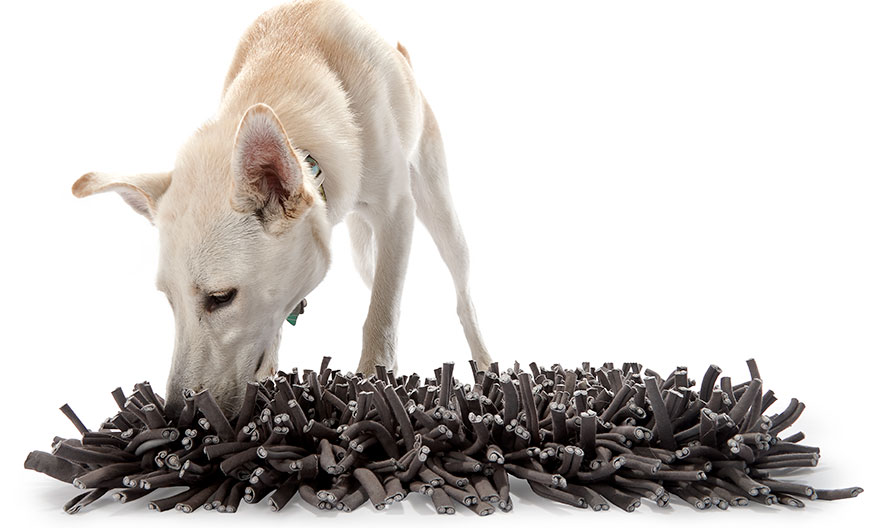 Wooly Bully
An innovative new mat aligns feeding time with a dog's natural instincts to forage for food. Pet parents spread kibble over the Wooly Snuffle Mat by Paw5 and watch as their dog scarfs up dinner in the mat's grass-like fabric. Designed to stimulate Fido's mind as well as his appetite, this was an award winner at Global Pet Expo. Machine washable and sustainably made.
paw5.us, (215) 383-1654
$39.95
---
Getting Smart About Rawhide
There's growing awareness about the dangers of giving rawhide products to dogs: The chews aren't regulated and are often treated with chemicals during processing, and some animals have trouble digesting them. SmartBones, which specializes in alternatives to rawhide, has come out with a line of Holistic Chews, which are free of gluten, wheat, soy and chicken byproducts. Available in four sizes of bones and also a stick shape.
smartbones.com, (877) 336-3647
$7.99-$20.99
---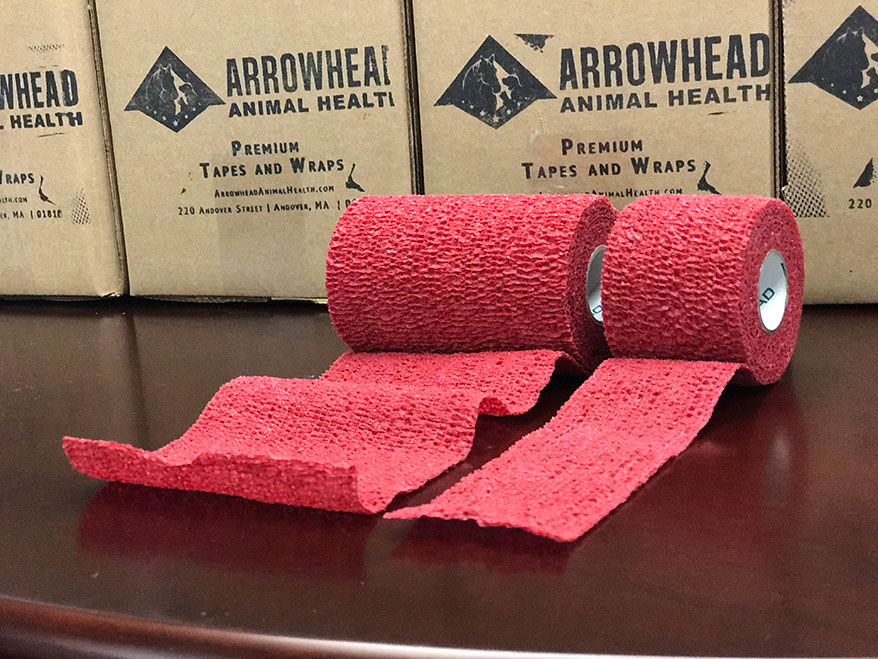 Chew Preventers
Arrowhead's powerful No-Chew tapes are developed with a unique chemistry, using food-grade chew prevention additives that make these tapes smell and taste unappealing to pets. This chew prevention chemistry has been tested on small and large mammals, and provides safe, effective protection of sensitive or healing areas that are accessible by a patient's mouth.
arrowheadanimalhealth.com, (978) 475-1760, Ext. 116
$1.29 and up
---
This article originally appeared in the September-October 2017 edition of PETS+.