While eating organic has made big strides for humans over the past few decades, the reality is those gains haven't translated as well into the pet food market. According to a recent report from market research firm Packaged Facts, pet food manufacturers face hurdles such as access to ingredients, and lack of organic regulations specific to pet food, forcing companies to follow human standards, all of which leads to high prices for the end product. For good news, Packaged Facts points to shifts happening that could turn things around, as the National Organic Program moves closer to adopting standards for pet foods, paired with growing demand from consumers, making organic a category to watch in the next few years.
---
Dry Food
The wider range of ingredients and complexity in the manufacturing process has apparently contributed to a lack of organic dry cat foods on the market. The end result? Many companies are going the route of labeling their products as "holistic" and "natural" instead. Fortunately, there are a handful of quality brands to consider for your customers willing to pay premium for straight-up organic.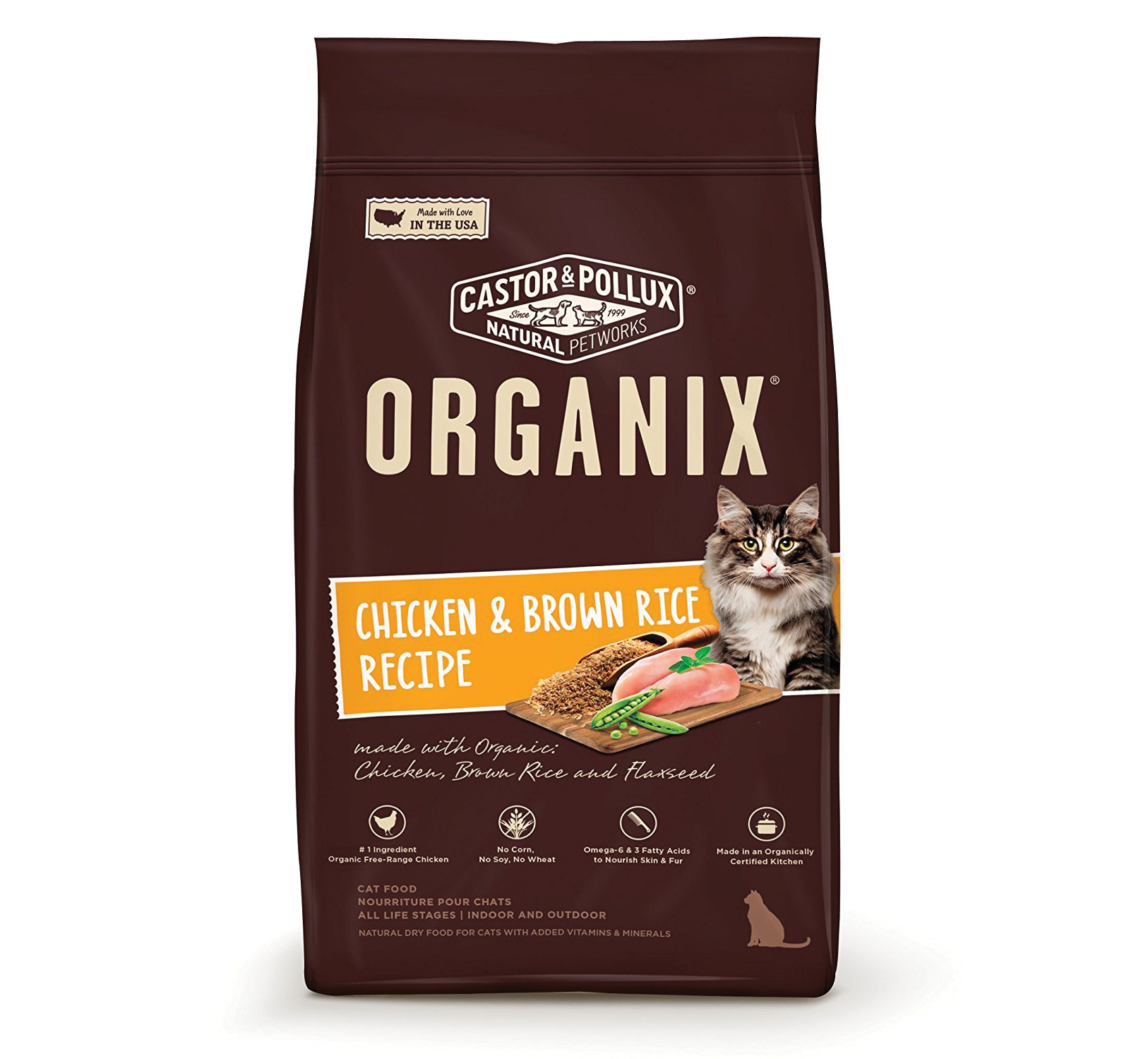 Castor & Pollux Organix

Merrick Pet Care
KEY FEATURES: Made under the umbrella of Nestlé Purina, original recipe is chicken and brown rice.
SALES TIP: GMO-free ingredients produced without pesticides, synthetic fertilizers, added growth hormones or antibiotics, and prepared in an organically certified kitchen.
castorpolluxpet.com, (800) 875-7518
$$$$

Tender & True

Tender & True
KEY FEATURES: Two organic dry formulas: Chicken & Liver and Turkey & Liver, sourced from farms certified by the Global Animal Partnership.
SALES TIP: Meat is free of antibiotics and hormones, and raised with vegetarian diet.
tenderandtruepet.com, (877) 616-4455
$$$$

Gather Free Acres

Petcurean
KEY FEATURES: Certified organic, free-range chicken sourced from a farm in Indiana. Grain free, GMO-free.
SALES TIP: Added bonus is dedication to sustainability: The bags contain 30 percent of plant-based material.
petcurean.com, (866) 864-6112
$$$$
---
Canned Food
When considering canned organic cat food, there is a wider field of choices, with some innovative options that will leave no finicky feline behind. With cans, you'll notice that the price is more competitive, with many of these foods holding their own with super-premium non-organic brethren, making them a sensible option for health-conscious pet parents who are budget-conscious, too.

Natural Planet

KLN Family Brands
KEY FEATURES: Canned food in two formulas that meet USDA-certified organic standards: chicken and turkey from a family-owned business.
SALES TIP: Also a chicken and pea dry recipe that's GMO-free and 70 percent organic.
naturalplanetpetfood.com, (800) 525-9155
$$$

Newman's Own Organics

Newman's Own
KEY FEATURES: Seven flavors, USDA certified and grain-free from a long-established brand.
SALES TIP: Also available: chicken-based organic and high-protein dry recipes for all stages of cats.
newmansown.com, (203) 222-0136
$$

Party Animal Cocolicious

Party Animal Pet Food
KEY FEATURES: Of 12 varieties of organic offerings, there is something for every palate.
SALES TIP: Six "Cocolicious" varieties contain coconut oil for healthy skin and coat.
partyanimalpetfood.com, (855) 727-8926
$$$

Evanger's Organics

Evanger's
KEY FEATURES: Two recipes of canned food: Braised Chicken and Turkey & Butternut Squash.
SALES TIP: Certified organic by Oregon Tilth, cooked naturally in its own juices.
evangersdogfood.com/cat-food/, (847) 537-0102
$$$

Uretic with Organic Chicken

Wysong
KEY FEATURES: A canned version of the Uretic dry diet, made with organic chicken as the main ingredient.
SALES TIP: High-meat, low-carb formula, supplemented with nutrients that promote healthy immune and urinary systems.
wysong.net, (800) 748-0188
$$$

PetGuard Organic Chicken & Vegetables

PetGuard
KEY FEATURES: Chicken is the main ingredient, suitable for all life stages. Available in two sizes: 5.5- and 12.7-ounce cans.
SALES TIP: Larger size cans work well for multiple-cat households and are a more economical option.
petguard.com, (800) 874-3221
$$
---
This article originally appeared in the November-December 2017 edition of PETS+.