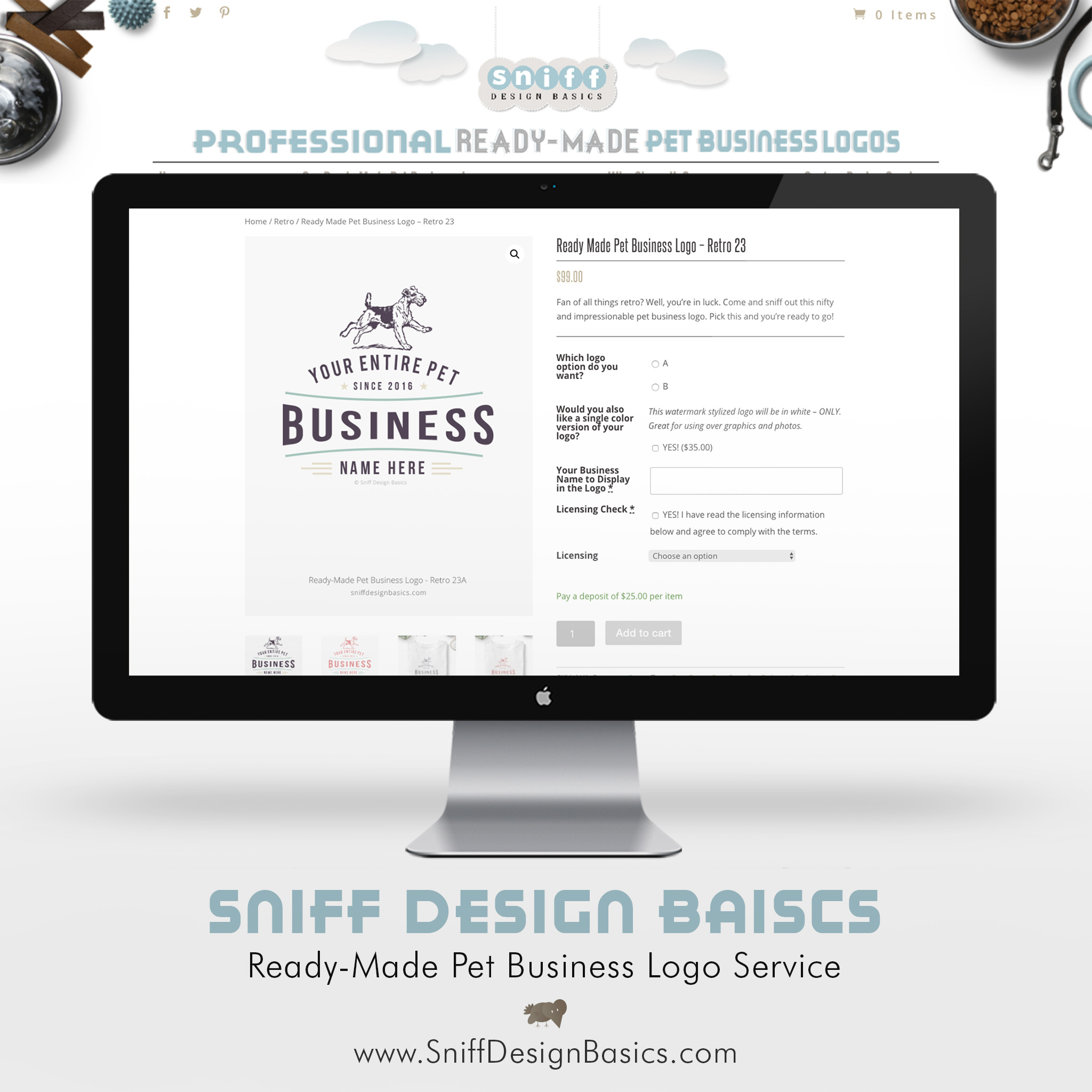 Try a logo design package from Sniff Design Studio.
Logos for Less
Graphic design company Sniff Design Studio has begun selling pre-made pet business logos online. The pre-made designs will also come with variable licensing options to allow for more exclusivity. This service, via Sniff Design Basics, will be ultra budget-friendly with complete logos or a branding revamp starting below $100. sniffdesignbasics.com
Pet Woman of the Year Named
Women in the Pet Industry Network, which focuses on women leaders in the pet industry, named the Pet Industry Woman of the Year as well as category winners. Gila Kurtz of Dog Is Good won the overall title as well as the Corporate category. Other category winners were: Marci Koski of Feline Behavior Solutions — Advocate; Candace D'Agnolo of Pet Boss Nation — Entrepreneur; Rebecca Breese of Pet Hub — Rising Star; and Mona Straub of Just Fur Fun — Solopreneur. Winners were announced at the organization's conference in Portland, OR, in September. womeninthepetindustry.com
Pet Sitters Can Earn Certification
Pet Sitters International, the educational association for professional pet sitters, has announced a certification that outlines the body of knowledge necessary for professional pet sitters and offers the first-ever knowledge-assessed examination specifically for the pet-sitting industry. The trademarked certification mark of CPPS — Certified Professional Pet Sitter — goes to those who pass the exam. petsit.com/certification
Global Pet Expo Set For March
The American Pet Products Association and Pet Industry Distributors Association will present the 14th Global Pet Expo in Orlando, March 21-23, 2018. Attendees can also attend the 2018 Global Pet Expo Academy, featuring seminars in the fields of marketing, social media and technology, merchandising, management, personnel and retail operations. globalpetexpo.org
Oxbow Launches New Site
Oxbow Animal Health, a leader in the care and nutrition of small and exotic animals, has launched a website with responsive design, store locator, educational pages, video library and more. oxbowanimalhealth.com
Bravo Training Expands
Bravo Pet Foods has expanded its online training program to educate the trade about its expanded portfolio of natural diets, chews and treats. After viewing a 12-minute video and completing a brief quiz, successful test takers get a certificate of completion and Bravo T-shirt. This email address is being protected from spambots. You need JavaScript enabled to view it.
Healthy Paws Joins With Habri
Healthy Paws Foundation, the charitable arm of Healthy Paws Pet Insurance, and the Human Animal Bond Research Institute have joined forces to support HABRI's research on the mental and physical health benefits of owning a pet. healthypawspetinsurance.com, habri.org
---
This article originally appeared in the November-December 2017 edition of PETS+.