Consider these outlets for kitty's claws.
Desperate cat parents will try (and buy) most any type of scratcher to keep their furniture intact and to provide a less destructive way for kitty to relieve stress, have some fun and keep her claws in prime condition. From simple corrugated cardboard to carpet, there are many styles of shapes, sizes and surfaces to fit a range of budgets and preferences.
---
Post and beaming
Some finicky felines are picky about what they'll sink their claws into, and so it's a good idea to carry some different surface materials and textures, such as jute, seagrass, sisal and, of course, the ever-popular cardboard. Keeping variety in mind, here are a few affordable posts that will put a smile on customer faces.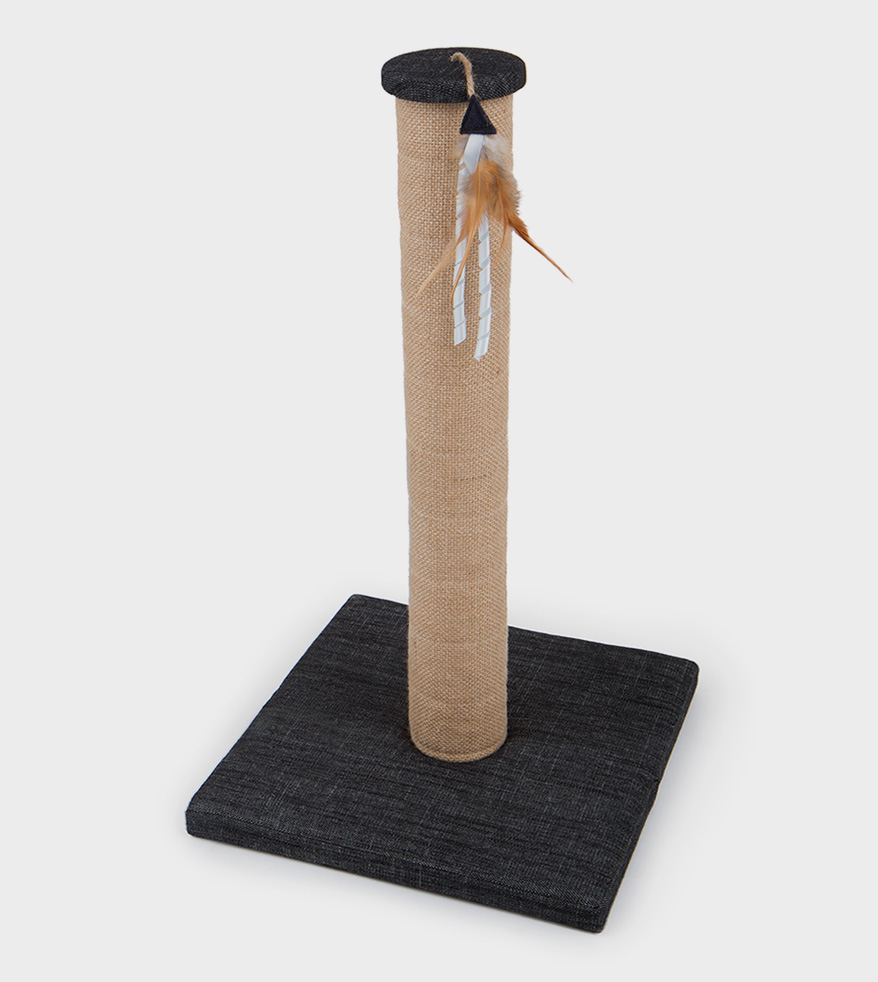 Crackle Scratch

Petlinks
KEY FEATURES: Jute scratch post with a texture that feels just like the upholstery cats love so much.
SALES TIP: Your cat wins: He gets to think he's scratching the couch. You win: It's cheaper than having to buy new furniture.
petlinkssystem.com, (800) WORLDWISE
$22.99
---

Cat Craft Sea Grass Scratching Post

One Source International
KEY FEATURES: Stands 20 inches tall, with a hanging toy and spring toy on the base.
SALES TIP: Share that seagrass is durable and a renewable resource.
catcraftstore.com, (800) 228-7019
$44.95
---

Kitty Power Paws Sphere

Prevue
KEY FEATURES: Jute-wrapped sphere stands 13 inches tall, with a feather tassel. Mounted on a round base.
SALES TIP: Promote the unusual shape, with this classy ball offering maximum scratching surface area.
prevuepet.com, (312) 243-3624
$39.99
---
Posts with the Most
Who said scratchers had to be just a boring old post stuck in a base? Adding some toys to the scratching fun keeps kitty's attention longer (and keeps her occupied so she won't think about attacking the couch!). These new releases aim to spice it up with extra bells and whistles. Carry a few of these and let the cat-calling begin.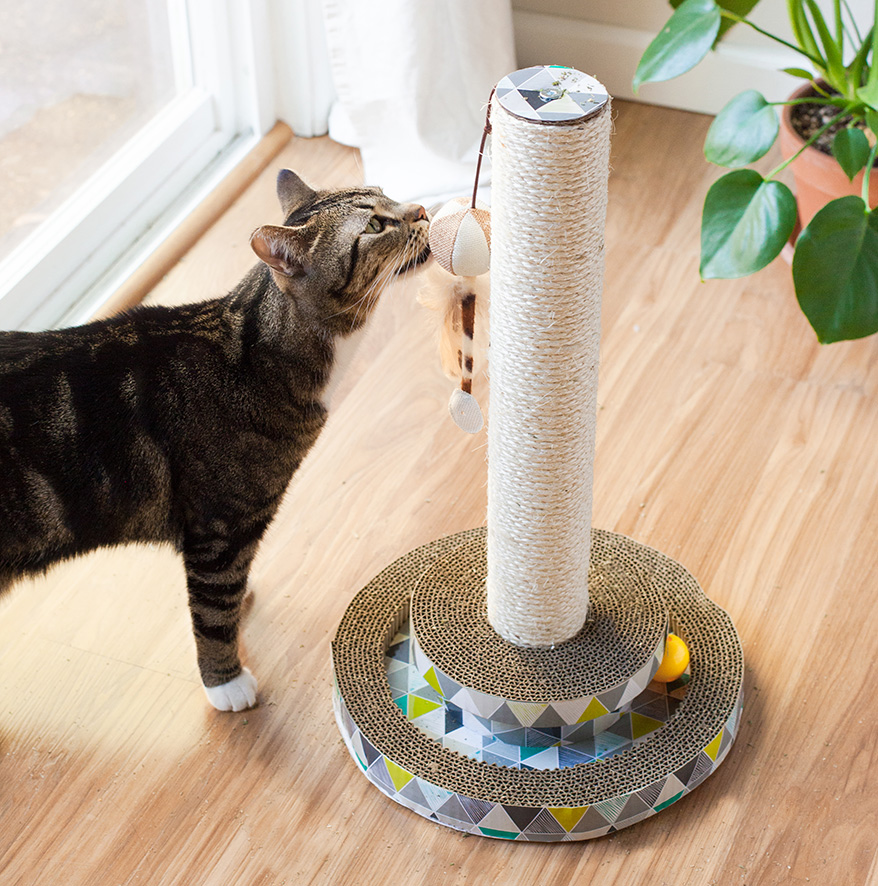 Petstages Scratch and Play Tower

Petstages
KEY FEATURES: A sisal scratch tower with ball at the top, paired with a corrugated cardboard track and ball on the base that is infused with catnip.
SALES TIP: Point out that multiple ways to play keep kitty coming back for more.
outwardhound.com, (800) 477-5735
$24.99
---

SmartCat Ultimate Scratch 'N Play

Pioneer Pet
KEY FEATURES: Sisal tower with toy box base. Stands 32 inches tall, with 16-inch square wooden base.
SALES TIP: Suggest hiding toys in the base to stimulate kitty's hunting instincts.
pioneerpet.com, (866) 317-6278
$79.99
---

Our Pets Twirl & Whirl

Our Pets
KEY FEATURES: An interactive toy that attaches to scratching posts and perches. An unpredictable spinning feather will keep kitty on her toes.
SALES TIP: Can be sold alongside your scratch post offerings.
ourpets.com, (800) 565-2695
$19.99
---
Post-modern
Sometimes your customers want to move beyond the cardboard throw-aways. Here's a sample of some products for feline aficionados who are more designed-focused, or for those looking for more of a statement scratcher. Pick one or two and make them the centerpiece of a display to draw them in like kitty to catnip.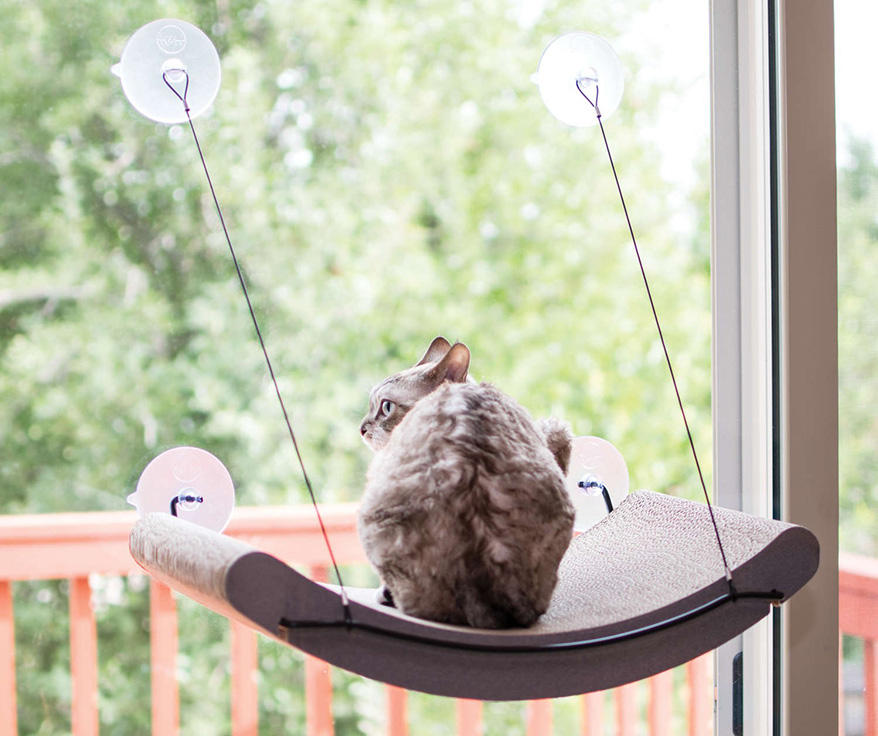 EZ Mount Scratcher Kitty Sill Cradle

K&H Manufacturing
KEY FEATURES: Suction cups work on any window. Curved cardboard cradle for lounging and scratching. Comes with bag of catnip. Refill pads available.
SALES TIP: Hang one in a display window so your customers can see it in action.
khpet.com, (877) 738-5188
$39.99
---

Max Scratch

Primetime Petz
KEY FEATURES: Standing 29 inches tall for stretching, post is wrapped with jute and has a carpeted perch on top. Non-slip feet on bottom prevent sliding and protect floors.
SALES TIP: Prove that, at 18 pounds, with a 19-inch base, this sturdy post won't topple.
primetimepetz.com, (214) 257-8068
$99.99
---

Zen Cat Scratcher

Refined Feline
KEY FEATURES: Modern Z-shape design, made from solid pine, with multiple perches and sisal scratching area.
SALES TIP: Display a carpet swatch with the scratch pad to show that it can swap out and add to the room's decor.
therefinedfeline.com, (800) 289-6136
$149.99
---
This article originally appeared in the January 2018 edition of PETS+.