Keeping pets safe in all seasons
Whether it gets scorching hot or freezing cold where you live, chances are you're up against some kind of weather that affects your four-legged companions. In the past, those conditions would limit their ability to stay out in the elements for long. Thanks to innovative products, pet parents are able to remain active year-round, bring their dogs along and keep their kitties protected, too. From being visible on night walks, to staying cool in the heat and warm in the snow, we've selected a few key products that can help everyone have fun and stay safe.
---
Be Seen
Your customers can extend their quality time with doggie friends, and stay in shape too, as walking safely after hours is getting easier to accomplish. A wide range of light-up and reflective products ensure visibility at night. We've picked a few new releases for dogs and cats.

Headlight Harness

Headlight Harness
KEY FEATURES: Highly reflective, water resistant and lightweight, with a battery-powered LED light in the chest that projects up to 100 feet. Sizes from XS to XXL in blue, orange and black.
SALES TIP: Add embroidery for a personalized touch. The harness doubles as a safety restraint for car rides.
headlightharness.com, (800) 597-0181
$59.95-$69.95
---

Light Leash

Eyenimal
KEY FEATURES: Leash with built-in light that can be set to fixed or flashing. Comes in red, green and blue. Part of a line that includes light-up collars.
SALES TIP: With 30 hours of battery life, your customers can fit in a lot of walks between charges with a provided micro-USB cable.
eyenimal.com, (646) 828-6089
$15.20
---

Petmate Adjustable Glow Cat Collar

Petmate
KEY FEATURES: Patented breakaway buckle and bell, paired with a way for your cat to be seen at night. Available in an assortment of colors, and as a line of reflective patterns in addition to the glow-in-the dark options.
SALES TIP: Your customers will be all aglow over these collars with fun and flashy patterns.
petmate.com, (877) 738-6283
$4.99-$10.99
---
Beat the Heat
When the summer sun turns up the temp, your customers and their dogs can keep having fun, with the help of products that help fur babies stay cool — and safe — in warm weather. From lounging in the shade to swimming in the lake, we've selected items that meet a variety of outdoor activity levels.

Jet Stream Cooling Vest

Ruffwear
KEY FEATURES: A lightweight, active fit cooling vest with a zippered closure. Soak in water, wring out and put on the dog.
SALES TIP: Point out the patented Swamp Cooler technology, with wicking outer mesh layers that provide shade. Comfortable inner layer holds in water and transfers the cooling effect to the wearer.
ruffwear.com, (888) 783-3932
$39.95
---

Sun Shield Tee

Gold Paw Series
KEY FEATURES: A lightweight stretch jersey with a UPF 50 rating that blocks 98 percent of the sun's UV rays. Notable heat absorption, keeps dogs 40 degrees cooler.
SALES TIP: Emphasize bonus uses: For pets dealing with skin conditions, wound care, and topical medications, and as an anti-anxiety calming aid that can be worn all day.
goldpawseries.com, (503) 387-6920
$20.50-$36.50
---

Standley Sport Life Jacket

Outward Hound
KEY FEATURES: Dog life jacket is equipped with double handles for lifting, a leash attachment for easy restraint, mesh bellyband for water drainage and a unique sternum design for top performance fit that allows for wide range of motion. Available in five sizes.
SALES TIP: Inspired by Colorado's Lake Standley, this durable, rugged life jacket will stand up to frequent use and play.
outwardhound.com, (800) 477-5735
$44.99-$64.99
---
Some Like It Cold
No need to hibernate! When temps go down, your customers can get up and embrace winter, with products that keep their furry friends safe and warm. From heated cat houses to dog coats to paw protection, we've picked a few to get your ideas flowing and send Old Man Winter packing.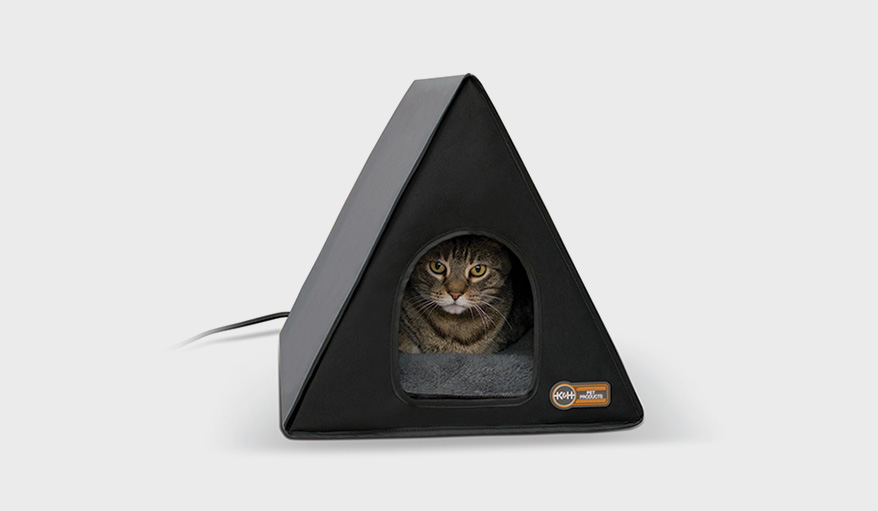 Heated A-Frame

K&H Pet Products
KEY FEATURES: Kitty-sized cozy A-frame with patented heated floor system that uses only 20 watts. Two removable door flaps for easy access. Can use indoors or out.
SALES TIP: While this one's designed for a single kitty, there's another size for multi-cat households that fits up to four, available in heated and unheated models. For a kitty slumber party!
khmfg.com, (877) 738-5188
$99.99
---

PawTection

Natural Dog Company
KEY FEATURES: An organic, vegan, all-natural balm, specially formulated to create a barrier to protect sensitive paw pads against the elements. Comes in 2-ounce stick. Products also available in tins and travel sizes.
SALES TIP: For an ultimate for a "pawdicure," pair it with Natural Dog Company's Paw Soother, which relieves chapped paws rubbed raw by salt and ice. Works on cats, too!
naturaldogcompany.com, (888) 471-8288
$17.95
---

Belted Dog Coat

Muttluks
KEY FEATURES: Waterproof, windproof, with three layers of warmth: nylon exterior, lofty inner core and faux fur interior. Available in sizes 8 to 38 (inch lengths).
SALES TIP: Canadian-made by people who know winter, pair with booties for total body coverage.
muttluks.com, (888) 688-8585
$50-$130
---
This article originally appeared in the April 2018 edition of PETS+.