Fish tanks from nano to mammoth
Central Coast Aquarium in California has been jumping lately as visitors come through to get a selfie with Joan, a color-changing octopus accidently caught by a fisherman and then taken in by the aquarium. You might not have access to eight sucker-lined arms to pull in customers, but you can house exotic and colorful fish in your aquariums, which should fall into some of these trending categories.
---
Nano Setups
Nano is very now, and these small and stylish tanks are ideal for beginning aquarium hobbyists. In one armload, you can send a fish owner home with a head-to-toe setup, minus the headache of all the filter and water conditioner choices. The set-up is just as easy. Once the buyer is home, he can create a stunning piece of decor in a snap.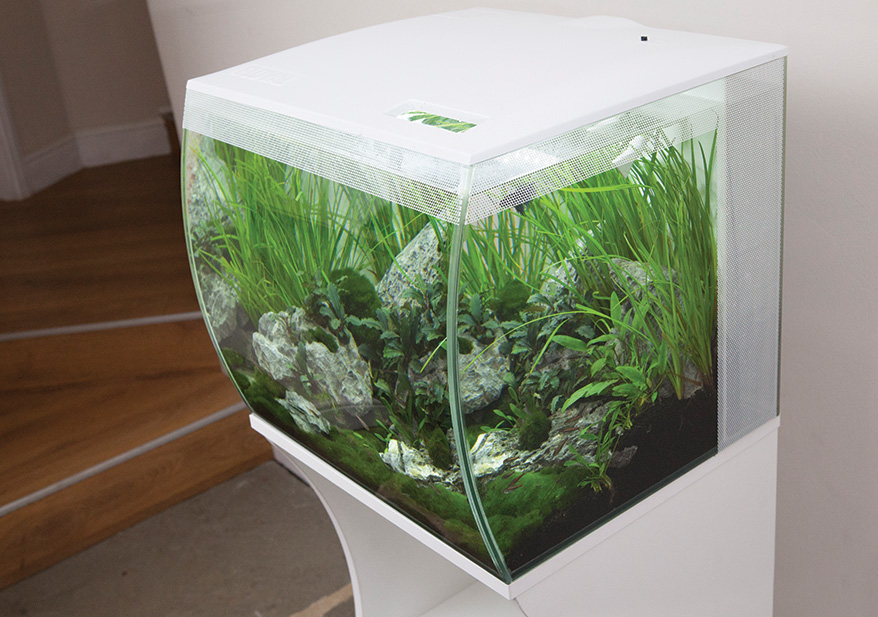 Flex Freshwater Kit

Fluval (Hagen)
Key Features: Comes with a brilliant 7,500K LED lamp, three-stage filtration and a honeycomb wrap that conceals the water line and rear compartment sides. Available in black or white.
Sales Tip: When you're setting up a store model, play with the included FLEXPad remote to create color blends, fading cloud cover and lightning bolts.
usa.hagen.com, (800) 724-2436
$99.99-$128.99
---

Biota Aquarium

Biota
Key Features: Hobbyists can create a tiny coral reef with live rock, fish and corals in this all-in-one starter kit. All sustainable sourced, and for every fish purchased a different fish is released into protected waters.
Sales Tip: Make your store an arranged pick-up point for the three shipments of dry goods, rock, fish and corals, and earn revenue on wholesale margins and walk-in traffic.
biotaaquariums.com, (888) 348-8284
$659
---

LED Bio-Cube Aquarium Kits

Coralife
Key Features: This updated model now has an integrated 24-hour timer with three independent channels and a new lighting system.
Selling Tip: Customers who like a light show get a glowy blue moon sparkle effect for night and bright white LED lights for day.
coralifeproducts.com, (888) 255-4527
$224.99
---
All in One
All-in-one kits continue to be popular with customers looking to get started or treat themselves to a whole new system without picking out all the plants, hardware and potions. All-in-ones can work for kids, but the real money is in curious adults and active fish keepers willing to spring for a replacement tank or use their tax refund to splurge on a new setup.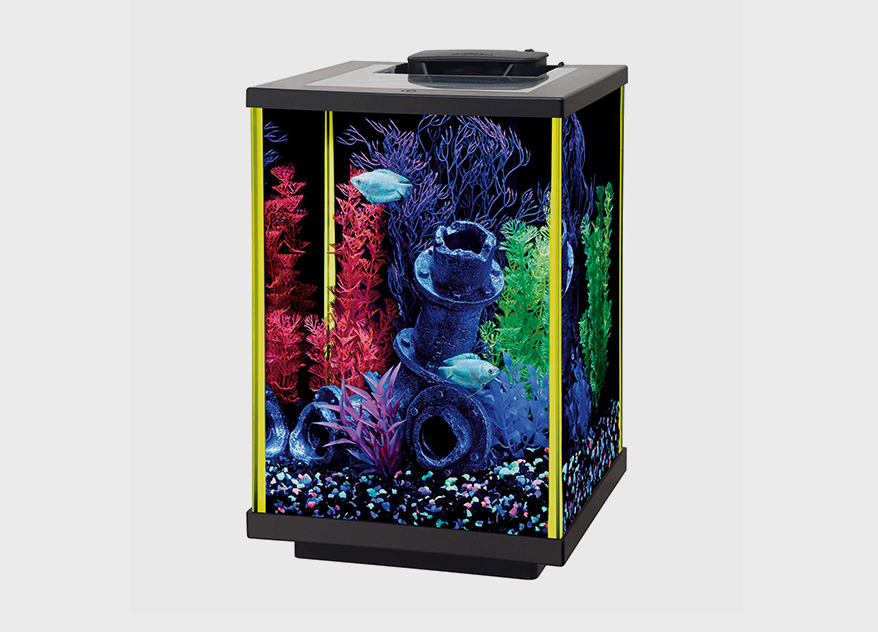 Neo Glow

Aqueon (Central Garden and Pet)
Key Features: This line plays with geometry, giving life to glass columns, hexagons and cubes, and the low-profile hood with blue LEDs showcases the bright colors inside.
Sales Tip: A great starter kit for kids, and you can let them choose their shape and color options, from lime green to pink to orange.
aqueon.com, (888) 255-4527
$66.49
---

Recife Eco 24 Gallon All in One

Aquatop
Key Features: This entry level kit includes a reef ready LED light, a nano protein skimmer, a submersible pump and an effective way to hide the filtration components.
Sales Tip: Sell alongside a 100- to 200-watt heater, it's the one thing that's not included.
aquatop.com, (888) 915-2782
$699.99
---

C-Vue Aquarium Kit

Cobalt International
Key Features: Suitable for saltwater or freshwater aquariums, this includes water clarifiers and pumps, low iron glass with beveled edges and mitered corners for an impressive, clean look.
Sales Tip: Fill it with discus, dwarf cichlids or plant an aquarium, this advanced all-in-one works for beginning hobbyists and hardcore fish fans.
cobaltaquatics.com, (803) 591-9500
$198.97-$389.97
---
Big and Bold
Customers who want the opposite of nano can go mammoth, with tanks so big they double as elegant room dividers. For those looking to go bigger, show off the thick, high-quality glass, and rimless and limitless views. Some tank makers are even exploring uncharted territory in aquarium shapes. Trick one out in your store and you won't even need an imported octopus to attract attention.

Long Low-Iron Rimless Aquarium

Aquamaxx
Key Features: This simple and stunning tank can be used for a freshwater or saltwater experience, with extra thick walls and polished edges for clear and unobstructed views.
Sales Tip: Point out that these thick, frameless aquariums are handcrafted by artisans and individually tested for quality.
$109.99-$199.99
---

Abyss Panorama Glass

Innovative Marine
Key Features: This thick-glass, high-clarity aquarium includes a pump, two-directional flow nozzles and a pearl white aluminum pedestal.
Sales Tip: Break out of the traditional aquarium box with this stunner from the Nuvo Concept Series.
innovative-marine.com, (866) 368-7941
$400
---

Peninsula System

Red Sea USA
Key Features: This rimless, ultra-clear coral reef aquarium makes a perfect peninsula with a view from three sides. Ideal as a room divider or for a corner installation.
Sales Tip: Advanced hobbyists can customize this with optional doors and install it in a living room or office at a fraction of the cost of a professional job.
redseafish.com, (888) 733-7329
Starting at $2,699
---
This article originally appeared in the April 2018 edition of PETS+.