As pet parents are paying closer attention to their fur babies' diets, they are willing to pay higher prices and seek out quality that the big boxes aren't carrying. When health-conscious pet parents read the labels, they want to recognize the ingredients and feel good about feeding them to their canine companions. This means the sky's the limit for holistic foods; you really can't stock too many of them!
---
PRICE SCALE: $ $0-$2/pound | $$ $2-$3/pound | $$$ $3-$4/pound | $$$$ $4+/pound
Eating Clean
You may have noticed that as "premium" made way for "super premium," brands started seeking out new ways to get ahead of the curve. Lately that means moving toward minimal processing and staying away from meaningless fillers. We selected a few offerings that focus on paring down the ingredient list, with an emphasis on making every component matter.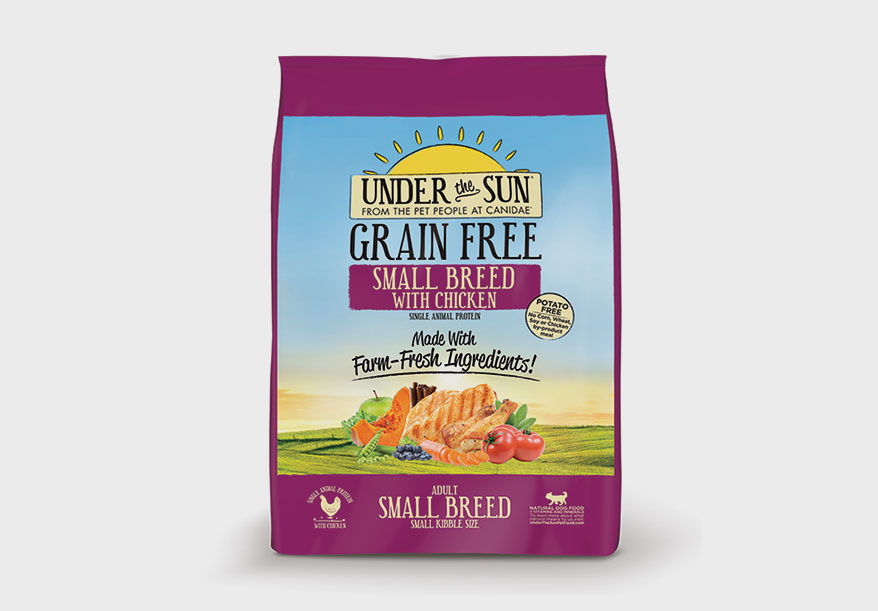 Under the Sun

Canidae
KEY FEATURES: Single animal proteins like lamb, chicken, and whitefish are paired with a bounty of fruits and vegetables like carrots, peas, pumpkin and blueberries. This grain-free line features special formulas for puppies, small breeds and large breeds, in a range of flavors and bag sizes.
SALES TIP: You won't find a better bounty than this at your local farmer's market, and at a price point that will provide a quality food option most anyone can afford.
canidae.com, (800) 398-1600
$
---

Limited Ingredient Diet

Nutro
KEY FEATURES: Part of a new campaign to "feed clean," Nutro has revamped old recipes and introduced the Limited Ingredient Diet line. Each recipe contains 10 key ingredients or less, plus natural flavors, vitamins, minerals and other nutrients. Flavors include Lamb & Sweet Potato, Duck & Lentils, Salmon & Lentils and Venison Meal & Sweet Potato.
SALES TIP: Encourage your customers to leave the dirt for outdoors and give real food a try. As an added bonus, these formulas are GMO-free.
nutro.com, (800) 833-5330
$$
---

New Zealand Mackerel and Lamb

Ziwi Peak
KEY FEATURES: A combination of wild-caught, sustainable New Zealand blue mackerel and free-range, grass-fed lamb. Air-drying naturally preserves the nutritious goodness of raw meat and seafood, creating a food that's 96 percent meat. Comes in three bag sizes: 1-, 2.2- and 5.5-pound.
SALES TIP: Air-dried is being seen as a great alternative to traditional raw food. Educate your customers that a little bit goes a long way with this type of food; while the price is higher, the serving sizes will be smaller.
ziwipets.com, (877) 464-9494
$$$$
---
Singular Sensation
With many uses and applications, single-protein foods are gaining in popularity. Helpful for dogs on elimination diets or ones with allergies or sensitivities, these foods also appeal to pet parents who like the idea of a pared-down diet for their pups. These selections fit into the limited ingredient diet category, too, leaving out key ingredients that are known to trigger sensitive stomachs and allergies.

Lovingly Simple

I and Love and You
KEY FEATURES: This limited-ingredient dry food features wholesome ingredients for dogs with sensitivities to poultry, beef, grains, white potatoes, soy, corn, dairy and eggs. Available in a Lamb & Sweet Potato or Whitefish & Sweet Potato recipes, in 3.85- and 10.25-pound bags.
SALES TIP: In case you get asked, the company's unconventional name "symbolizes the incredible bond between a human and a pet."
iandloveandyou.com, (855) 459-5683
$$
---

D.O.G. Certified Pet Nutrition

Do Only Good (D.O.G.)
KEY FEATURES: Super-premium, grain-free dog foods, available in beef, chicken or whitefish in 4- and 24-pound bags. Boosted with certified organic minerals and vitamins that aid in prolonging and improving the lives of pets.
SALES TIP: All the ingredients can be traced back to the source via a "transparency" page on D.O.G.'s website.
dogcertified.com, (800) 990-4403
$$$
---

Zignature

Pets Global
KEY FEATURES: One of the largest lines of single-protein foods and one of the few brands to offer kangaroo, which is a lean, mean protein. Coming soon, two new flavors: goat as "the other red meat" and guinea fowl as an alternative to chicken.
SALES TIP: Your customers can experiment with giving their dogs some exotic proteins. A novel idea!
zignature.com, (888) 897-7207
$$
---
Small Bites
Big numbers for little dogs: According to findings from marketing research firm Packaged Facts, small breeds now make up the majority of dogs (52 percent). This creates a huge appetite for small-sized kibble, with the introduction of new foods that cater to petite portion sizes. Display these as part of their brand family or as stand-alone small-breed choices on an end-cap.

Annamaet Small Breed

Annamaet Pet Foods
KEY FEATURES: Appropriate for all life stages of small breeds. Key ingredients include: algae for omega-3, L-carnitine for metabolism and cognitive function, DHA for brain development and chelated minerals for increased absorption. Available in 4- and 15-pound bags
SALES TIP: With their smaller appetites, petite breeds need a higher concentration of vitamins and minerals, and Annamaet's nutrient-dense formula delivers.
annamaet.com, (888) 723-0367
$$
---

Now Fresh Small Breed

Petcurean
KEY FEATURES: Two new recipes that put lamb and white fish at top billing. Other highlights include coconut oil, eggs, and ingredients to support oral health. Grain-free, gluten-free, no beef, chicken, corn or soy.
SALES TIP: Petcurean's small-breed kibbles are one of the smallest in the market, featuring a unique clover shape for easy chewing and digestion.
petcurean.com, (866) 864-6112
$$$$
---

Instinct Raw Boost

Nature's Variety
KEY FEATURES: All the recipes in the grain-free Raw Boost line recently went through a reboot, along with redesigned packaging. Offerings for small dogs include cage-free duck and chicken recipes, and a chicken recipe for toy breeds. Available in 4-pound bags.
SALES TIP: These recipes provide high-protein kibble mixed with freeze-dried raw meat for a one-two punch. Your money-conscious customers will like the ability to serve some raw without the higher price tag of all-raw food.
instinctpetfood.com, (888) 519-7387
$$$$
---
This article originally appeared in the May 2018 edition of PETS+.