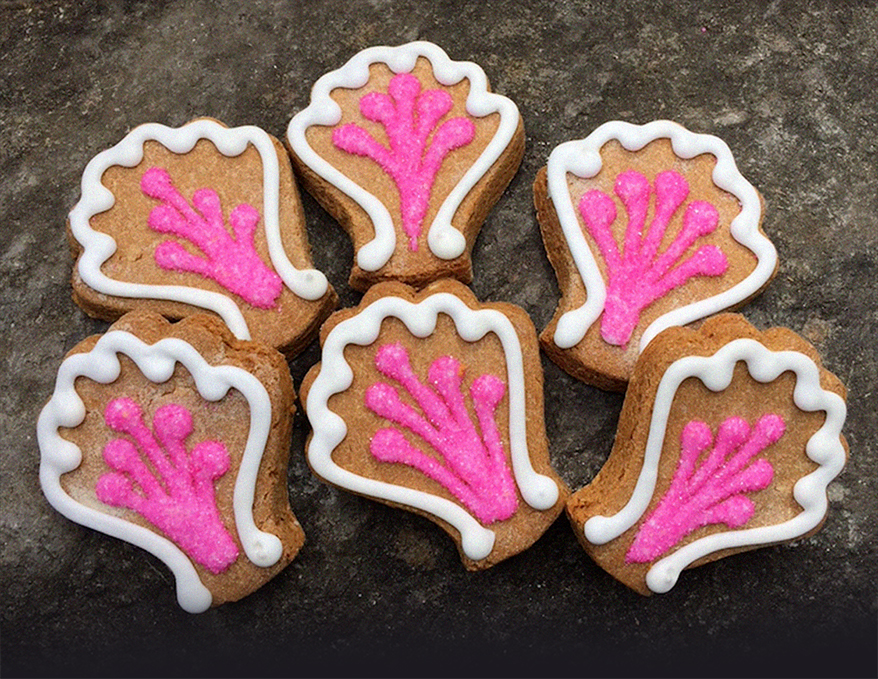 A consistently hot performer for us is the mini dots and mini bones from Ma Snax Superior Dog Treats. They are always in the top 20 in our supply sales. We have a bakery case on our front desk, and we order seasonally decorated dots and bones. They aren't high-dollar items, but they're great impulse items that add up fast. Kris Minkle, The Whole Pet, Fort Smith, AR
PRODUCTS
The Beco Bowl from

Beco Pets

. It retails for $5, is specifically designed for cats and made from all natural materials. Cat owners buy it because it keeps whisker irritation down. Molly DeVoss, Cat Behavior Solutions, Dallas, TX
CBD oil is big. Our local NBC TV affiliate did a segment on July 4 about CBD for pets and stopped in for an on-camera interview. We were almost sold out of CBD by the weekend. Keefer Dickerson, Nashville Pet Products, Nashville, TN

No-Hide

chews!! The bulk bins are emptied almost as soon as we fill them up. Chicken is the top seller, but beef is a close second. Annabell Bivens, The Dog Store, Alexandria, VA
Flea and tick products, specifically

Cedarcide

. Pennsylvania is one of the hot zones for ticks and Lyme disease. I feel Cedarcide is the best tick repellant. It's the most truly all-natural, which is why I like to sell it and why my customers like to buy it. Toni Shelaske, Healthy Pet Products, Pittsburgh, PA

Blueridge Beef

raw frozen cat and dog food is outselling all other brands we stock. Priced from under $5 for a 2-pound chub. We like it because it's an easy way to introduce pet parents to raw feeding by topping off dry kibble. Owners like it because there are a lot of proteins available if they have fussy eaters. Nancy Okun, Cats n Dogs, Port Charlotte, FL
Best selling non-food products continue to be the CBD oils and treats:

Canna-Pet Biscuits

and

Lazarus Naturals

CBD oils. It is effective for so many issues and customers return for more.

Zignature

is our No. 1 food line and is helpful for dogs with sensitivities. Terri Ellen, Nature's Pet Market, Salem, OR
We can't keep

Vital Essential

Duck Heads in stock. It took me six months to decide to bring them in after doing a live video and asking my customers for their input. Now we are going through 400-plus a week. It's crazy. Nancy Guinn, Dog Krazy, Fredericksburg, VA

PureVita

cans, We had a promo on the 5.5-ounce cans. Aside from that, cat grass was a huge seller last month. Betsey Qualley, Smitten Kitten, Des Moines, IA

Tuscan Natural

dog food. We specialize in pet nutrition and have found that this food works really well for dogs with allergies, and it's truly helped so many of our customers. Customers that have struggled with their dogs' allergies (all the scratching, skin problems and prescription medications) are so relieved to find a food that really works! It makes it easy for our sales team to sell because we are so confident in its ability to help relieve their allergy symptoms. We have a buy 12, get the 13th bag free program on all of our dog foods, including Tuscan Natural. Nicole Olesen, Woofs & Waves, Sioux Falls, SD
May was the month of Trump chew dolls!

Fuzzu

sells them $19.99 and dogs and owners luv posting how much fun dogs have tossing them around! Ursula Sanchez, Bucktown Bow & Meow Pet Spa, Chicago, IL
Edibites by

Pet Releaf Hemp Health

was our best seller last month. We have had great testimonials across the board of dogs who have shown greatly reduced or eliminated episodes of anxiety after using the treats. Wendy Megyese, Muttigans, Emerald Isle, NC
Treats, specifically

J.J. Fuds' Porkies

. Most clients like it because it's easily breakable and digestible, and a very good value for the price. Charmaine Morris, Charmaine's Pet Spa, Peoria, IL
Our ice cream/frozen yogurt freezer next to our front counter was and is extremely popular right now. We sell the

Puppy Cake

line. Danielle Wilson, Bath & Biscuits, Granville, OH

Dave

's 5.5-ounce cans of cat food. We had a big push for donations to our local shelter. Sold over 300 cans for donations alone. Eric Mack, Purrfect Bark, Columbus, NC
We started selling

Whimzees

dog chews at the store. The alligators and the hedgehogs. I leave them on the counter, and people can't resist touching them and asking about them. They have been a good add-on item/impulse buy. Lisa Keppers, Sauk Centre Country Store, Sauk Centre, MN

Health Extensions Pet Food

, the price point is what most customers are looking for as well as quality. Types of customers range from those that have and those that have not. Randy Tolbert, Hillside Boarding and Kennel, Mitchell, IN

Isle of Dogs

Chillout treats. These calming treats really work! They sell themselves. (Of course, it helps that we use them and recommend them). Diane Marcin, Benny's Pet Depot, Mechanicsburg, PA
SERVICES
Best-selling service is de-shedding! Pattie Boden, Animal Connection, Charlottesville, VA
Our grooming salon ad-on services are really on the upswing. It is easy to provide a lot of value for a few dollars more. Connie Roller, The Feed Bag Pet Supply, Grafton, WI
Our best-selling service continues to be daycare. Clients look forward to when we offer package specials and will often drop hints that they're patiently waiting for the next sale. Amy Zounes, CaNine to Five, Clifton Park, NY
Our best-selling service was grooming upgrades. Asking clients simple questions up front to add on grooming services works. Grooming is rocking it! We started a referral program, and it's working. We are selling more specialty shampoos, whitening, skin rescue, teeth brushing, fragrances, deshedding products than ever before. Our average grooming ticket has gone from $40 to $60! Terri Ellen, Nature's Pet Market, Salem, OR
In our grooming spa, we did an offering of half off any of our add-on services. It was an off the hook success. We are now going to do this monthly. We used Instagram and Facebook to tell our guests. Kristina Robertson, The Pet Spa at Barkley Square, Falls Church, VA
---
This article originally appeared in the September 2018 edition of PETS+.
What's the Brain Squad?
If you're the owner or top manager of a U.S. jewelry store, you're invited to join the INSTORE Brain Squad. By taking one five-minute quiz a month, you can get a free t-shirt, be featured prominently in this magazine, and make your voice heard on key issues affecting the jewelry industry. Good deal, right? Sign up here.