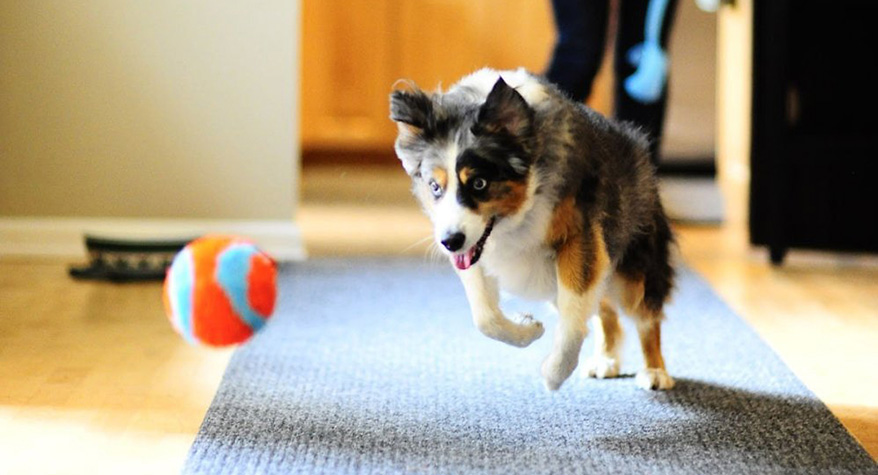 Terriers, labs and the occasional poodle will retrieve a ball, Frisbee or old mop head if that's what's going around. The chase is part of a dog's innate being, just like the need for interaction, complex textures and a good fit. These specialty dog balls cover the hardwired desire to fetch and play to a dog's natural instincts.
---

Interactive Action
Dogs want to play all the time — sometimes at inconvenient moments, like when dinner's ready or during the long hours people are at work. Interactive toys emit weird chirps, release bits of food and play interactive games to prevent chewing, barking and behaviors associated with boredom.
Animal Babble Ball

Pet Qwerks
Selling Point: Triggered by touch, this ball makes more than 20 animal sounds including dog growls and barks, pig oinks and bird chirps.
Sales Tip: Impress on customers that the toy goes quiet when playtime is over.
petqwerks.com, (949) 916-3733
Tricky Treat Ball

Omega Paw
Selling Point: This crafty creation drops kibble at random, which keeps dogs sniffing for that one last treat lodged inside.
Sales Tip: Sell to shoppers who need a distraction device.
omegapaw.com, This email address is being protected from spambots. You need JavaScript enabled to view it.
Sphero 2.0

Sphero
Selling Point: Pet parents can use a smartphone to program games of fetch into this waterproof, pet-proof robot ball.
Sales Tip: Mention the ball's iOS and Android compatibility and see who bites.
sphero.com, (888) 977 4376
---
Designs with Character
Tongue-in-cheek dog balls attract pet owners while offering pet-related features, like knobs and ridges that clean teeth and massage gums. Dogs couldn't care less about witty text or oddball designs, but as Omega Paw says, "Like so many humans, dogs like balls."
Humunga Chomp Dog Toy

Moody Pet
Selling Point: The pearly whites of this silly sphere give depth and texture to the nontoxic, gummy-pink, natural rubber.
Sales Tip: Liven up dental displays with this goofball, since the ridges keeps teeth clean and gums massaged.
moodypet.com/wholesale, (215) 732-4048
Dogzilla Dino Claw

Petmate
Selling Point: The rubber dinosaur claw gives regular tennis balls an erratic bounce, and unclenches its grip for a round of solo chewing.
Sales Tip: Highlight the 2-in-1 features to the guy in the Deadpool shirt.
petmate.com, (877) 738-6283
Orbee-Tuff Cosmos Collection

Planet Dog
Selling Point: This celestial offering includes Sol, for the biggest pups in the spaceship; Luna, which glows in the dark; and Ringo, with an other-worldly bounce.
Sales Tip: Aim for sci-fi fans shopping for stellar orbs.
planetdog.com, (800) 381-1516
---
Soft and Strong
These soft, easy on the mouth toys work well for indoor throwing, especially on hardwood floors. Soft and durable specialty balls make fetch possible when it's wet or cold outside, and this selection benefits older dogs, plus hearty chewers and young pups.
Chuckit! Indoor Ball

Petmate
Selling Point: The multilayered textured chenille wrapping complements rainy days, hardwood floors and late-night games of fetch.
Sales Tip: Target small dogs and pup parents looking for a soft bounce.
petmate.com, (877) 738-6283
Funzler Dog Toy

Kong
Selling Point: This colorful, plush ball bends, twists and shakes so pets can parade around its six internal squeakers.
Sales Tip: Merchandise with products good for tossing, grabbing and tug-o-war.
kongcompany.com, (303) 216-2626
Boingo Ball

Multipet
Selling Point: These rubber grip spheres come in two sizes and assorted colors, all featuring an inner plastic ball that rattles when rolled.
Sales Tip: Sell these for active dogs and keen chewers.
multipet.com, (800) 900-6738
---
This article originally appeared in the March-April 2017 edition of PETS+.