No matter where you live in the United States, pesky biting insects are around at least part of the year, resulting in big business for flea and tick products. According to market researcher Packaged Facts, 74 percent of dog and cat owners buy them. While many products are designed especially for dogs, it's important not to leave kitty hanging, or scratching.
ALL PRICES MANUFACTURER'S SUGGESTED RETAIL
---
Goin' Green
There's a growing segment of pet-owning population who are turned off by the idea of squeezing chemicals on their cat's neck, who at the same time don't want to share their home with fleas. Alternative solutions — made from botanicals and essential oils — are gaining ground and manufacturers boast they're as good as the traditional products.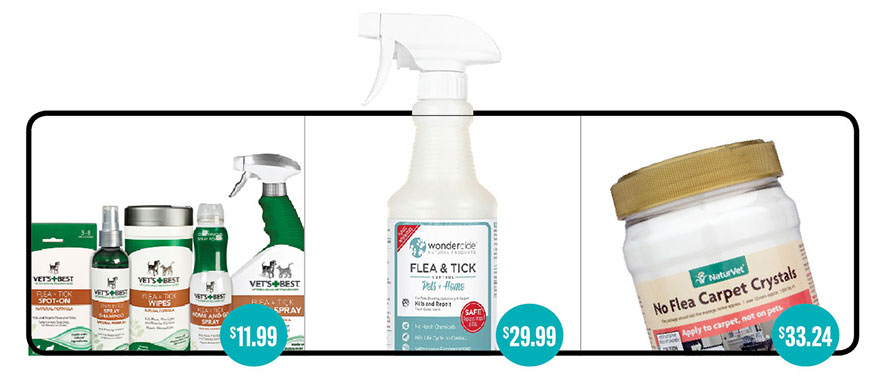 Flea + Tick Home and Go

VET'S BEST
Key features: A plant-based formula with peppermint oil and clove. Safe to use directly on cats and kittens 12 weeks and older. Kills fleas, flea eggs and ticks on contact. Also repels mosquitoes.
Sales tip: A purse-size bottle for on-the-go insect control.
vetsbest.com, (214) 442-7149
Flea & Tick Control Pets + Home

WONDERCIDE
Key features: Can be used on dogs and cats, as well as household surfaces.
Sales tip: This company has been riding a wave of buzz after a recent appearance on Shark Tank. Ideal for the chemical-adverse customer.
wondercide.com, (877) 896-7426
No Flea Carpet Crystals

NATURVET
Key features: Dry crystal powder works on carpet and upholstery to kill and prevent fleas. (Not for use on pets).
Sales tip: A 2-pound container should last one year in average home.
naturvet.com, (888) 628-8783
---
Talkin' Topical
Spot on: Applicator products are still the main squeeze, to the tune of 68 percent of cat owners who used flea/tick control in 2016, according to Packaged Facts market research. Brands like Advantage and Frontline have been dominating the market for years, a status being challenged by more products entering the field. Here are a few examples of what's out there.

Seresto for Cats

BAYER
Key features: An alternative to the spot-on treatments, this flea and tick preventive collar lasts up to eight months. Highly rated in the field of collars.
Sales tip: No need to remember monthly applications. Odorless, mess-free.
petspecialty.com, (800) 255-6517
Pet Armor FastCaps

FIDOPHARM
Key features: Oral medication with nitenpyram, which kills adult fleas right away, but which functions only as a short-term solution, as the medicine is out of cat's system in 24 hours.
Sales tip: Ideal for situations such as boarding and traveling.
petarmor.com, (855) ASK-FIDO
Natural Chemistry DeFlea Shampoo

MUNTECH
Key features: Kills fleas, ticks, lice and mites on contact without the use of pyrethrin-based pesticides. Safe for pregnant/nursing females, kittens, and with other flea and tick products.
Sales tip: Also available in an all-natural formula.
muntech.com, (800) 592-0619
---
Fightin' Back
Once fleas and ticks start a hoppin', your customers are going to come a-knockin', desperate for solutions on how to combat those tiny vampires. That's where you'll be ready, with a selection of collars, pills, shampoos and more. With so many products to choose from, we've selected a few with high ratings and solid track records, to help give you a place to start.

Catego

Ceva Animal Health (exclusively available through H&C Animal Health)
Key features: Features active ingredients dinotefuran, fipronil and pyriproxyfen, which take on the flea in all stages of life cycle.
Sales tip: This product gets to work killing fleas and ticks within six hours after applying.
categocat.com, (855) 726-1856
Bio Spot

Central Garden & Pet
Key features: Available in one-, three and six-month packs.
Sales tip: Cleans up well, killing fleas, flea eggs, flea larvae and deer ticks, and mosquitoes for an added bonus.
biospotactivecare.com, (800) 234-2269
Sentry Fiproguard Plus

Perrigo Animal Health
Key features: Uses fipronil to kill adult fleas and ticks, along with (s)-methoprene to prevent eggs and larvae from growing.
Sales tip: When Frontline went off-patent, it opened doors for lower-cost versions like this.
fiproguard.com, (800) 224-PETS