Super-size your customer service with ideas from the big-picture stuff down to the nitty-gritty.
STORY BY
PAMELA MITCHELL
Customer service can break or make your business. Consider this stat from Inreality's 2016 The Reality of Retail report:
"After a poor experience with a physical store, 63 percent of shoppers said they would be unlikely to shop at that store again."
Pet businesses — whether retail, grooming and/or boarding — must meet even higher standards than other types of providers.
"Pets are members of the family now, and customers want them treated as such," says Nancy Hassel, president of the networking and educational organization American Pet Professionals. "There are so many ways to go above and beyond with customers. If you do, you will stand out, and so will your store."
With that in mind, we asked pet businesses in the U.S. and beyond to share examples of stellar customer service. Some are practices you can quickly and easily replicate, while others will require you to be ready to deliver if a similar situation arises.
We also talked to five pet stores whose highly successful loyalty programs turn first-time visitors into repeat customers. And Bob Phibbs — aka The Retail Doctor — shares how he helps businesses improve their customer experience and increase sales.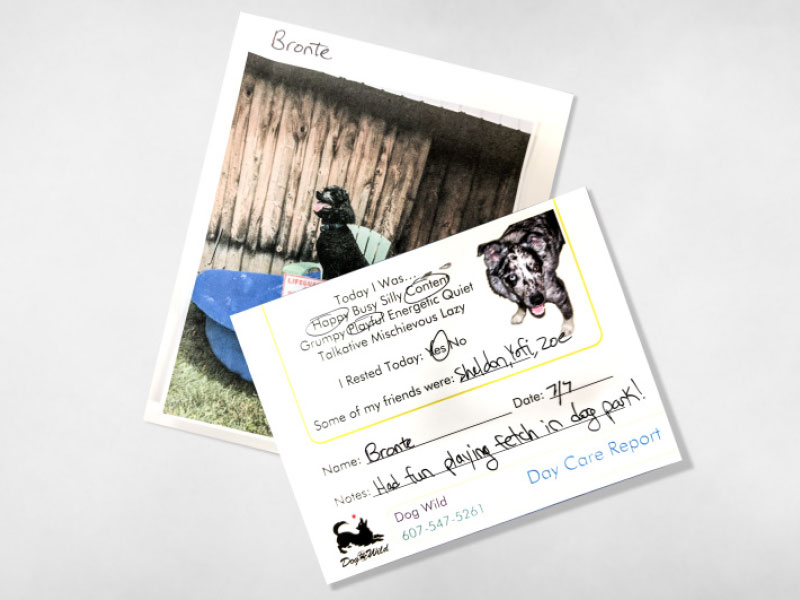 1.

HAND OUT REPORT CARDS
What pet parent doesn't want to know what their pup gets up to each day? At Dog Wild Pet Supplies and Resort in Cooperstown, NY, they learn exactly that upon pickup from daycare. Each attendee gets a report card complete with a portrait or action shot on one side, and information about their day on the other.
Dog Wild owner Dana Rice explains the cards serve multiple purposes.
"They let the customer have a peek into what their dog did that day and who the dog played with. Many customers like to learn who their dog's friends are, and then like to meet the owner of that dog. Or the customer will ask after their dog's friends when they come in another time."
The cards give staff a place to write notes when something positive or special happens, or to let the owner know if the dog had a bad day."
Best of all, the cards give the customer something to take home to share with family and friends.
"Many get put on refrigerators and shared at work," Rice says, and that sharing has helped increase awareness of the doggie daycare program, as they have many attendees whose owners work together.
Finally, the report cards also subtly reinforce the Dog Wild brand and keep contact info handy.
2.

BE A HEALTHCARE PARTNER
Rachel Diller, owner of The Poodle Shop in Littleton, CO, had a client named Mindy who belonged to an elderly couple.
"She came in for a routine groom. Her teeth were extremely loose and barely hanging on. I explained that she'd need to see a vet for a dental. The owners just seem confused," Diller recalls.
The groomer booked a dental appointment for Mindy, shuttled the dog to and from Plum Creek Veterinary Services, and planned to pay the bill. (Upon hearing the story, the vet picked up the tab.)
The act of kindness earned the groomer plenty of positive buzz on social media and old-fashioned via word or mouth, which resulted in new clients.
"[We got] lots of comments and pats on our backs. It's just good karma. What goes around comes around."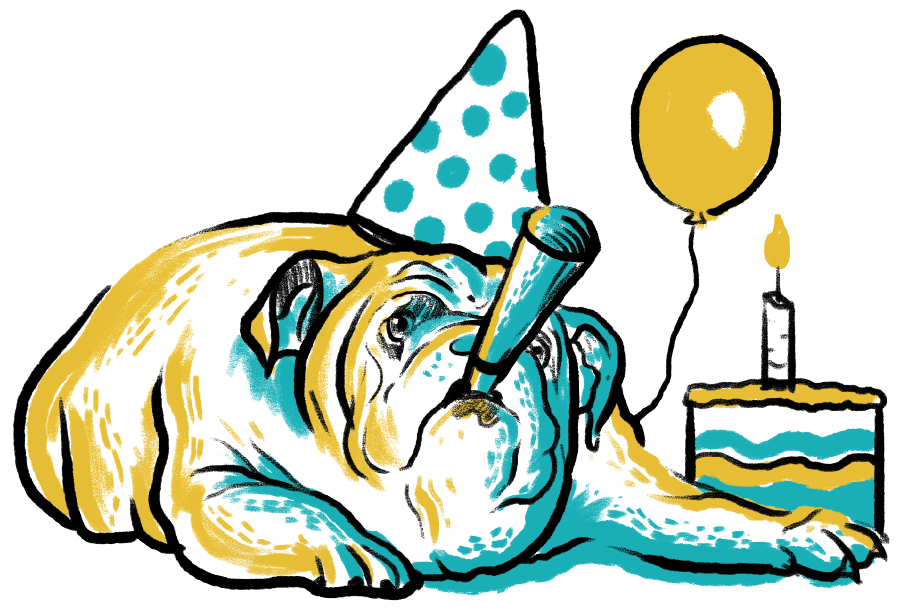 3.

CELEBRATE THE GOOD TIMES
Shop Dog in Sioux Falls, SD, never forgets a pet's birthday (or gotcha day). Each month, owner Ellyn Suga sends 200-plus members of the store's Birthday Club a coupon good for a frosted cupcake, a festive bandana and 15 percent off one in-store item.
"We see birthday pups almost daily. Customers love picking out the bandana," Suga says. "Having those personal interactions is a great way to build a deeper relationship with our customers.
"Customers also love the discount. It's a great way to incentivize a customer to buy a toy, as to not miss out on the discount. It has definitely boosted sales."
Birthday dogs also pose for a photo to go up on the store's Facebook and Instagram pages, helping to attract new business. Suga encourages customers to share on their social media as well.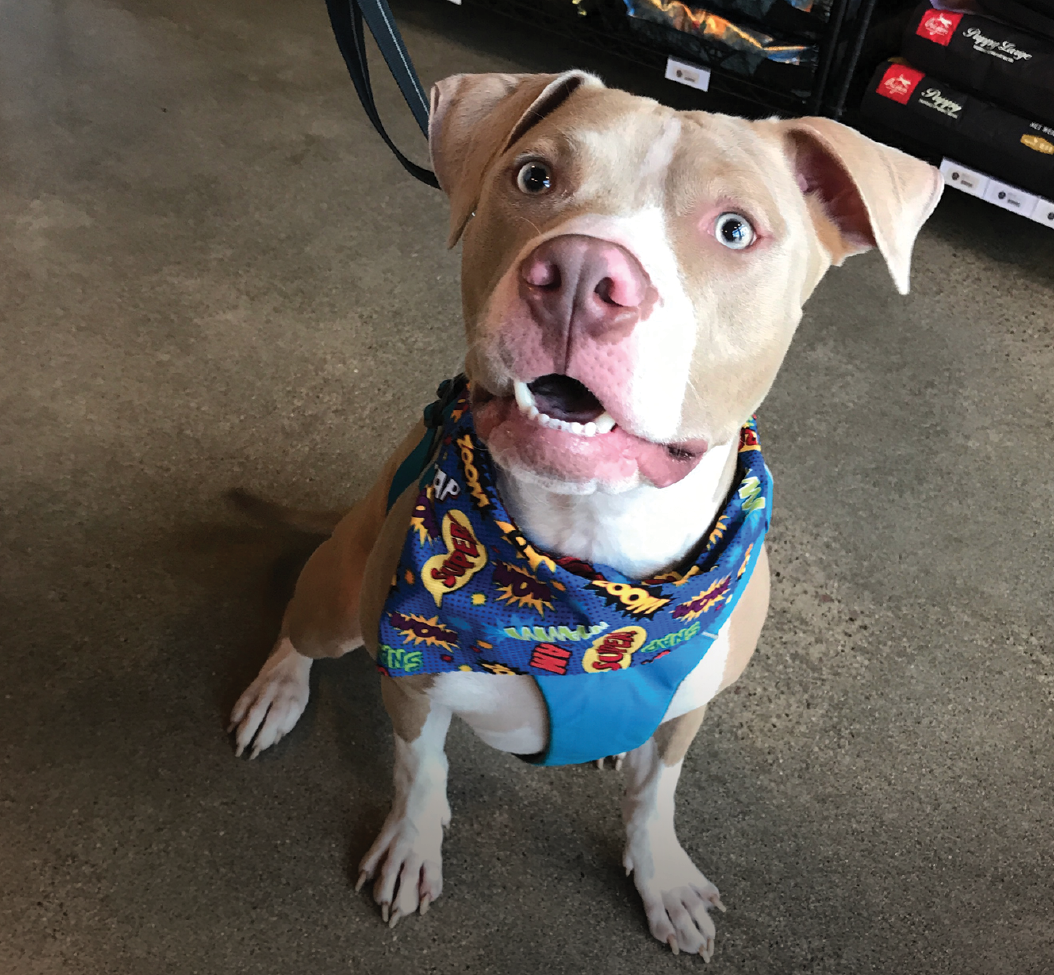 Shop Dog presents birthday pups with bandanas on their special day.
4.

HONOR PETS WHO PASS
The owners of Fetch Haus in Red Deer, Alberta, in Canada, grow quite attached to customers and their pets. So much so that when a dog or cat dies, they present the family with a small memorial stone with sayings such as "Cats leave paw prints on our hearts."
5.

HELP BRING HOME LOST PETS
Dogs and cats who go missing get plenty of attention online, but because birds are less common as pets, they do not. Paul Lewis, owner of Birds Unlimited in Webster, NY, aims to change that with the Lost & Found page on his store's website.
"As soon as we have a nice day in the spring, we get a call from someone who took their bird outside and it flew off. The opposite is also true, that people find birds after a nice day," Lewis explains.
In addition to posting info about the pets online, the store also keeps band numbers of the birds it sells.
"A few years back we got a call from someone 90 miles away who found a blue-throated macaw, and we were able to locate the owner by the band number."
Lewis says the page has a 10 percent success rate for reuniting birds with owners.
"It's a small percentage, but for every one who gets back home, it's a nice feeling that we were able to help."

Nail trims are free and spa packages are 50 percent off on Animal Hut's customer appreciation day.
6.

SHOW YOUR APPRECIATION
Each year, Animal Hut in Penn Hills, PA, holds a customer appreciation day on Small Business Saturday, the weekend after Thanksgiving. Those who stop by get a doggie hors d'oeuvre and popcorn, plus a free toy. Nail trims are complimentary that day, with spa packages at 50 percent off.
"The event has boosted our day-of sales and made a great impression with all our grooming customers," owner Renee Lauer says. (Don't miss what other pet businesses do for Small Business Saturday on page 43.)
7.

SPECIAL DELIVERY

Natural Pawz in Houston, TX, doesn't offer delivery as a service but made an exception recently. "A regular customer called our store and was panicked because she was out of food for her dog," owner Biff Picone says. "She is a senior citizen and does not drive at night. Our manager could not let the poor dog go hungry, so she loaded up the food and drove it to the customer's house."
8.

REWARD RESCUE
Lissa Durbin has a special surprise for those who bring their newly rescued dog to her grooming shop, BowWow's Pet Laundry, Barkery and Boutique in Blue Island, IL.
"When they return for pickup, I will tell them that the services are complimentary as a way to say thanks for saving a dog," she says. "I discuss what I did and explain any issues I've found. [And] I hand them an appointment card for the next grooming."
The initial $50 grooming loss turns into around $800 a year in grooming and retail revenue, she says.
9.

BE THERE DURING A DIFFICULT TIME
When one of their regular grooming clients escaped from the vet's office and went missing for a week, the staff at Club Canine in Portsmouth, NH, reached out to offer help.
"We had asked the owners to contact us the minute she was found so that we could open the salon to get her groomed after her big (and scary) adventure," owner Stacey Kimberley Rogers recalls. "They did, and hours later we had transformed her back into the beautiful girl she is. All at no charge, of course!"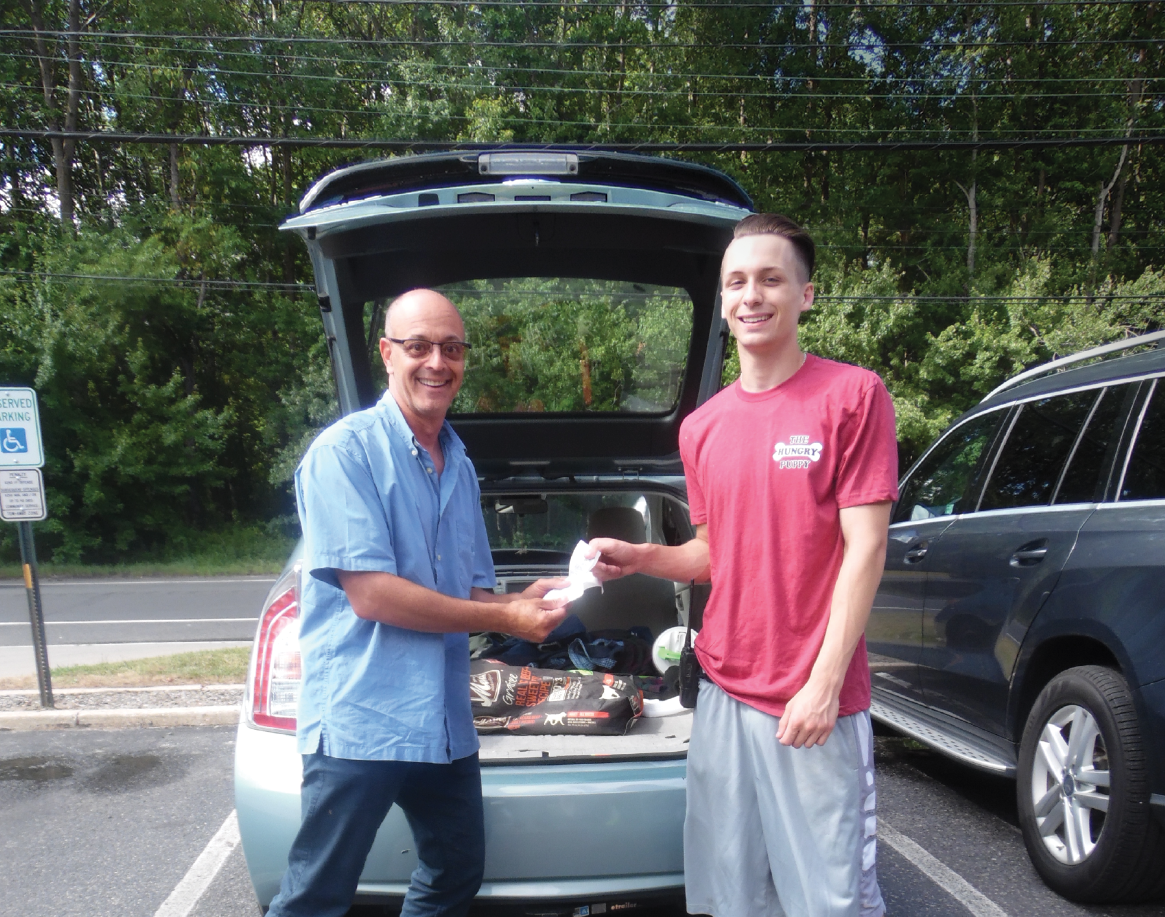 No heavy lifting at The Hungry Puppy.
10.

DO THE HEAVY LIFTING

Kibble and canned food can get pretty heavy. Warehouse staff at The Hungry Puppy in Farmingdale, NJ, happily carry purchases weighing more than 15 pounds. from the shelf to the register and out to the car for customers.
5 Essentials
from an Expert
Bob Phibbs — aka The Retail Doctor — regularly speaks on the subject of customer service (most recently at SuperZoo). In his "Essentials of Exceptional Retail Customer Service," Phibbs writes, "To stand out from the competition, you need to focus on creating an exceptional experience." We applied five of his tips to pet businesses, with permission, of course. Take a look at this excellent advice for your store, grooming shop or boarding facility:
Have a message of hope

6

He says that employees "should be able to not just inform, but to also inspire, educate and instill confidence." Use this advice to sell nontraditional pet foods, such as raw or dehydrated. Show the hope offered by these products'

health benefits and provide support as customers transition their dog or cat.

Call on people to take risks

6

Phibbs points out that for some shoppers, purchasing premium products "naturally pushes at their comfort level." To move these customers beyond any hesitation, he recommends helping them see that while they may be spending more, they are getting a better fit.In a boarding facility, this might involve showcasing pets as they enjoy premium rooms and amenities. Emphasize "just like home" instead of "luxury."

Focus on relationships

6

The key, Phibbs advises, is staffing and training: "That means you must have enough coverage for employees to be able to spend a little extra time with someone and enough retail sales training that they truly understand how to approach and engage a stranger." Spending more in these areas always equates to increased sales.

Celebrate newbies

6

Phibbs writes, "When you focus on established customers over newbies, you can end up treating those newbies as disposable, which thwarts any efforts at creating an experience, much less getting them to return again and again." He recommends giving first-timers a tour. Get to know them and their pets, and discover their needs as you briefly point out what your business has to offer.

Plan for the major holidays

6

"When decorations, emails, schedules and Facebook posts are thought out in advance, your customer experience during those holidays remains high," Phibbs says. Plan two months out for major holidays. Your employees will also appreciate the foresight.
---
To get more customer service tips from Phibbs, as well as sales and merchandizing strategies, visit his online learning center at retaildoc.com.
KEEP THE FAITH
Drive your customers to return time and again with a loyalty program that works for you.
A customer loyalty program that works well helps level the playing field with online competitors and big-box retailers. But who wants a level playing field? You want one that tilts to your advantage, and tweaking your loyalty program can do that. A loyalty program may be the deciding factor for whether people walk in your store and how much they spend, Nielsen's 2016 Global Loyalty-Sentiment Survey found. And loyalty members generate 12 to 18 percent more revenue for retailers than non-members, according to 2016 research from Accenture Interactive. We talked to five retailers who shared their strategies for creating programs that keep customers as loyal to their stores as their pets are to them.
STORY BY LEAH PRESSER
1.

GO MOBILE WITH A FUN APP

Customers at The Hungry Puppy in Farmingdale, NJ walk to the register and hand their smartphones to the sales associate without being asked. They're eager to get the reward available only to those who have spent $75 and have downloaded The Hungry Puppy app. They are immediately rewarded with a virtual scratch-off ticket to rub off right on their phone screens. Every scratch-off is a winner with $3 to $10 in Pup Bucks to be used at their next visit or an entry into a monthly $100 gift basket raffle.

"People buy more because they want to qualify for the scratch-off," says Frank Frattini, The Hungry Puppy's owner.

Creating a loyalty program through an app is a strategic decision to stay competitive in an increasingly mobile world. The 2016 Bond Loyalty Report, a survey of nearly 12,000 U.S. consumers, found that 57 percent of members would like to engage with loyalty programs via mobile devices.

"We wanted ours to be the first one," Frattini says. "If customers download our app, they aren't as likely to download PetSmart's or Petco's apps."

The Hungry Puppy app also includes monthly coupons, "Bring Your Pup" rewards ($5 to bring in your dog three times in one month), and access to veterinary and training assistance.

The app was easily customized from a template bought through Como Sense, a customer management and loyalty program provider. Total yearly licensing fees and expenses? Around $700.

"The return on investment is huge," Frattini says. Over 4,000 customers have downloaded The Hungry Puppy app. Last year, customers redeemed a whopping 97 percent of over $12,000 in Pup Bucks.
2.

MAKE MEMBERS FEEL GOOD

Pet$aver Healthy Pet Superstore's loyalty program at its three New York locations is successful because it makes customers feel good about its rewards. Members can earn 3 percent back on qualifying purchases or donate those points to Pet$aver's Shelter Feeding Program.

"Customers love the fact they can donate their points," says Pet$aver CEO Russell Herman.

Pet$aver's generosity began 10 years ago with its Responsible Owner's Club, which gives discounts to those who adopt from shelters. Pet$aver also donates $10 to the rescue organization when customers redeem discounts.

Last year, Pet$aver's customers chipped in over $50,000 in donations to provide food for local shelters through the Shelter Feeding Program. Herman estimates that Pet$aver saw 1,500 new customers in 2016, and 500 became regular customers.

"Both our programs create a sense that we're a very community-based store," Herman says. "With national chains moving in, we have to change the way we do business and find a way to increase our customers' excitement."
3.

JOIN A UNIVERSAL PROGRAM

Customers are less likely to sign up for programs at stores they don't visit often. Universal loyalty programs such as Belly solve that problem. With Belly, consumers don't have to join yet another retailer's program, and businesses don't have to design, implement and maintain their own programs.

Everyone just joins Belly, and the program runs itself.

"The ease of Belly made it a no-brainer," says Karen Conell, owner of The Bark Market in Delavan, WI where customers have enjoyed using Belly for five years. She says Belly has "without a doubt" resulted in increased customer retention, more purchases and higher profits.

Belly members get a plastic card or download the Belly app to earn points when they shop at any participating Belly store. Points are based on visits rather than quantity or price.

Independent retailers (restaurants, bookstores, salons, etc.) that subscribe to Belly get an iPad to set up at their register that customers interact with by scanning their card or cellphone or entering their email.

Depending on the subscription level, businesses have access to customer demographics and insight into shopping behaviors. They can also email promotions and coupons to their Belly customers.

Convenience is the biggest benefit: It lets people maintain many individual reward programs through one account.

Conell feels the heat from online competition and big-box stores within a few miles of hers.

"It's vital to show customers you value their patronage," she says. "Offering this loyalty program, plus our laser focus on customer service, allows us to stand out and be successful and profitable."
4.

KEEP IT SIMPLE

On the other end of the spectrum, a simple program works beautifully, too. At Maxwell & Molly's Closet's two locations in New Jersey, customers who spend $200 earn 5 percent off all purchases for life.

Owner Bonnie Bitondo says it's her gift to customers for walking in the door. Customers receive a gift bag when they join the Paw Club. The bag contains food and small gifts, but the key to success is the $5 gift certificate attached. "It gets them coming back to us," Bitondo says.

From there, it's been easy for hundreds of Bitondo's customers to meet the $200 requirement to become a Platinum Paw Club member and get the lifetime discount.

"People like simplicity and immediate rewards. They don't want to wait a year. They want to know they get something every time they walk in the door," Bitondo says.
5.

OFFER A VARIETY

A drawback with some loyalty programs is the inability to choose how rewards are earned or given. The solution? Build your own program from scratch.

At Especially for Pets' seven locations in Massachusetts, loyal customers are members of the Companion Rewards Program, which was created exclusively for the business by software developers at M & M Enterprises.

"It is a huge undertaking to develop a custom solution, but it differentiates you from the competition," says Especially for Pets CEO Michael DiTullio.

Customizing his own program let DiTullio design rewards for every type of shopper. His program currently includes:
13th food purchase free

10th grooming free

3% rewards on supplies

$10 off training

10% senior discount

10% discount for one month for people who have adopted a rescue pet

10% discount on all purchases for foster pet parents
DiTullio says the program drives purchases. "Customers are less likely to buy food from another store or online because those purchases don't count toward their free 13th food program."
With more than 30,000 customers enrolled, the Companion Rewards Program shows how the ability to reward a variety of shopping habits provides value to many different customers.